Race in the Superbike World Championship with SBK16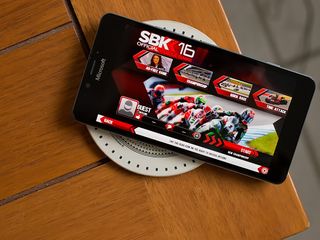 SBK16 Official Mobile Game, the sequel to last year's SBK15, recently cruised onto the Windows Phone Store. This year's iteration brings lots of motorcycle racing thrills on real-life circuits and surprisingly detailed graphics. SBK15 was a paid game, but SBK16 is free with ads. Let's check it out.
World Championship
SBK16 offers three modes: Championship, Quick Race, and Time Attack (last year's Challenge mode didn't make the cut). Quick Race simply allows players to select any track and bike for a one-off race. Time Attack pits you in a single race against the clock rather than AI riders.
Championship is the meat of the game, consisting of 13 total events with several races each. The structure mirrors that of the actual Superbike World Championship, with players completing two qualifying rounds in order to determine their starting position in the two actual races to follow. You have to pick a licensed rider, as SBK16 doesn't offer character or bike customization.
Before each race, you can select the difficulty and number of laps or time. I like the freedom to shorten races when you don't have much time to play. Easy difficulty is actually fairly easy too, which is good for people who find mobile controls more challenging than physical controls.
After the race, you'll see how your rider fairs against the competition and view any Achievements that you earned. The in-game Achievements here are pretty meaningless, as you can't view a list of the ones you have and haven't earned. Proper Achievement systems provide goals for players to work towards, so it's too bad these don't work that way.
Two-wheeled racing
SBK16 looks quite good running on my Lumia 1520. The textures are impressively sharp, providing a lot of detail for relatively low-polygon models. You can read the riders' uniforms and sponsors quite clearly. The actual courses are simple but realistic. You even get some lens flare as the sun pans by. The only visual element that doesn't work well are the sky textures, which are fairly dark and blurry compared to everything else.
The actual racing leans a bit closer to arcade than simulation. Developer Digital Tales has improved the physics and bike handling, although I still find harder corners fairly difficult to take without winding up in the grass for at least a moment.
Players have the choice of several control options, including gyroscope steering or touch-screen controls. The virtual stick works well for steering; I prefer it to tilt controls. Speed is controlled with brake and accelerate buttons, though players also have the option of auto-braking. You can also perform wheelies and stoppies (riding on the front wheel instead of the back one) by sliding up or down above the virtual stick.
Although the touch screen controls mostly perform well, the actual accelerate button's target area is just too small. I sometimes find that I've stopped accelerating without meaning to, even though I've been pushing in that corner of the screen. The finicky throttle here could be fixed with a larger hitbox.
The SBK license allows Digital Tales to use real-life driver names and tracks, but I'm not sure how many gamers would actually have heard of anyone associated with the sport. The licensing adds a certain authenticity to the loading screens as well, for better or worse. All of them seem to be photos of smiling or disinterested models. Their outfits are tasteful, but since all of the screens are of these ladies, it comes across as leering. Maybe show us some riders and bikes too?
Free to race
Because SBK16 is free to play, the developers have to make money somehow. At present, the monetization stems from a single video advertisement for other Digital Tales games. The video plays automatically at startup and whenever you return to the main menu. It can't be skipped, and because the same video plays every time, it gets old really fast.
Players have the option of paying to turn off advertisements for $2.99. That's the same price that the previous SBK15 cost anyway, so it's not a bad deal. But there has to be a better way to monetize than annoying people until they pay you to stop.
Overall Impression
SBK16 doesn't have much in the way of bells and whistles. It's a little on the serious side for a mobile racing game, but people who really appreciate bike racing should get into it. Since it costs nothing to play, you've got nothing to lose by giving this one a spin.
It's great to see 3D games with high production values come to Windows Phone and Windows 10 Mobile. But the game also crashes way, way too often on my Lumia 1520, so I'll be interested in learning whether our readers share the same experience.
See on the Windows Store (opens in new tab)
Windows Central Newsletter
Get the best of Windows Central in in your inbox, every day!
Paul Acevedo is the Games Editor at Windows Central. A lifelong gamer, he has written about videogames for over 15 years and reviewed over 350 games for our site. Follow him on Twitter @PaulRAcevedo. Don't hate. Appreciate!
Game is great on my 640xl just hate the ads in between. I got sbk15 free last year.

Thanks for letting me know. I'm gonna download it on my 640XL.
What's the game final app size?

Am happy with sbk15.. Sbk 16 is not much of an improvement over 15.. Tracks are also the same.

SBK is an underrated championship! I love the fact that I can go to my local dealer and buy the bike. Bought a ZX10 and had it painted etc Now got a Tom Sykes Rep!! Yay.. Yes the ads are a pain. I'll give it a few days, if liked, I'll buy it! Had a couple of goes, but I'm off my head on tramadol! Wait till I'm sane again.;-)

SBK15 wouldn't work right, when it came to motion control. It would get stuck going to the left. I'm looking forward to seeing how '16 works my Lumia 1520, as well.

Anybody checked the second last screenshot? -'BRAVURA Quest Rush' ?
Citation-https://s31.postimg.org/qtc6h2c6z/wp_ss_20160802_0001_2.png

It's a picture of the advertisement mentioned in the paragraph above it.

Great game. Too bad Continuum support is buggy. The game doesn't rotate to fit the screen so it is unplayable. I hope they fix/add Continuum support and support for the Xbox controller.

Updated roster, different menus, and the other items mentioned in the review. They also added a first-person camera view.

Good graphics but not much fun like sbk15.
Windows Central Newsletter
Thank you for signing up to Windows Central. You will receive a verification email shortly.
There was a problem. Please refresh the page and try again.