SBK15 for Windows Phone - Satisfying your need for speed with this Superbike racing game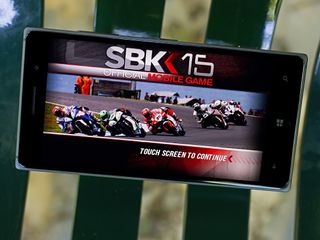 SBK15 Official Mobile Game hit the Windows Phone Store not too terribly long ago and is the official racing game of the 2015 FIM Superbike World Championship.
The Windows Phone game puts you behind the handlebars of a wide range of superbikes where you compete on thirteen racetracks. SBK15 has four gaming modes to challenging your motorcycle handling and supports cross-save and cross-play with the iOS version of the game.
Available for low-memory Windows Phones, SBK15 joins the ranks of the many quality racing games in the Windows Phone Store.
The main menu for SBK15 offers you four gaming options, access to the game's settings and the ability to log into the game with your Facebook or Digital Tales account. While you can enjoy the game without signing into an account, doing so will enable the cross-save and challenge gaming features.
Settings with SBK15 include your typical sound/music levels and units of measurement choices (KM/H or MPH) as well as nine control sets and three drive assists (brakes, turn indicators and tilt horizon). Choosing which control set is best boils down to personal preference. Personally, set one worked out nicely for me that has on-screen controls for acceleration and braking with tilt controls utilized for steering.
The gaming modes include:
Championship: This gaming mode takes you through the Superbike World Championship season and includes 24 riders, 14 teams and 13 circuits
Quick Race: For the times you just want to jump on the track for a race
Time Attack: Here you race against the clock
Challenge: Race other SBK15 player
Game play has your racing stats displayed across the top of the screen that includes your race leader's time, your current time and a schematic of the course. Depending on your control layout, your on-screen controls will line up across the bottom of the screen in some shape, form or fashion.
In using the Windows Phone tilt sensors to control the motorcycle's steering, I found the controls to be responsive. If they seem sluggish or overly sensitive, you can adjust things accordingly in the settings.
SBK15 offers you some rather nice graphics and challenging racecourses. For the most part, game play has a realistic feel that will have you leaning into curves in no time. The bike is rather forgiving and you almost have to work at crashing. I am not sure if that is a good thing or not but it definitely keeps you on your bike and in the heat of the race longer.
Overall Impression
In just playing SBK15 for a few days, it comes across as a fun, challenging racing game for our Windows Phones. The four gaming modes help give the Windows Phone game a little more staying power and SBK15 should have strong appeal to racing fans - especially for those who prefer two wheels to four.
The only nit that I can find is that load times between races and menu transitions can be a little on the long side. The delays are not terribly long but noticeable. Other than that, I did not experience any stability or performance issues and SBK15 comes across as a solid racing game.
There is a trial version available for SBK15 that does have some limitations but enough gaming to give you a feel for things. The full version is currently running $2.99.
Download SBK15 Official Mobile Game for Windows Phone (Trial / $2.99)
George is the Reviews Editor at Windows Central, concentrating on Windows 10 PC and Mobile apps. He's been a supporter of the platform since the days of Windows CE and uses his current Windows 10 Mobile phone daily to keep up with life and enjoy a game during down time.
Hard enough with a controller.. Now they want me to use the gyro?

Very easy with gyro, actually.

Yeah. They want to make money

This is not AndroidCentral

Oh yeah? Thank you for letting me know! Do you think I can't read? Stop trolling, man. Is it just impossible to get a question answered on WC without getting trolled by people like you? The reason I asked that question is because its amazing that the WP version has been released prior to Android.

I agree, as much as I like wc, sometimes answers are impolite, some users never seem to give a simple/gentle answer, that said, this game seems interesting, I'm not a big fan of motorcycles though

Dont get into.. Most of those are dumbs and think they are rocking the world being like this... And most as kids..

Don't be a dumbfuck Yasar.He asked a valid question.

and its neither xbox central but i still see this trash console in post here just because its microsoft relative android is relative on windows phone cause both are smartphone os so he can ask here if he want

Now you are being dumb. Have peace

Xbox will have Windows. This is Windows Central. Maybe it's Microsoft Central.

That's some serious crap English...

Yeah actually they sometimes get more money because you can't pirate here ;)

Except as soon as someone charges for anything the people here get their pitchforks and scream bloody murder.

Clash of clans.. Plz plz plz plz

Cloud raiders Cloud raiders Cloud raiders Cloud raiders Cloud raiders Cloud raiders Cloud raiders Cloud raiders

Email Supercell and make your voice heard. Tell them you want to see Supercell's games on Windows

Flood their twitter account.. I'm for you

Wait for the port tool to come out.

this game looks nice, but I am sure it would be hard to play it with a touch screen. but then... I really hate playing with touch screens, some games are fine, but most are frustrating since fingers cover screen and sometimes you cover something important. I gave up on most mobile games for that reason. I like bikes, and riding them so I might get this but I am sure I will eventually give up for touch screen being annoying, it's not a xbox live game so it would be easier to uninstall since I wouldn't care about data deleted and achievements.

This game uses the phone gyroscope for control, so to steer you tilt the phone itself. I agree about some other games with on-screen controls, though.

It's the copy of moto gp!!

I'm truly loving this game!

OmG, how I wish we've had some equivalent F1 racing game @o@

AGREED!!!! Mr Ecclestone would rather appeal to 84 year olds who wear Rolex watches

Yeah would be good. Forza series on phone would be cool too!

Good to see that this supports 512MB devices! Downloading on Lumia 630

At last some sense of sanity on the platform, phew....time to show everyone who's the boss ;-)

i just started downloading it on my Lumia 925 in India, so yes it's available

You should've asked 'when in India...?' :P

On screen controls are more than usable. Harder to ride than my turbo bike in real life however. Luckily the consequences are somewhat less problematic :)

Email Supercell and let them know.Ive done it although I'm not interested in any of their games. They replied saying they'll take action based on the assessed demand. Which means that we have to let them know. Having their games would be huge for this platform.

Bought this.Seems like a top game

Hey..is the full version letting you play all tracks..bcoz i bought it and its still says u need to buy

Are all tracks unlocked for you?? I bought it nd still don't let me play all tracks.

Game is nice and the free (trial) version packs engh gameplay.

Does this game works on low RAM devices like Lumia 720?

Says it supports for low memory devices. Should work.

M stuck at pending.. Don't know wats wrong?

Does anyone else browse the app/game reviews just to see what devices people are using?

Yeah. What always trips me out is most of the negative reviews are from people running 520s or 521s that are complaining about the performance of the app.

I got this the day it came out, the graphics are bloody amazing kimo. The control can be a bit sensitive but its really nice to have a quality game like this on the W.P platform

It's fun but a little hard to control at first :)

Devs have started to love wp as people actually buy software here and there is no way hack to paid versions for free! Plus there is mobile pay which makes it convenient and easy for people to pay for apps and games whereas in android all that people want is free apps and games or else they install the hacked version! That's why development is more promising in wp and I can spread see thousands of develpers moving their priorities to wp!!

Actually you can unlock your phone and download paid xaps from various websites for free.

Really!? Well I have tried doing that from several websites and none on them worked! If you know any website that has any working .xap files pls tell me.

Looking nice. Recently won £30 from MS twitter competition. Looks like this would be the first purchase from that...happy :)


It's written coming to iOS and Android q June 2015. So yeah, we got it first and that's an awesome thing.

Not gonna buy again I will get it for free on Android s the developer quoted that who ever has license for sbk14 will get sbk15 for free when launched.

MotoGP only....SBK is boring..
Windows Central Newsletter
Thank you for signing up to Windows Central. You will receive a verification email shortly.
There was a problem. Please refresh the page and try again.