Scalebound's director Hideki Kamiya comments on the Xbox game's cancellation
We broke the confirmation this week that one of Xbox's high-profile exclusives — Scalebound — has been canceled.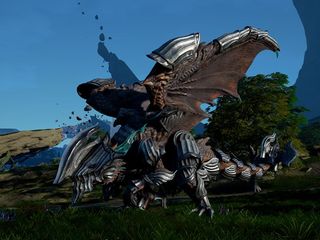 Rumors have swirled about the reasons as to why Scalebound was shuttered, with commentators pointing fingers at both Platinum Games and Microsoft. Microsoft declined to give detailed reasons for the game's closure, citing "business decisions" in a statement to us earlier in the week.
In a series of tweets, Platinum Games studio head Hideki Kamiya offered Scalebound fans condolences, while putting to bed rumors published by various outlets that he and co-developer Jean Pierre Kellams took a month break from Platinum Games with stress.
As you may have already heard, Scalebound has unfortunately been canceled. I'm very sorry to everyone who was looking forward to this game.As you may have already heard, Scalebound has unfortunately been canceled. I'm very sorry to everyone who was looking forward to this game.— 神谷英樹 Hideki Kamiya (@PG_kamiya) 11 January 201711 January 2017
Sorry to bring you such bad news at the start of the year. All I can do for you is to promise to keep delivering fun games.Sorry to bring you such bad news at the start of the year. All I can do for you is to promise to keep delivering fun games.— 神谷英樹 Hideki Kamiya (@PG_kamiya) 11 January 201711 January 2017
I'll work extra hard to never have to let you down like this again, so I hope you will keep watching over us in the future too.I'll work extra hard to never have to let you down like this again, so I hope you will keep watching over us in the future too.— 神谷英樹 Hideki Kamiya (@PG_kamiya) 11 January 201711 January 2017
And...I took time off for my mental health? ...Me!?

No way.And...I took time off for my mental health? ...Me!?

No way.— 神谷英樹 Hideki Kamiya (@PG_kamiya) 11 January 201711 January 2017
Platinum Games also offered an official statement on their website, apologizing for the way things ended up while adding that they were looking forward to Scalebound as much as the game's fans.
I expect it could be some time before we hear the full story about what happened with Scalebound, but if I had to speculate, I'd think that Microsoft is being more aggressive on quality standards, following disappointing critical receptions for Quantum Break and ReCore. Scalebound had been in development for four years, and felt far more ambitious than Platinum Games' signature projects, rocking 4-player co-op and open-world gameplay. It also already suffered delays, and it seemed as though to get Scalebound to the standard Microsoft wanted would've required even more investment, which the company likely calculated could be better spent elsewhere.
Still, it's not a good look for Microsoft Studios, with the cancellations of Fable Legends, Phantom Dust, the closure of Press Play and Lionhead Studios, and various other misfires under its belt in recent years. Games being canceled is an industry reality, but it's all the more controversial when it comes from the table of a platform holder. Hopefully, Xbox will deliver the goods with its strong-looking 2017 portfolio, while giving us something to look forward to beyond this year.
How do you feel about Scalebound's cancelation? Where do you lay the blame (if any)? Let us know in the comments.
Upcoming Xbox One games we're looking forward to in 2017
Jez Corden is the Managing Editor for Windows Central, focusing primarily on all things Xbox and gaming. Jez is known for breaking exclusive news and analysis as relates to the Microsoft ecosystem while being powered by caffeine. Follow on Twitter @JezCorden and listen to his Xbox Two podcast, all about, you guessed it, Xbox!
Too bad. Would have bought the game. For sure.

The problem MS needs to realise is that critics aren't always listened to. I know accolades are great but what happened to a game being fun. I am sure as hell this game would have been. I for one rarely listen to critics and like to be my own judge. Sometimes MS needs to let the fans decide(give us a demo at least before canning the game, the devs deserve at least some feedback on all their hard work.

The problem is that they have to listen to the money as well, and that didn't come through on most of these second-party releases. None of them planned sequels--Ryse, Sunset Overdrive, Screamride, Quantum Break, ReCore, etc. None of it's panned out, and with the move to cut in-house development as well, it's questionable if MS has anything close to enough content to make a console worth buying anymore.

Yes agree re listening to the money but having spent so much to create the game by not releasing it they guaranteed no ROI as little as it might have been(we don't know). At least release the game, it looked at least 90% complete. Of the games you listed, Ryse was the only one I thought was all looks and no substance and thus a sequel would be hard to justify. Given all I have just written, I can also see MS' pov, its just sad for us gamers.

Screamride didn't deserve a sequel, and Sunset--though I loved it--didn't leave room for one. QB didn't seem it would leave room either, but it lost my save going to the last chapter, so I never got to finish it.

90% complete? You can tell because of a few gameplay trailers?

What's concerning for Xbox owners, though, is that with the growing list of second-party cancellations and alienations, what future developers will actually want to work with Microsoft Studios? I wouldn't. And given all the first-party studio closures and cancellations as well, Microsoft Studios itself is not large enough to churn out first-party games. All they've really got left is Turn 10, 343, Coalition, Mojang, and Rare. Yikes.

"strong-looking 2017 portfolio"
Yeah I wouldn't call it "strong-looking"

I'm including third party games in that, but regardless, you don't think Crackdown 3, State of Decay 2, Halo Wars 2, and Sea of Thieves look solid?

Sea of thieves is the only game you just listed that I'm interested in.

It's a good thing that it's only your opinion that matters.

Well there is also the court of public opinoin that's being going on for the past 3ish years. The lineup is weak and only really appeals to a certain kinds of people in a couple of regions around the world. You're more than welcome to count but if you could count you wouldn't have made your comment in the first place0

I don't play crackdown games, halo games or zombie games. Haven't heard of the sea game. I want dragons, or more Skyrim like, or give me a damn updated jet fighting game. Those are what I want. It's a sad time for several people.

Sea of Thieves night be worth checking out in that case, it's an open world pirate game but it's also fantastical with big sea monster battles and the like.

Thanks I'll look into it.

I don't think Sea of Thieves looks good in a world where Scalebound is canceled because of quality concerns, that's how I would put it. Crackdown doens't get me excited, Stte of Decay is nothing I care about in a world of zombie stuff I don't care about, and while Halo Wars looks technically great, strategy games haven't worked well on console in the past, and I don't see PC gamers making that a rousing success as a supplementary system.

Yeah, i might end up loving halo wars, but i haven't enjoyed a console RTS yet, so I don't have high hopes.

No it is quite the opposite looking. If they don't have anything new to announce for E3 and expect to deal with a Kojima title, last of us 2, Horizon: Zero Dawn, Shenmue 3 etc. Sony will go back to a 2:1 sales ratio if that is what they think will carry them through 2017 their project scorpio couldn't release fast enough and hopefully they have VR for it to release along side the system. I purchased neither console this time around PC gaming and HTC Vive has been keeping me busy enough.

I was lookin' forward to That game.

This looks to be a bad year for exclusives on console, about the only thing Sony has coming out that I'm interested in is Horizon Zero Dawn. I'm sure we'll have another Forza game before the year is out.

Definite Forza game(possibly launch title with Scorpio. Expected announcements at E3, Halo game with VR/AR/MR element, Forza game with same experience element, geow 5, the usual MS exclusives.

I wouldn't expect Halo 6 or Gears of War 5 just yet. Maybe they'll prepare early trailers because their lineup is becoming worse and worse but that's it. Halo 6 won't be ready till 2018 and GoW5 probably till 2019. They will have to rely on: ​Forza with VR component State of Decay 2 - hope it's a great game Crackdown 3 - it better be the third person crazy shooter many Xbox players want Sea of Thieves - it better be good too Halo Wars 2 - it might be amazing but will still be largerly ignored by majority Indies like Below, Cuphead and several more ​What is severly lacking RPG and some kind of story driven game. Tomb Raider could have been that game for Microsoft (and people would seriously shut up if Microsoft owned the franchise) but Square Enix is never going to sell the rights to it. Quantum Break wasn't good enough either to become a long running franchise. Maybe Alan Wake 2 is a surprise story of E3 2017? Remedy teased something. Still, if Project Scorpio is as good as they claim, it'll be perfectly fine, especially with sub $300 VR.

Agreed about trailers/teasers, never expected in game vids just yet. Re the games you listed, really only CD3 is what I'm looking forward to..... Re QB, was it that bad, I was looking to pick that up soon.

Quantum Break is a good game to pick for sub $30 price. It's a strong 7/10 but a bit short and has no replayability. It just isn't system seller like Uncharted or Last of Us and it was supposed to compete with those.

I enjoyed QB, plan on playing through it again at some point. I thought it had received pretty positive reviews so not sure why ppl are dumping on it. It isn't the type of game that you will play months on end though. One or two play throughs and that is probably it.

I'm not dumping on it. It was expected to be system seller (and also potentially revolutionary due to TV show integration) but it ended being just a good game. That's not enough based on expectations.

Do we still care about Forza Motorsport though? I just think that there's a limit to the excitement for a track racer that offers so little variation from one year to the next. The content never matches the length of the game, so after a week, you're doing your 50th championship on the same 6 tracks as the first one, and it gets stale. I wish they'd do something to make those games more engaging. I don't men VR, that's just putting the screen against my face. Maybe use parts of the game to teach about the tuning mechanics, so they don't feel like something that takes a lot of dev time for a small minority to understand and enjoy.

Actual realistic car damage and actual realistic car building... even if only as options. That's where I believe Forza needs to go.

It's not looking so bad for Nintendo, the Switch is going to be flooded with exclusives come March.
It looks t be the only platform to bring something fresh and new and exciting to the plate in 2017.

What makes you think the Switch will be flooded with exclusives? We saw, like, 5 shown off, and I doubt all 5 make it to launch. Nintendo has been bad at keeping the library of the Wii U fresh and full for 4-5 years now. They are known for being slow at developing titles, to boot.

The Switch will have to prove itself after the fiasco with the Wii U. Different can be good as long as it isn't different just for the sake of being different. Some of the exclusives look nice but I'm not sold until I see the price (you and I both know that Nintendo eventually plans to replace the 3DS with it which means it'll be at least $600 to buy two for a household if the rumored $299 prove is true). Also, Nintendo has to prove that they don't view online features and an account system like something that is going to go away as long as they ignore them.

PS4 has a good roster of exclusives coming out, pretty much ensuring there is something for everyone.

We don't know the full story, but if MS had already invested say $10m and were facing a spiralling budget and lengthy delays then maybe the project ambitions destroyed the game with Platinum unable to deliver as promised. It won't have been an easy decision for MS.

I'm gonna go out on a limb and expect it to be way more than $10m... but yeah, def wasn't an easy decision @ MS, and we don't know the full story. It's "cool" to hate MS, and that's the way YouTubers are running with this story, but there's always two sides. Shame we'll never get to know the full deal.

It's not abotu if it's "cool" to hate MS, it's abotu what they've done and assessing it. It's EASY to hate MS, and I don't mean that from a reputation standpoint. Based on their moves since about 2013, it feels like they WANT to draw criticism and hate. Constant mobile OS reboots, game cancelations, studio closures, weak console hardware, the implementation of Kinect, the software support of Kinect, the killing of Kinect, the utter lack of customer support for the Elite Controller, and I'm surely forgetting to mention things. I'm not mad at MS as an excuse to escape them. I hate Google and Android, and I've never really been attracted to the Sony game offerings. However, MS has repeatedly stepped in it, seemingly by design, and it's forcing people to be mad at them. I didn't WANT my Elite Controller to be faulty, but when MS outright refused to do anything )even when I asked to pay for repairs), that got me mad. I don't want to switch to Android, but when MS is possibly releasing no phone for 2.5-3 years, I can't just not get a phone forever. Now, Scalebound was the one exclusive I was interested in coming into 2017. I'd at least keep my eye on the others, but haven't been impressed so far. Having it canceled, there's a whopping 0 games I'm looking forward to on XB1 in 2017 (really poor showing for third-party righ now, IMO). So, the hate I throw at MS is for what has become years of repeatedly punching my face.

Have you followed EA or Activision or the gaming industry in general? MS is doing nothing different. So yeah fair to be upset, but MS is not behaving worse than any other major game publisher

Nothing different? How do you figure. By the MS way, Activision would have tossed Destiny in the trash and there wouldn't be a Titanfall 2 from Respawn and EA. In what way are EA and Activision shedding talent left and right and killing projects?

I agree, this had to be a hard L for the team.
With the with the PS4 finally showing tangible good looking exclusives at PSX and the Switch taking the internet by storm, launching in a couple of months the last thing MSFT needs is to lose more exclusives at the top of the year.

Such is the games business after all. It's a costly and risky venture.

There may have been something we as gamers don't seem from the code side of things or the articles point of better spent elsewhere. I hope they return to the game in 2018. This game needs to happen.

Shame. But, I always thought that the game was so ambitious that the dev team would struggle to build it. Looked so big!

This is so disappointing. RPGs are the Xbox's weakness and I was genuinely interested in this one. The last hope I have for the genre on the console is looking like Edge of Eternity.

Don't really care because japanese slashers is not exactly my type of a game but it's quite because there are not too much great games planned for Xbox 2017. Hope to see some mature hardcore FPS on E3. Maybe a new IP or ODST 2.

Ugh, PLEASE no ODST 2. That was such a drag. Halo 5 was disappointing enough, I don't need a follow-up to disjointed storytelling and a cliche, forced love interest like ODST did.

Already burned out on Rainbow Six Siege?

That quote where he says he'll work extra hard to not let us down again sounds a bit guilt ridden. I'm not trying to take sides but one has to wonder why he feels that way.

Let's not forget his nationality.

The quality of the game was not up to par, all of you need to stop buying games cause it has a good concept only. SMH......Please don't forget Assassin's Creed Unity.

Quality over concept any day!!!

We don't need another no mans sky for sure...

Or should I say, no mans dragon... Or no woman's dragon... ;)

Luckily, no need to choose when nothing gets released!

I had it preordered since day 1 :'(

I personally wasn't that into the game, but my son was crushed. What I don't like is the growing list of Xbox exclusives being cancelled.

Too bad. CrackDown is another game that is taking forever to release. I preffer this game instead CrackDown.

"I'd think that Microsoft is being more aggressive on quality standards" What is there to have standards of quality with though? The cupboards are essentially bare now. We have, what, two MS-published exclusives planned this year (HW2, Crackdown), with one more assumed (iterative, redundant FM7)?

I heard phantom dust is back on track

Every other developer does this same thing and it's always sad, but part of the AAA game industry.

No point laying blame, sometimes things just won't work out, especially when pursuing something ambitious.

It's up setting. With all these alphas buy now. For 20.00 release the game as a crowd funded preview. Finish the game!!!!!

I wonder if there is a chance that they are taking more of a Bethesda approach by this I mean shorter announce to release. I mean Scalebound was announced almost 3 years ago and still not out. Is there any chance MS has some secret projects to announce at E3 this year? Phil has something up his sleeve he has been doing the right things up to now.

I'd say its at least possible. I've noticed Nintendo acting the same way about many games, and the one game they didn't act like this on recently, they are being picked on for delaying so long. Game developers are seemingly trying to wait until their game is nearly ready to release before they announce them so that they don't get harassesd for long delays or accusations of vaporware. I mean, sheesh, just look at cuphead. How long have we been waiting on that?
Windows Central Newsletter
Thank you for signing up to Windows Central. You will receive a verification email shortly.
There was a problem. Please refresh the page and try again.