Leaked screenshots from latest Office 2016 build reveals new colorful theme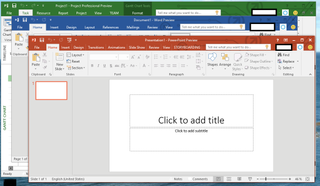 The Office 2016 Consumer Tech Preview is well under way and today we're looking at some leaked screenshots from a new build. Just in case you weren't tired of leaks already, there aren't any Earth-shattering changes in 16.0.3823.1005, but there is a new theme setting.
The new look brings the suite in line with the same Office package on other platforms. As one can see from the screenshot shared above, there's a new "Colorful" look for the bundled apps, each sporting different colored header bars (just above the ribbon menu) depending on the apps themselves. Green for Excel. Blue for Word.
Microsoft will also be bundling a dark theme for Office 2016, which is set to be released later this year.
Source: BetaArchive, via: Neowin
Windows Central Newsletter
Get the best of Windows Central in in your inbox, every day!
Rich Edmonds was formerly a Senior Editor of PC hardware at Windows Central, covering everything related to PC components and NAS. He's been involved in technology for more than a decade and knows a thing or two about the magic inside a PC chassis. You can follow him on Twitter at @RichEdmonds.
Sure looks like it! It's all good though. All this says is that Windows Phone has been incredibly influential, even if a commercial failure.

Material Design copied Metro. We went flat before they did.

In case you don't know, material design and the flat icons used in iOS and Android are all inspired from Metro design language. So basically this is metro.

Just right thing
...... Microsoft is improving/updating the metro design..... You can call it material or anything....

Ugghhh, wpfan, have you not seen Office 2013? It looks exactly the same, they just made the menu title bar & tab's the color of the app logo.

Damn guys. It's basically Office 2013 with minor revisions. Microsoft has been using the same design for 4 years. Try to switch your windows phone to light theme and y'all would get me. Material is basically Metro on light mode with circular icons. Posted via Windows Phone Central App for Android!

Material design has shitty font size and style when compared to metro.

Not to mention the counter intuitivity

That Roboto font in Android! I hate that.

As long as its touch friendly, and all WinRT API and a store app then the conversion effort will have all been worth it. Being Office, but with touch n store would be marvellous. I'd love a pure Windows without Desktop personally.

I think office 2013 pro plus is ultimate one. Why would create another one?

About f'ing time. My biggest gripe since the release of the last office were the colors were too drab and it was hard to maintain focus on where you were.

Have you ever heard of an update?

I don't understand. You need a color-coded top bar to help you remember if you're currently working in Word, Excel, or PowerPoint?

When you work in 3 different office programs all day, switching back and forth is a pain the ass. Previous colors were white, light grey, and dark grey. Get working in outlook and all the inside windows blur together after awhile.

Because this is the next version of Office.

Is it a free update for 365 subscribers?

Is it a free update for 365 subscribers?

365 customers never have to buy office again

Or are always buying Office, depending on how you look at it.

That was the first thing I noticed!

"Hey Cortana, can you finish this spreadsheet for me? I need to get to happy hour."

"ok mccar42 but today I'm as lazy as you, so finished yourself"

Just get rid of those thin borders. Use shadows like mac os for God's sake.

I love Office's slim borders.

Actually its not just office, modern apps in windows 10 preview have a single border+ shadows. Just shadows would be enough.

Shadows are so 2008. Posted via Windows Phone Central App for Android!

Shadows? Are you kidding me? Are you trying to travel back in time? Might as well add gradients to everything too.

You know that app window in current preview uses shadow right? But there is still a single line border around modern app which is so 90's.

Google uses shadows in material design and their design is so colourful and eye soothing.

No please.. an option for that would be great but I'll never use it

Love the colors! We're getting the latest version of Office at work and everything is that washed out blue color for all of the programs. I actually liked the look of 2010 over the new (Office2014?) style. IT has customization to a minimum on my network:(

i hope the "App" or "Modern" version will do this also.. it's so odd to see look at the current version's topbar.

The WinRT apps are already color coded.

Cortana in the top right :)

Do you guys know if you have subscription we will get free updates???

That's the whole point of the subscription. Yes, you are getting it free.

Yes, otherwise what's the point of a subscription. The point of a subscription is always get the latest version when it comes out.

Who leaked theses images? Is it MS? To build curiosity among users¿

Looks great! I didn't think it would work for the desktop, but it looks beautiful! Also, I wonder how the Cortana integration will work? Maybe similiar to Spartan where you can right click a phrase and click "Ask Cortana"? They should integrate the TellMe Bar and Cortana together to make it a bit more minimal :)

I'm just happy that the menus aren't in all caps anymore.

Yes! Most annoying and difficult to change thing about O2013!

At least it's lost the nasty UPPERCASE MENUS of 2013.

Looking much better. That header really needed the contrast.

I've been using the Tech Preview for a while with the Dark theme. It's very nice. I welcome the colors, as I was wondering if they would do it to better match their mobile apps. It just makes sense to have a unified look.

I bet they will change the colors again. The office logos drowned on the colors. And cortana button and smiley (what's that for?) should be white buttons like the others. Why is there a need to ALL CAPS some of the menus? And is there a way to just integrate cortana function with the "what do you want to do" box? Just my thoughts....

Yeah! Merge tellme and cortana :)

Now Access would have to have dark magenta.
Windows Central Newsletter
Thank you for signing up to Windows Central. You will receive a verification email shortly.
There was a problem. Please refresh the page and try again.