Office 2016 Consumer Technical Preview opens up to everyone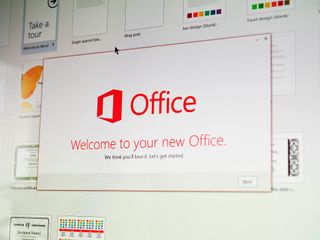 (Image credit: Windows Central)
If you were eager to get in on Microsoft's technical preview for its Office suite, it looks like now is your chance. Participation in the preview was originally limited to those who received an invite, however it appears to be open to the public as of today, albeit still under a non-disclosure agreement (NDA).
All you have to do to give it a shot is head over to the source link below and click the "join" button in the row for Microsoft Office Consumer Technical Preview. After an initial sign-up process, you should be able to download the latest Office preview software.
Be aware that while the preview is downloadable by anyone who signs up, you are still required to sign an NDA. However, once you've cleared that hurdle, you'll be off and testing the January build of the Office 2016 Consumer Technical Preview, along with the lovely new dark theme pictured above.
Source: Microsoft (opens in new tab); via Neowin
Windows Central Newsletter
Get the best of Windows Central in your inbox, every day!
Dan Thorp-Lancaster is the former Editor-in-Chief of Windows Central. He began working with Windows Central, Android Central, and iMore as a news writer in 2014 and is obsessed with tech of all sorts. You can follow Dan on Twitter @DthorpL and Instagram @heyitsdtl.
It looks pretty awesome. I have W10 on my SP3, now this preview, soon to have W10 for Phones on my Lumia 1020... Pretty good time to be a fan of Microsoft! :) I do wonder, though, why they called the light grey theme "Dark grey", they called the dark grey theme "Black" and there is no actual black theme??

For a moment, I read your name as Sam Sabri...

I do that ALL the time :(

NDA? What does it stand for?

Non-disclosure agreement, just means don't share what you see/hear/interact with.

that's weird, anyone can join in, but not share it? so w central shouldn't have this article? or do i get it wrong

w central can't share screenshot or reveal features. This article doesn't do that. it just states that the preview is available.

How is this different to touch? Will touch always be free and desktop be paid?

The Store Version (Touch Versions) are highly optimized for use on a Touch Screen device and will require an Office365 subscription for some features, whereas the Desktop Versions are more Keyboard/Mouse centric and feature the ability to use Add-Ins and Extensions and are ONLY usable on x86 architecture (so no Surface RT or Phone). You can also get the Desktop Version with an Office365 subscription, but you can also pay more up front to just own that version of Office (if they do it like they did in the past at least). The Desktop might also have some more features, but I can't think of any off the top of my head since I haven't delved too far into the Touch Versions on my Surface yet This is of course, for devices larger than 8 inches. They said that everything below that will be able to use office for free (won't require Office365 and will just work out the box like it does on WP now)

Have run both - the touch versions are also heavily feature limited compared to the full blown office. Basically if all you want is to read or do some quick editing the touch versions are OK otherwise your better off with the full versions (which also have some touch optimizations like the icons are more spaced out etc.)

NDA = non disclosure agreement

flood gates are opening....

same here :D! i feel big things are coming ! prepare for it ;)

Been using the Preview for a few months now. I love the new dark theme, and I am noticing some minor improvements with the grammar engine. Glad they're opening things up even more. :D

desktop is probably more fully featured, and the UI elements are more mouse/keyboard optimized. I wouldn't be surprised if over time the desktop version is slowly replaced with the touch version. I've got to say, they're both pretty darn solid.

How will this play if you have Office365 ?

With the touch preview, not all features were available unless you have a 365 account. May be the same here.

For 365 subscriptions, you'll be able to upgrade to this new version when the final version see the light of the Sun, with no additional cost.

Can someone please tell me the difference between Office 365 and Office 2013?

O2k13 is stands alone while O365 is subscription. With O365 you always get what's newest. However I don't know how installing a 2k16preview will play with the installed 365 version.

Oh ok! Thanks for the explanation :). Yeh im not sure. I looked at what's new in the features, but its not enough to download along with all the issues. Im sticking to Pro Plus 2013.

Office 365 is a kind of rental agreement, you pay yearly for it with that, you get free updates to the software. 2013 is the stand alone product, install, no yearly fee but, there is a high upfront cost (depening on the version you select)

Over all, 365 is a better deal, as you get 5 installs for $99, which Congress to about $20 an install. So grab some friends or a couple of family members to fill out your installs and it's cheap. Plus cloud syncing for everyone, plus unlimited storage through OneDrive for everyone. Killer deal. Plus your guaranteed to have the latest and greatest version.

Been using this for a while now through invite. Loving it so far!

In reading the fine print, it looks like this gives Microsoft legal authority to collect just about whatever it wants from my computer, including personal data. No thanks.

Welcome to the way Google does things for final release products.

Don't have Office 365, sadly.

But at the first line: "Please be aware that you should only test this new release on a desktop/laptop that has an Office 365 subscription that you own." :(

confused, installed the preview (January) but still have the old blue theme... Any ideas? EDIT//SORTED!!

I have office 2013 professional genuine that came inbuilt with surface pro 2. If I upgrade to this version then how do I downgrade back to original version once preview is no longer available?

Factory restore your device

Office 2016 is only doing a direct install, not an upgrade, so you will have both versions side by side on your system. When you are done with 2016 you just uninstall it..

Maybe someone has asked this and I missed it...When I looked at the download area, it appeared that you have to have a 365 account to use this technical preview...Is that correct? Thanks

Yep I saw that too; hope they change their mind on this or give us 6 months subscription free!

I'd love to try it out, however I'm really disappointed it's only for Office 365 subscribers :( Wonder if this means MS are only going to be using the subscription model for Office 2016?

One has to question what exactly the point of an NDA is if it's open to everyone. So I just can't tell everyone that it crashes on my particular system?

I think this is probably a "left over" from when it was an invite only download

I signed and downloaded but in the end I'm not sure whether I should install. Are there any known problems with it? There was one document called "known problems" but it was not downloadable.

I'm going for it ... but then I'm a looney :) However there are little voices in my head saying "Don't do it! Don't do it"! I really need to re-install Office anyhow, so if it does screw everythign up, I'll just start again or use my Laptop

Seriously... come on man, it's a preview version so there WILL be problems/issues.

I used to have a lot more courage to try beta stuff, but since I bought this new laptop I'm reluctant to beta test stuff. I mean, there aren't many new features in new Office except black theme and Clippy.

Hmm, on my about screen I'm showing version 16.0.3629.1008. This is for Office 2013 Office Professional Plus. When I downloaded the file and ran it it asked me for my product key, which I entered (purchased through my company's discount, 10USD for full Office!). No 365 subscription here at all.

I have office 2013 proplus, will I be able to use both?

It looks like it updates Office 2013; I'm in the middle of installing it now, so I'll let you know

UPDATE: It does upgrade Office 2013 to Office 365 ProPlus. I'm about to see if I can use my current licence to activate it ... wish me luck :)

Which one do u think is better? office 2013 Proplus or Office 365?

After looking at Office 365 rates, I think I might buy an annual 365 Home subscription. Here in Australia it is $119 per annum; you can load it on 5 PC's PLUS 5 Tablets (Windows & iPAD). You also get Publisher (which the kids want) & 60 minutes of Skype calls per User (ie all up 300 minutes per month). As we have 5 PC's & 3 tablets & we already use Skype now for overseas calls, it looks like a good deal for us.

Anyone else lose Infopath on their system? I've lost the program altogether. I can view imbedded forms in Outlook, but downloading the files asks me to choose a program and there's no sight of it on my system.

Thought InfoPath is discontinued

Yes it is, I just didn't think that the upgrade would remove the program from my system. Trying to see if I can get it separately from MS somewhere.

Ah I see what you're saying. Sorry can't help

The January preview is not there for me? Anyone else?

I'm using the November version as this is only an installer & it then downloads the files necessary (I assume). I will check to see if it has installed version 16.0.3327.1020 as mentioned on the website; but assume this will automatically get downloaded

UPDATE: By following this link on the website, it does download the 16.0.3327.1020 version automatically

The interface of 2013 is so painful to my eyes, I hope this one is better!

Well, part of the NDA (as I was reading in detail) includes that you are not allowed to disclose whether or not you are participating in this program, if I read correctly. I'll reread it again to make sure. If that is the case, then I can neither confirm nor deny my participation in this program at this time. ;)

Oops! Not open to everyone. "Participants will need an active Office 365 subscription." Article needs to be updated to reflect this fact.

If I WERE to participate in this preview, I'd definately use the 'Black' theme as I predict I WOULD find it more pleasing to the eye; that is if I WERE using it, of course :)

Ok, question, Signed up, It says I need a Office 365 subscription, I dont have Office 365, I only have office stanard 2013. Can I play or am I limited because I dont have office 365 ?

It states at right at the top of the NDA - only if you have a 365 subscription that you own Office Consumer Technical Preview Participation Agreement * Indicates a required field. We are excited you are interested in participating in the Office Consumer Technical Preview Program! Please be aware that you should only test this new release on a desktop/laptop that has an Office 365 subscription that you own.

OK so the MS Website was correct, by the looks of it. I have downloaded & installed it; however when I try to register it by entering my 2013 product key it says "This product key is for MS Office Home & Business 2013. Install this product instead" When I try to activate it by MS login it states "These are the products we found for <email address> MS Office Home & Business 2013. Your product isn't installed" Back to 2013 by the looks of it :(

I have a Personal Office 365 account and tried to install on my work machine which is on a domain with no luck. Any suggestions before I uninstall 2013?

Says I need an invite. No longer allows me to sign up after the first attempt.

Cannot find the row containing Microsoft Office Consumer Technical Preview

I have MS Office 2007 - can I use this preview?

So.. What are the new features other than the new themes? Posted via the Windows Central App for Android

I can't find the line with the consumer technical preview either. Looks like MS have pulled it?

and this is what you get if you try a search There are no records that match the requested criteria.

I would guess it was either (a) unintentionally released or (b) there were only a limited number of downloads being made available, and MS have now removed the link. Or maybe there was such a massive surge of interest from us all that we just broke the Internet...

I'm not able to join the program, I don't see an program of Microsoft Connect for Microsoft Offfice Consumer Technical Preview.

Damn, preview has been removed.

G​reate I am eargly waiting for office 2016

Not seeing preview at all.

Is it normal that my Microsoft Word is still called "Word 2013"?? The Account page looks like the one above in the post.

Yes mine is still called 2013; however if you check the version number you will see it is correct; you'll also have the "Black" theme too .. which looks really cool

All I ever wanted in a new version of Office was Office 2013 with a dark theme, it was so nice having a dark theme in Office 2010 and they removed it like assholes. Glad to see it back again.

Can some one advice me how to download and where. the link shows some directory where there is nothing mentioned about the preview. has it been removed?

The titile is wrong. I't not for everyone. I's only for the 365 subscribers.

I've signed up on my HP Stream 7 Tablet, but don't see a way to download do I need the W10 preview to use?

It keeps giving me an error, I'm a365 subscriber. I've already downloaded the necessary files, but errors half way trough installation

The only Office related programs I can see in the list is Office Mix Preview --- Edit: Apparently the download links have been removed for unknown reasons http://www.microsoftproductreviews.com/apps-games/microsoft-opens-closes...

THANK YOU FOR actually providing an update. I've wasted AGES trying to get this.

ah crap. I was just about to download it and now it's gone already :(

It should be worth noting that Microsoft pulled the sign-up link.

clicking on the link doesn't take me to the office 2016 preview it takes me to the list of programs but office 2016 isn't listed

Looks like the link is back up.

Hmmm it looks the same? Wtf, did I just install the 2012 preview???

Here at work we are using MS Office 2010 Standard, lol. I don't see any plans soon for an upgrade.