Microsoft sends out invites for its pre-release Office beta program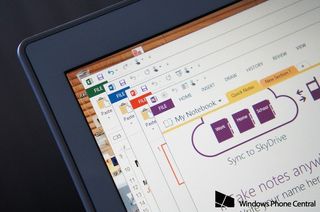 Microsoft is currently sending out invitations to those who applied for the Office beta tester program. The company announced back in July that it was looking to get consumers involved to test out new versions of its Office suite in a beta program.
If you provided your details, you should start to receive invitations in due course.
Pre-release software will include the Office suite, which features Word, Excel, PowerPoint, OneNote, Visio, Access, Publisher and Outlook, in addition to the enterprise focused Exchange, SharePoint and Project server products and cloud services. Let us know if you've received an invitation for the program.
Source: WinBeta
Windows Central Newsletter
Get the best of Windows Central in your inbox, every day!
Rich Edmonds was formerly a Senior Editor of PC hardware at Windows Central, covering everything related to PC components and NAS. He's been involved in technology for more than a decade and knows a thing or two about the magic inside a PC chassis. You can follow him on Twitter at @RichEdmonds.
Great!! WP Office needs to improve a LOT.

Well, so you don't have any issues with its lack of features? Word cannot display my formatting properly, doesn't show my proper page layout, doesn't show equations, doesn't show header and footer and what not! OneNote is also very basic... PowerPoint doesn't let you create presentations... Office simply lacks a lot of features present in the desktop version (features which are used a lot, nothing niche). MS needs to add all this in future versions of Office for phones since they advertise it a lot. (One of the reasons I bought a WP was that they advertised Office a lot. I was fairly disappointed to see how basic it was)

Agreed. I thought I'd use office a lot, but the lack of features and Bluetooth keyboard support killed it for me. Bring along proper formatting, features, and keyboard supoort, and I'll use it every day.

I would imagine that with Windows 10 coming up as a vastly scalable OS that is meant to "run on almost everything" that Microsoft has to make sure that the Office experience is offering the same feature across platforms. One can only hope that they woke up and are now focusing on their own platforms Applications before releasing anything for the others. In general does MS currently suck at propper App design for their own Mobile OS; everything seems half baked when it comes to Office, OneNote, Skype, Weather and so forth.

Try opening office 2013 files or excel sheet with password.. WP we can't even forward email with attachment they are f**ked

Yes they can forward. I do it all the time.

Can you please detail the procedure?

Creates a new spreadsheet. Populates a bunch of cells. Discovers some of those cells would be better if copied/moved to another location. Oh, yeah... Says, "Screw it!" and grumbles while digging out his Surface Pro.

WP Office needs Office as a universal app, as they showed a glimpse of earlier.

Word is practically unusable to me in this state. Not even as simple viewer, because majority of pages are not displayed correctly. Hope they start fixing from that, if viewer is not working at least decently I'm skeptical other, more complex features will be of any use.

Yes ,you definitely didn't 'got'.

Lol, Just correct the dude man.

Yeah!! The guy is wearing a Cortana T-Shirt!! So, don't be mean to him!! :P

He obviously isn't a native speaker. Big deal. Next time you correct someone, make sure you get your own sentence right, moron. Yes, you definitely didn't "got".

Loll.. That madde mee laughh,,

I'm getting tired of betas. There's always a beta.

And after beta there is a stable version.

After beta there should be gamma, then delta before stable version Posted via Windows Phone Central App on Android

Yup, there should be but there isn't. Maybe the developer are too eager to release them. ;)

Soooo, don't sign up or install them. Easy!

I'm afraid there will be no getting away from them. It is and always will be part of the development lifecycle. As goodthings2life said, don't install them.

Don't you love facebook beta,instagram beta, or lumia 900 beta

This is a beta to test future features and improvements. You already have a stable version. Thus beta isn't really worth complaining about.

I don't remember if registered for the beta or not. I must have. Would love to beta test Office on Windows Phone. Office on desktop is already awesome. Would love to get a taste of what's new though.

Where was I when everyone was registering?

WPCentral had an article showing how to register for Office beta.

If only Sam had those ICYMI articles back then. Damn.

My thoughts exactly... Somehow missed that one.

Office update for windows phone!

i got an mail two days ago. i allready downloaded this "beta" Version 16.0.3030.1018

How did you got it. I really want to download it but i cant find the link. Can u give it to me.

I hope they improve power point to make it like prezi, too manny people are switching presentations to it

We tried Prezi when I was at Nokia. Very briefly, it was just too much of a hassle to maintain consistent branding. I don't know anyone who has used it professionally for an extended period of time and stuck with it.

Prezi was greatly frowned upon while I was going through my undergrad. I have yet to give a presentation in the engineering workforce though.

I wonder how they are going to update for WP, since its built into OS... An OS update?

Another preview for developers app, but for office

Remove the integration in WP10 and offer the universal app as a standalone install.

What, you don't have the regular version of Office on your WP? This is also desktop a based beta. I'm not sure what the basis of your complaint is?

It needs to be able to "save as pdf" this I use every single day for my business and I thought id be able to do it from my windows phone office.. I was severely disappointed..

It's okay for my WP, not my VAIO

I got an invite two days ago :D

I got an IV. on Friday last week.

Nothing else come close to Microsoft Office.

The CPU does. The HDD does. The SSD does. The user does.

Ah I never realized the had beta for windows phone else would have registered. Excel can't auto save on my phone. While editing of the phone goes on sleep mode (of course when I am not paying attention/typing) and when I wake it up the changes are not saved. That had put me in a spot many a times. You have to click more hit save every time

Yeah, that simple fact is really, really disappointing. I had been using Excel to track my workouts, but it kept losing the changes I made to the file unless I clicked save every time.

Uh I missed my opportunity.

Can u give it to me too? plz

I've submitted, but I received nothing

Due to the NDA, I can neither confirm or deny.

It doesn't mention Windows PHONE anywhere... Is it the W or WP version we're talking about? The WP is so gimped it's practically unusable, so I'm hoping it's this one that's the subject, and that they're giving it a major overhaul asap!

Please usher in the age of a binary touch-desktop office system with continuum!