Screenshots show VLC Universal Windows 10 app in action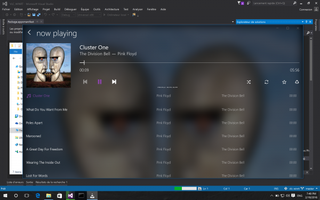 It's been a while since we have heard anything on the progress of the VLC media player project for Windows 10 on PC and Mobile. However, the team at VideoLAN has posted a couple of screenshots showing off the upcoming version of the app for the first time.
The screenshots show both the music player and video player for the universal VLC Windows 10 app. In a blog post, Jean-Baptiste Kempf, the leader of the VideoLAN group, states that the UWP version of VLC ran for the first time a few days ago on both x86 (PC and tablet) and ARM (smartphone) hardware. He added:
It sounds like there's still a lot of work to do before the app is released. Thomas Nigro, who heads up the Windows portion of the VideoLAN team, stated via Twitter there will be more news about the VLC Windows 10 app sometime in March.
Source: Jean-Baptiste Kempf; Thomas Nigro (Twitter)
Windows Central Newsletter
Get the best of Windows Central in in your inbox, every day!
The division bell :) Coming Back To Life and Lost For Words

Division Bell??? Yuk! Floyd go commercial..boo Dark Side all day long....

Animals FTW! Posted from Windows Central for Windows 10

Is it not ok to like both?

Of course! Just not Division Bell... ;)

It's one of their best albums and easily my favorite now! And yeah I'm old school Floyd and liked all of it. Gilmour is GOD!!!

Great start! Thank you Thomas and team :)

Do you remember when people used to rage over the VLC team? I'm glad we have switched to being grateful. Thats some hard work they've put in to be fix backward stuff on 8.1 and move to UWP. Good on your for being posetive, which is not a common thing for this comment section normally. Well done.

I agree. VLC is an anachronism.

Why is it an anachronism in your opinion? It plays a large number of obscure file types that other players don't.

For some reason, it won't play Windows Media files properly for me, either on Linux or on Windows. But everything else is fair game.

Mine play fine. Are you talking about the desktop app? The windows 8.1 app is very limited.

Vlc is a waste app? You are mad then.
It's one of the best music players available and can play almost any format!

VLC gains its popularity for supporting so many audio and video codecs and containers, which makes it great for people who have lots of wavpack music or webm videos that aren't yet playable on Windows natively at the moment for example

I use only VLC on PC for videos

This is a perfect example of why developers don't like to make apps for Windows Mobile... No matter how hard they work on it, so many of the Windows Mobile users are going to be jerks about it.

Looks good. But I prefer Groove and Films & TV ☺.

edit. got confused with groove and movies and tv

The player is very good. Ability of fowarding the video has been great till now. It just needs to fix bugs while opening the app.

I can't get Movies & TV to show subtitles. My files work perfectly in VLC for WP8.1. I can't wait for the UWP and continuum support!

Hope they make a better app for w10m.. 8.1 app is ****

I Agree Ugly Look in wp 8.1 In a beautiful World Of Os

vlc player Crash always in my 1520 OS 8.1

it used to crash in mine also, ever since upgraded to w10m haven't used it, do I don't know about now

Groove is my go-to for music, but what you seem to forget is that VLC really made it's name by being an extremely simple but functional video-player that could handle every sort of file out there. For example, when you rip/convert DVD videos,etc. with Handbrake, the default video player for the result is VLC. And it's great for those who still pop DVDs into their PC for a video player.

I simply love the fact that I can add .ssrt files to vlc while playing moves. Movies & TV app has no way to do this... In 2016... :/

Exactly the reason why I use it on my computer, also to see iso's. Now I use power DVD for that and also blu-ray, but it's kinda slow, so if I'm not using blu-ray, vlc is still my go to program of choice. I do hate the vertical framerates which sometimes are very bad.

On a side note, is anyone having trouble replying to comments on the new app? I can't seem to find a button to submit my reply after I get it typed.

Before the most recent update to the app the submit button was not showing. On the latest version I can now see it.

Aha. As you can see I've updated my app. Thanks lol

Being able to reply from the notification center while your phone is locked is a nice touch as well.

Thanks Thomas, keep the good work.

Can we please get some kind of support for tv and movie poster and synopsis? I'm tired of all these video apps (especially Microsoft's own Movie & TV app) just grabbing random frame and using those as thumbnails. I've got half my movies with a thumbnail of the MGM lion, another 25% with the Fox Searchlight, and the other 25% with random blurry frame grabs. What good is that? There should be a way to also have the app help you grab all the info (season, years, etc) and tag your shows or movies.

I'm sure there is a third party service that will do this. It's not ideal but it would work.

Feel free to point one out to me.

It will never be able to compete with the classic win32 VLC ...

...until the uwp one becomes more established and feature rich. VLC for legacy Win32 or whatever back in it's first version wasn't that great, but overtime it has improved. I expect this UWP version to also improve overtime ;)

The current app is great and the uwp will also be great.

I'm hoping something interesting could come out with the w10 VLC app release. Take it with a grain of salt, but I've heard that with Continuum comes APIs allowing an app to make use of 2 screens. It could be cool to have watch a movie on a big TV via miracast while being able to control it with the phone screen.

So much exting about new feature and up Posted from Windows Central for Windows 10

I can't help myself.....when in India?..... :-)

The whole Twitter meltdown Thomas had over a couple of comments a couple of people made on the Windows Store have never left my mind. I'd probably never download that app or support it because of him categorizing the whole Windows community based on those two or three comments. Just my 2 cents.

The comments didn't start it. What started it, is his company taking money from Windows Supporters on kickstarter. Then after shooting way past the targeted date, releasing a version for iOS (whose users contributed no money) that looked almost identical to the mock up that Windows users invested in. Then when there was outcry, he pretty much came back and called the Windows system crap and idiotic. Bygones be bygones, but you don't take cash to work on a project and then call the project idiotic. I'm sure he is a good guy. Just bad lapse of judgement.

No, in 2030 and still in Beta.

So funny I forgot to laugh Posted from Windows Central for Windows 10

They just had to put the screenshot of the greatest ci-fi movie I've seen. Now im holding back the man tears

Waiting for this.....great

It's going to be beautiful, no doubt. I hope it's efficient, this time.

Finally a touch friendly VLC! I was trying everything to scale up the buttons, but there was no solution. It was painful to watch videos on a surface touchscreen, so this is very welcome :) I hope it will support all the formats like the program does. :D

Please add support for X265.

VLC is a part of Windows 7 computing....

More like Windows XP computing.

QuickTime bro, and winamp

Nice screen shot. Now I'm going to have to dust off my copy of The Division Bell and give it a listen. :)

Looking good Posted from Windows Central for Windows 10

Starting to look a lot like Christmas haha

Supports continuum???? If yes then awesome :)

But continuum should support apps like CAd and Photoshop and also multitasking not suspend apps in background.

I like it Posted from Windows Central for Windows 10

I still believe that moli player is best suited for windows phone... But no updates for windows 10

The Division Bell! One of my favorite albums!!!!

Maybe in the 2017. They took only 2 years to deliver on a beta app for windows phones.

Piper at the Gates of Dawn! Okay good album! After that they sold out!

I would to see vlc on Xbox. And be able to play files from usb etc

I'll be honest, I don't like the UI

Amazing choice of music, and the app should be amazing. I can't wait. No, seriously, this will be awesome. Quite probably one of the most anticipated apps yet for me.

Kawaii UI. The best video player open source..haha

Media player classic any one :D

Yes! This is my favorite video player, cause it can play x265 video codecs. Posted via the Windows Central App for Android

For pc vlc is amazing, but phone its to slow for me, lets wait for the universal

Kinda gave up on vlc in favor of plex.

Great news but it would be cool if VLC supported Continuum on Win10M
Windows Central Newsletter
Thank you for signing up to Windows Central. You will receive a verification email shortly.
There was a problem. Please refresh the page and try again.