Seagate rolls out firmware update to address vulnerability of select portable drives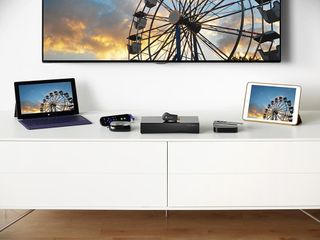 Should you be the owner of the Seagate Wireless Plus Mobile Storage, Seagate Wireless Mobile Storage, and LaCie Fuel portable wireless drives, you'll want to check the official website for details on downloading new firmware. A security vulnerability has been discovered on the drives that could potentially expose data to malicious attacks.
The vulnerability affects the portable drives by providing attackers with unauthorized remote access via an undocumented Telnet service. They could then gain control of your attached storage, as well as all your stored data. Those with unauthorized access to your drive could even upload malicious files to the internal storage.
Luckily, there's a fix in the form of firmware. Should you be running either 3.3.0.005 or 2.3.0.014, there is a patch that can be downloaded direct from Seagate. This will upgrade your drive to 3.4.1.105. If you're not sure, Seagate has a download tool that will allow you to enter your serial number to see if an update is required.
Source: MacSales (opens in new tab)
Rich Edmonds is Senior Editor of PC hardware at Windows Central, covering everything related to PC components and NAS. He's been involved in technology for more than a decade and knows a thing or two about the magic inside a PC chassis. You can follow him over on Twitter at @RichEdmonds.
I hate to say it but this is part of the reason I don't but Seagate. I don't trust their products. I am glad to hear they're releasing a fix. That's very cool. Hopefully word gets out to most owners.

I'm looking to build a pc, which 7200rpm HDD brand do you recommend, except WD of course it's price is the most expensive with a big difference from other brands

There are only three overarching HDD manufacturers these days. Seagate, Tosh and WD...
I personally buy HGST (Hitachi) which is a subsidiary of WD. Toshiba are all good too (they also now own/make OCZ SSD drives...which are cheap, v.reliable and have industry leading warranty).
Seagate have been the only drives that have caused problems for me - so I try to avoid them

WD is my choice for HDD.
Seagate, Toshiba and any other brand I've tested were last earlier.

None of the 3 HDD makers are really out in front, or behind. Each produces a shaky model every so often, but none do so any more regularly than the others. Of course, individual experiences will vary. I have drives from all manufacturers and they are all of comparable quality. NAS drives and portable wireless drives have an OS on board though, and just like with Windows security vulnerabilities will get discovered. So long as they are addressed, Seagate deserves no criticism and in fact deserve praise for addressing the issue so swiftly. This is a sign that you might want to choose Seagate particularly when buying a networked drive.

I only recommend/trust Western Digital. Their product quality and warranty are the best. When it comes to your data. Don't go the cheap route. It'll cost you more than money.

I've been buying and using Seagate hard drives for over 2 decades, and have found them very reliable. There were a few years when I switched to Samsung hard drives. But then Seagate bought the Samsung hard drive division, so I was back to Seagate. I've also used other brands but keep coming back to Seagate because of their products' advanced features, speed and capacity. The problem mentioned in the article concerns wireless external hard drives. It's the wireless part that is vulnerable. That's why I buy only wired hard drives regardless of the brand.

Think I'll stick to Western Digital/HGST. I've been treated quite well by both brands, and see no real reason to switch.
Windows Central Newsletter
Thank you for signing up to Windows Central. You will receive a verification email shortly.
There was a problem. Please refresh the page and try again.