Lenovo's innovative Yoga Book defies expectations and categorization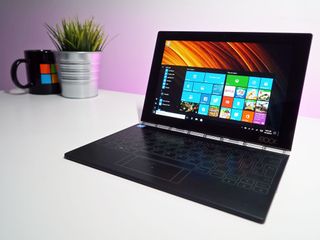 When it comes to Windows 10, Microsoft is changing the rules for hardware companies by creating an OS that can adapt to new, creative hardware. Lenovo stepped up to the challenge in creating the Yoga Book.
Zac Bowden already gave the Yoga Book a full review, but now it's my turn to get a shot at this category-defying Windows 10 PC.
Before we dive into the specifications of the Yoga Book, let's talk a little bit about what this device is and who it is for, because this is some uncharted territory.
Yoga Book should first be thought of as a tablet that also has a keyboard - a keyboard that you can also draw on or take notes. It may look like a laptop, but the Yoga Book blurs the lines between a device for consumption and one for creating. And that's a good thing. For too long tablets were great are viewing media, but failed at anything more like typing a few paragraphs, taking notes, or even running Photoshop.
Swipe to scroll horizontally
Category
Features
Display
10.1-inch IPS Full HD (1920x1200)
400 nits
Processor
2.4 GHz Intel Atom x5-Z8550
Memory
4GB RAM
Power
8500mAh battery
Storage
64GB internal
microSD card slot
Port
Micro-USB
Camera
8 MP AF rear camera
2 MP fixed-focus front camera
Sound
Dolby Audio Premium
Size
10.1 x 0.38 x 6.72 in
256.6 x 9.6 x 170.8 mm
Weight
1.52 lbs (690 g)
WLAN
WiFi 802.11 a/b/g/n/ac
That all changes with a device that's thin and light enough to toss in your jacket, purse, or side pocket in your bag.
At less than 10mm thin and weighing just 1.5 pounds, the Yoga Book with Windows 10 is one of the smallest PCs available. It's seriously light. And yet, it's also seriously premium with that excellent watch-band hinge and aluminum and magnesium chassis. Pull this out of your bag in public, and I assure you people will take notice.
The 2.4Ghz Intel Atom processor gets you enough power to run full PC apps, but it won't zap your battery. You can expect 8 to 9 hours of real-world usage meaning you can leave the charger at home. There's also no fan, so no noise either.
The 10-inch Full HD display is still more than enough for watching movies especially with the unexpectedly powerful speakers, and it will also help if running Office, OneNote or your favorite sketching program. There's 64GB of internal storage with micro SD expansion, 4GB of RAM, and two cameras: an 8MP auto-focus rear camera and a 2MP front-facing camera for Skype calls.
The real magic with the Yoga Book comes down to its stylus and Halo Keyboard. Looking like something from the future, the touch-based light-outlined keyboard is a better typing experience than you might expect. It's perfect for emails, Twitter, Facebook, or any light productivity. It reminds me of ergonomic keyboards that take some adjustment, but once you acclimated it's more than fine. There's even haptic feedback and audio cues to help you adjust — and the keyboard will also adjust over time to how you type.
But like I said, think of the Yoga Book as a tablet with a keyboard and not a laptop and you'll be okay.
The built-in trackpad is also fine for most tasks, but you can always use a Bluetooth mouse for a more robust experience. While it is small, it's not bad either.
Inking time
The stylus lets you take handwritten notes in OneNote, do sketches, diagram your next project or create whatever you want. You can even toss in a real pen replacement to take notes on paper that then transfer to the Yoga Book. To turn the Halo keyboard off and go into pen-mode you just press the pen button near the top. This action also reveals an onscreen OneNote icon in case you want to jump into Microsoft's preferred note taking app. OneNote syncs across your PCs and phones too so you don't to worry about transferring anything later.
Microsoft is doing a lot these days with native inking technology in Windows 10, which is all here too. Expect even more inking abilities with the free Creator's Update due in early 2017. I expect something like Yoga Book to benefit massively from that update since inking and 3D Paint are its focus.
Who this is for
So, who would benefit from such a device? The Yoga Book seems perfect for students who will quickly toss the smart tablet into their school bag. Artists or creatives who are out for the day and who want to pack light. Also, anyone who just wants a fun, unique PC that could expand their abilities either on the go or the couch.
Yoga Book is a whole new category of computing device. Play games, watch a movie, check on Twitter, type an email, do some drawing, it doesn't matter as you have a full computer that you can easily hold with a single hand. It's not a device for everyone, but I think many who want to do more than what a phone can do without carrying a laptop or 3-pound tablet will reap its rewards.
It remains to be seen how well people adopt the Yoga Book, but so far people are finding uses for it in their daily lives. There is a ton of potential with this category, and the Yoga Book is likely the trailblazer for it. And if, for some reason, Windows 10 isn't your thing, Lenovo also makes an Android version of the Yoga Book, and a Chrome OS-powered variant is expected for 2017.
Personally, I can't help but think of how cool it is to have something like this headed into 2017. Creativity is coming to everyone – people and companies like Lenovo – and we are seeing a resurgence of category defining PCs. I, for one, welcome it.
Windows Central Newsletter
Get the best of Windows Central in in your inbox, every day!
Daniel Rubino is the Editor-in-chief of Windows Central, head reviewer, podcast co-host, and analyst. He has been covering Microsoft since 2007 when this site was called WMExperts (and later Windows Phone Central). His interests include Windows, laptops, next-gen computing, and for some reason, watches. Before all this tech stuff, he worked on a Ph.D. in linguistics, watched people sleep (for medical purposes!), and ran the projectors at movie theaters because it was fun.
Is the Atom processor adequate enough these days for streaming? My Lenovo TV stick really has problems keeping up enough to make it a seemless experience...

It's not the greatest, but if you stick with Store apps it's just fine imo. I do look forward to seeing this device say with an ARM processor in late 2017 though...that could be fun. Maybe others can chime in, but ATOM feels like SD810 to me for loading Store apps... Just don't think of this as a "laptop" despite its looks. Sure, you can run Photoshop, but that's where you'll feel ATOM hit its limits.

ARM, USB-C and fingerprint reader and this may end up being the greatest device ever. ...or at least one really cool thing that rules the tablet marketplace.

I haven't experienced problems streaming 1080p videos using Edge. Even when outputting to a second monitor, I've had no problems with Youtube or Netflix through the browser. I also use Tubecast for serious Youtube sessions and I don't have any problems with that either. My internet speeds are a modest 25mbps.

Have been using the Windows version too - and carry this with me daily and mobile/laptop device. While the handwriting is a good feature - sometime the device (Atom chip) slows down and the handwriting is also not too clean. Will have to slow down my writing speed for the screen to keep up. Edge browser sometimes is slow and pages keep hanging - again nothing a quick repboot will not fix. But its thos inbtween slodowns that irks and makes this a device not yer perfect. The form factor is perfect though. Love its lightness and portability and the quick occasional emails, Netflix and picture viewing etc is the kind of workflow that works fine. UWP apps have no problems on this. Its gthe regiular windows apps that choke up the ATOM.

I'm gettin next gen with usb-c

Yeah, USB-C/fast charge and an ARM processor + LTE could make this a lot of fun.

The $550 price is a little high for an Atom 10" laptop... but 1200p is a great resolution, and that keyboard/penboard seems like a very interesting idea. Also, 64GB internal storage is a bit rough... how hard would it be to move user profile folders (documents, downloads, etc) to the SD card?

You'd be able to just click and drag the files from the file explorer.

See I have a problem with this device. I've seen and tried one and it looks amazing. Performance wise, it was fine BUT I only used it to draw. And I could see myself buying this to draw on. The problem is the price. The Windows 10 version costs 600€. Which is absurdly high for the internals it has. For that price, I would have to use for more than just drawing. The problem is the processor can't handle the programs I normally use on Intel i5 and i7 chips. And I don't use Windows apps. And well, this is assuming I could get used to the keyboard which I doubt (my experience typing in it was even more disastrous than it was on the Surface Touch cover...and I never bought one of those for myself because I couldn't write in them). The cheaper (well, "cheaper". It still costs 500€) Android version would be the solution. Except it runs Android and while Android is the best smartphone OS, it's a terrible OS for tablets or anything that is supposed to resemble a real computer. So I think I'd rather wait for some deal or for the price to sink to around 400€ and then buy it only for drawing since it's considerably lighter than the Surface Pro.

I do wonder what drives up the price. The Android version is only $50 cheaper, which seems even more absurd ($500 for "PC" that can run Android apps, eh?). It is excellent build quality and the components used are nice, it's just ATOM is underwhelming. I think this device makes an excellent claim to that SD835 ARM chip. Hopefully later this year we'll see it (Fall refresh?).

And on the other hand, Lenovo makes some really cheap and decent android phones. Why d companies bump up the price of laptops then?! It's crazy.
.
We need a OnePlus like company for laptops too.

I'm currently in the midst of a little experiment. I disconnected my main desktop and now my Yoga Book is my only PC/tablet. http://forums.windowscentral.com/lenovo-yoga-book/437934-2.htm#post3604202 It took some getting used to, but it's really not that bad. You'd definitely want to install either uBlock Origin or Ghostery (I'm seeing faster page loads with Ghostery). But for modest use, I'm getting by just fine. It comes pre-loaded with the Office Mobile apps, and all those are fast to open. You could install full Office. I've done it before on an Atom 3745 with no problems, but there's hardly any reason to since the mobile versions work great. I have Photoshop Elements 11 installed as well as Audacity. Elements loads and runs surprisingly well. You'll definitely get bogged down if you're using large images with many layers, or processor heavy affects, but basic editing is still snappy. The biggest problem is Edge. To be clear, it's NOT terrible. I can use 5-6 tabs without issue. But there are also times when I'm using two tabs and Edge starts to struggle (which probably speaks more about Edge than anything else). However, Edge is still the most efficient browser to use on Atom tablets. Overall, using the Yoga Book as both a tablet and desktop PC is going remarkably well. Atom CPUs (Cherry Trail) are so low on the totem poll that most people focus on what they can't do, however, they are still capable of a lot.

Nice. Thanks for the share.

Thanks for this info. By any chance do you use Unity? (Game Development software). I really need to replace my 4-year old laptop and this would be ideal for game development (especially drawing) but I'm concerned about the atom being to slow to run everything. I don't mind closing photoshop while using unity but I'm still concerned.

I've never used Unity, but given the Yoga Book's performance with Photoshop, I'd be hesitant to recommend doing any video game development on it. As far as drawing goes, it's great if you want to draw on paper using a real pen. Not so great if you plan on using the stylus. Perhaps doing so works for other people, but I easily lose track of my lines when trying to draw on the Halo keyboard. Real paper makes life much easier as you can keep track of what you're doing.

Or, instead of installing another application that uses resources, you could simply just use your hosts file with a long available list of things to block.

I remember when Windows Central posts used to have hundreds of comments. Returning after an year 😥

Microsoft changed a lot from 1 year ago to the company its today, most of the press articles in 2016 for Microsoft products were for Windows 10 Anniversary Update (desktop), Microsoft's TAI (AI chatbot) Xbox One S and Scorpio, Microsoft Ink, Surface Hub, and lately Surface Studio, Surface Dial. But looks like much websites are missing Microsoft's efforts to partner with 3 great companies to keeep Windows Mobile alive: (HP with the Elite X3, Acer with Jade Primo and Alcatel with the Idol S). If you look at these articles from these phones in WC you'll see they have almost thousand comments, which gives the idea for sentiment analysis that consumers still like smartphones as tech gadgets a lot today over any other tech gadget. Microsoft said that in 2017 there are going to be surprises for Windows 10 Mobile, stay tunned.

Are you kidding? Windows 10 Mobile is dead. Marketshare will continue to drop to almost zero.

Hundreds of comments on an article about a WhatsApp update was not our peak of existence, thankfully.

I think he made a mistake. It was like 'only' around 100 comments, not hundreds. But now, I've seen articles reach 400-500 too.!! :)

To be fair, the quantity and quality of articles have increased. And there are still articles with over 100 replies.

I'm pretty annoyed that nobody besides Microsoft uses the Atom x7 instead of the x5. If you're already using an underpowered processor, why not go for the best underpowered processor that only cost $10 more? I would gladly pay $10 for an Atom upgrade

I was thinking the same thing. I guess an M3 would be too much of a battery drain?

Core m3 costs around $282 for the chip versus $38 for the ATOM. That's why. That's also why Microsoft wants Windows 10 on ARM to offer something more in the middle.

It may even be possible that the Snapdragon 835 competes with Core-M in certain instances.

I'd like to know what the heck drives up the price of the Core M!

I'm sure there's an actual reason, but it's probably just Intel not wanting to sell it for cheaper

SERIOUSLY RIGHT ! Why is Core M so much more expensive ?!

@HeyCori I suggest that WCentral try and clarify your question. I think that is central to understanding where Intel and ARM are headed. If Intel's cost structures are so out of control that they can't offer a Core M for no more than $80 (I'm guessing that's what a Snapdragon 835 will cost, a full $200 less than its current selling price), then I think Intel is doomed. That's what the Core M will be competing against very soon. At this point the Atom really shouldn't even be on the market anymore.

The Core M is rated at 4.5 Watt TDP, but can be configured by the OEM to go all the way down to 3 Watt TDP. The Atom x5 is rated at a tad below 4 Watt. In other words, in terms of power consumption and battery life, the Core M and the Atom can be identical. The Core M is just significantly faster. Like Daniel mentioned, the only real difference is price! That has put OEMs in a pickle. They either go with a cheap but sucky Atom, or they build a more expensive laptop and then must choose between a Core M or a Core i3 (both cost about the same as much). Almost all OEMs then decide that given two laptops at the same price point, the one that performs better will sell more units than the one that is 2mm thinner. So Core M isn't used. Looking at how Intel has priced and positioned Core M in the market, it's almost hard to believe they want it to succeed.

It will be interesting to see what Intel looks like in ten years. With Windows on a Snapdragon (and maybe Tegra eventually), a lot of these Atom, Core M, i3 devices might - and probably will - find a new, cheaper home on ARM. Even Intel is fabricating ARM chips now. With Snapdragon/Tegra getting more powerful every year, there might come a time when OEMs decide to skip the more expensive i5/i7 chip and just go ARM instead.

Correction: Should read "the most significant difference is price" not "the only real difference". Core M being faster is obviously also a real difference.

I really hope this product finds an appreciative audience and Lenovo continues to improve it.

This is pretty cool. I could probably get used to typing on it. but drawing etc is really really cool. and its almost like a "notebook" in its design. very very awesome.

"category-defying Windows 10 PC" A folding screen is hardly new as we had this sort of thing back in the Windows XP tablet edition days. But, then again, you have to market these things and try to sell them. "Yoga Book is a whole new category of computing device" But... it's not. I just do not understand where you're heading here? Sure, of course, it's lighter than the old Fujitsu stylistic st6012, less clumsy than the HP TC1100 or 2710p, but it's nothing new.

P.s. I'd rather go for the Surface Pro 4 with the Core M cpu.

Also there's the Acer ICONIA 6120 Dual-Screen Touchbook.

Quick question: Can you use the "pen" on the actual screen? I'm itching to replace my Note 10.1 (3 yrs old, runs good, just "want" something different), but can't stomach the price of a Surface Pro. For what I do with it, it's hard to justify. Even a high end one would have some trouble with Inventor, so I wouldn't be able to talk our IT dept into buying me one. I just use the Note 10.1 for note taking and sketching prelim designs. It still works good for this, but after using the pen on a Surface Pro, I'm just blown away by the difference in latency. But of course, if this is a lower processor, maybe not as good?

Can you use the pen on the keyboard part in pen mode without the paper? Note: The video answered my question. You can use the pen on the keyboard part in pen mode without the paper.

Watching the video shows that it's a touchscreen, but doesn't show anyone using the stylus on the screen. Unless I missed it...

I have one of these amazing little devices, and YES, you can use the Pen on the touchscreen.

Sweet, thanks for the reply, good to know!

No, I am pretty sure the pen only works on the keyboard/slate portion. Maybe gen 2 will have this feature. I love the idea of this product, but $500+ and the form factor puts me right back in the Surface 3 dilemma. A great companion device, but if you want something more akin to a laptop, then you need to look elsewhere.

ah, ok, thanks. I'll have to keep looking. I think Lenovo has a Surface clone. I'll have to see if I can find one to try out before buying. I would also like a slightly bigger screen, like the Surface Pro

The commercial for the ASUS Transformer Mini shows it being used with pen input. Really surprising for such an inexpensive device. It's making me reconsider getting a Chromebook for my daughter...

Looking at the Yoga Book as a replacement for my 4 year old Samsung 7 Series Slate, which i use primarily as a slate. The Halo keyboard and stylus pad options would be a great upgrade. One thing i'm curious about is the graphics capabilities. I assume it has on-board Intel graphics, but which? Need it to be able to run OpenGL 3.3 or higher.

OpenGL 4.4. Info plucked straight from my own Yoga Book.
http://i.imgur.com/0kvBKJT.png

Awesome! Will be ordering one soon. Thanks!

Is the Atom Processor with Windows powerful enough to run Adobe Illustrator? I know there are several apps that work like Illustrator, but I've just used it for all my digital drawing for a long time. Just curious, as I'd really like one of these.

What is the music being used?
Windows Central Newsletter
Thank you for signing up to Windows Central. You will receive a verification email shortly.
There was a problem. Please refresh the page and try again.