Seeing Windows 10 Mobile build 10572 download as pending on previous build? Here's the fix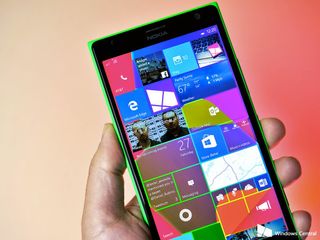 Despite the caveat that the latest Windows 10 Mobile build, 10572, should only be installable for those coming from Windows Phone 8.1, it appears that some users on earlier Insider builds have been seeing the build available as a pending download. Microsoft is aware of the issue, and has put a short-term fix into place. However, if you're stuck seeing 10572 as pending, Microsoft has provided the following fix:
Reboot your device
Open the Windows Insider app
Re-select the WIP ring of your choice (WIP Fast for currently affected users)
(You may be prompted to reboot again)
So, if you're sticking with your previous Insider build and have seen this issue, you should be able to resolve it with the above steps. Let us know in the comments if this works for you!
Source: Microsoft (opens in new tab)
Dan Thorp-Lancaster is the Editor in Chief for Windows Central. He began working with Windows Central as a news writer in 2014 and is obsessed with tech of all sorts. You can follow Dan on Twitter @DthorpL and Instagram @heyitsdtl. Got a hot tip? Send it to daniel.thorp-lancaster@futurenet.com.
Can I wait and update or I have to go back to wp8.1???

Microsoft (Gabe) is looking to release 10575+ next week that has a fix that will stop the need to roll back to 8.1

i thought he said "a couple of days time" i.e. today :) guess we will find out later....

He said "next tuesday" actually, since they released the build yesterday (two days ago for some)

i recall him saying "a few days" but not too worried

Camera app is awful, it's way to laggy

Camera app is smooth as butter for me on this build...

HI! is this OS available now?

Only thing that don't work well is Groove. When I listen music in background and maybe check email. Music starts to bug and cut... Hope they'll fix this :). Send from Windows 10 Mobile.

I thought the build was ready..Awwww

On a more serious note,I have been putting off moving to the insider build but do we know how long before an official release? Should I take the plunge anyway, or wait? Basically, what's in it for me?

Official release should be in December. Make the jump if you want to try it out but I'd wait a few more days for the new build that'll fix the update bug.

If he hasn't installed an insider build yet, it doesn't matter if he waits for the bug fix in the next build. He will be upgrading from 8.1 anyway. However the comment is confusing in whether he is talking about this particular build, or insider builds in general :P Posted via the Windows Central App for Android

It's not confusing at all. He simply asked an official w10m release date and if we think he should do the preview or not...he mentioned nothing of a particular build.

Official upgrade release won't be until 2016, after all the new phones are out. To get 10 right away you'll have to buy a new device. They've said this publicly more than once...

Really? Don't think they did. http://www.techradar.com/news/phone-and-communications/mobile-phones/windows-10-mobile-is-rolling-out-to-current-phones-in-december-1306206 "Using the rather unconventional platform of a Facebook comments thread, Microsoft Lumia has announced that Windows 10 Mobile will begin rolling out to existing phones in December."

Yep, seen it on Facebook too. But starting the rollout and completing,it, and with the tight schedule, keeping that start of Dec date is going to be interesting.

Every technical preview is an official release

I'm having trouble downloading the Windows Device Recovery Tools in my notebook. Pops up the error 0x80091007, I've tried everything, but without success. Can someone help me?

Me too bro.... Yet find solution for that....

Try to download nokia recovery tool and use it. For some it worked.

Build 10575 is coming next week, right?

According to Gabe, Tuesday at the latest...

Cool... I just can't roll back to 8.1 now. No access to any laptop/pc..

you are person who needs continuum.... or at least thats what microsoft thinks.

Wish they would just replease 10575 so those who do NOT want to go back to 8.1 can enjoy it too...

They are currently still testing that build to make sure its stable and useable for the phone and that the fix didn't break anything. Be patient, it's only a few extra days

Not sure its a fix, and more like they disabled it to force people to test the upgrade path.

If you've run out of foil, I hear there's good prices for it at Best Buy.

Come on.... It was well within reason.

Not really. I'd say its unreasonable. Up until this point they've been fairly transparent even if they got flak for it. To get all conspiracy theory now seems the opposite of reasonable.

Is it good enough to run in a daily basis?

It depends on your device. Fast CPU and min 1 GB RAM? Yes

Compared to my 930 and 1520 it runs much smoother on 640xl

How to check which build i have ... ?

Hard to say, even with similar hardware there are some users suffers and ther are some able to use it fine. It all matters on how you use the device and if stability and responsiveness is critical to you. In my case I tested it on my secondary Lumia 820 and it runs worse, the animations are fine but the actual performance isn't. I get more "Loading..." and delays most of the time, not to mention battery life will be a big issue. So my recommendation is that if you really want to be part of the Insider program to test and give every critical feedbacks, then the new build is usable if you got rather more modern device.
If you only got one WP device and cares more about the stability, performance and usability, then stay using WP 8.1 for a while until the W10M officially released on public with proper firmware updates. This is mainly my experience and some others too. You can try if it runs well to your device but prepare a backup and give huge time allowance since installation process takes alot of time.

I thought the last build was workable, with the occasional lag on the start screen. This build, however, is MUCH better! On my 1520, everything opens up pretty quick, and so far, no start screen lag. This build is very useable as a daily driver for me.

Does your 1520 overheat a lot? Mine does, and drains the battery.

I've experienced some warming, but nothing major. As for the battery, I can get through the day, but it does seem to drain a bit quicker than normal.

Runs great on my 640XL. Being a preview build there's the odd bump in the road now and then, but it's certainly good enough for daily use IMHO.

I think its much better built comparted to last one... although some of the tiles stays square only eg. facbook

My phone was showing it, but a simple reboot fixed everything.

Is anyone experiencing problems with Groove Music after updating? No tracks are playing. . . at all. Just gets schizophrenic and jumps around to different tracks. Recieved an error code - 0x00d11cd (0x00d3701). HTC M8

On my M8 I had the error referring to the audio driver, but restarting the phone like the error message suggested fixed it.

Shoot, ok. I tried that and nothing. Ty

Try the Power+Volume down reset

Sorry thats for the Lumia phones. I'm not sure how a soft reset is done on an M8 but a soft reset is what you could try

It's the same for the m8 Posted via the Windows Central App for Android

I tried a soft reset and no, it isn't working. What's a hard reset? Wiping everything?

When we will have the opportunity to install the latest build without the necessity to make the roll back process to WP 8.1?

Next build will be build to build update..
( So no need to Roll Back for W8.1 )
Yes as Gabe confirmed 10575 is build to build update.. ( Means W10 - W10 )
& M.S has planned to release this build on Coming Tuesday..

As soon as people learn to read the news! JK, it will be the next one! They have solved this bug already!

Does this build include the feature where texts are spoken out lound when connected to an AUX, Blutethooth?

Yes, it is in this one (and the last few I've tried).. I'm using it with an external BT speaker.

It wasn't on my last few builds. In 8.1 it is under "Settings" then "Speech" then Read aloud incoming text messages. I could then reply to them by voice.

I'd have to look more closely, but they added the SMS capability to bluetooth. So, i believe there is a difference between Cortana handling it versus an external unit that has the SMS bluetooth capability. I used to have to tell Cortana to read SMS messages allowed when connected to bluetooth in my car. Now, my car does it for me without needing Cortana. Personally, I prefer Cortana though. I've yet to take the 5 minutes to figure out how to get it to work that way again though. My car only allows me to do stuff while parked and I keep forgetting to just sit for 5 minutes and figure it out before heading off somewhere.

read that this build creates problem for dual sim phones. What is the issue, I have Lumia 730.

You have to read... Hint: It's at the bottom in the bulleted list... http://blogs.windows.com/windowsexperience/2015/10/20/announcing-windows...

Hi Dan, I'm on build 10549 and my phone has automatically downloaded new insider fast update and is waiting to install. The steps listed don't do anything to change that. What should I do?

I don't know if its really that big of an issue though, is it? Just let it say pending until the next build comes out. Does it being stuck on pending do anything to harm the phone?

The text message preview and quick text message replying is awesome. I also noticed that finally the microsoft apps like Xbox and weather finally work correctly. Previous build none of the MS apps worked

I got it to work,after it had an error, and was half installed. Now....now it is pretty nice. It is kinda cool,when you power off now it says "goodbye, don't forget [calendar event]"

it's had that for quite awhile...

Didn't work...stuck on 10549.4

My only concern is the Battery life since it is awful since the technical previews at on the roll..

This process is not working windows insider app is crashing not opening after re installing

I have a build 10536 n it's not working i m stuck in here i can't revert to 8.1 it stops after trying to flash n shows operation failed or I can't update to 10572 ????

WTF....i got sms and a phone call almost at the same time......i was getting two voices at a time.one was from my friend who called me and second...." You have got the msg from so and so, do u want to read it or ignore it"

All my contacts are gone :'(

I dont know, wat wrong with this build 10572. Why i would roll back to Wp8.1 to get updated to lastest build, den wat is the use of windows insider app????....For other build we use to get update from the app itself and now for 10572 we have to roll back.....wp8.1 ,does it make any sense???

Bro, do you even read? It has a bug, you can't upgrade from win10, but it's fixed in next build. Before you whine, read a little bit.

It already happened several times

What app is that 1520 using for the wallpaper? I want it!

Over all this build is much better but some apps that worked on the previous Windows 10 builds are no longer working for me. Some examples are Twitter, MyTrips, Nfl fantasy, 6tag.

Twitter works here lije it should. Did you hard reset? It's almist mandatory

The background images that they use looks so awesome, i wonder where i can get those...

Insider app crashes immediately on 630 on 10549

Even on my Lumia 630 insider app is crashing.

Installed 10572 on my lumia 620 yesterday and rihgt now iv'e got another update... I don't know what it is, or for what but it's installing right now.

Let us know what it is when finished installing

My phone wan't to install build 10549 instead. Tried that dix but still showing up 10549....

If we are on 10572 now will we have to rollback to get 10575?

Why am i still unable to download speech and keyboard? Cortana still not available for India? I have selected region as US.

Same problem here. If im not mistaken, the same problem was in previous build but a build after that fixed it. Another thing, when trying to attach pics/vids, whatsapp now cannot "see" anything inside the photos app.

Using this build on lumia 525! Its smooth and awesome

Couldn't wait anymore so I did hard reset to get update with clean install. My system reports that I'm still on 10536 and I have lost Messenger and Cortana. Of course, update does not see 10572. ???

I can't update even to insider preview 10549 please help me

Does win10 support data connection via usb cable now?

Reverted my phone back to 8.1 and I have an update waiting but it wants to update to 10166.. WTH? How do I make the update go away, it keeps hounding me.

I am on the build 10536, will I be able to jump straight to 10575 when microsoft releases it? As windows recovery tool shows error each time i tried to revert back to 8.1

Installed update 10572. Will not load backed up text messages.

Hi, I'm still on build 10536 and never tried to revert back in windows 8.1, I'am using Lumia 520 with only 512MB 1ghz Cpu processor just hoping my currently build will just jump on to build 10575 next week tuesday I knew AUL has a word and action. We all know that Windows 10 mobile developers reading our threads and comments all over the websites. Millions and thousands using Lumia 520 users all over the world they have to prioritized since they started building Windows Mobile 7, 8, 8.1 later 10 on Nokia Lumia 520 became popular and the cheapest smartphone in the world. We trust you AUL GAB and our hope is in your hand. Thank you
Windows Central Newsletter
Get the best of Windows Central in in your inbox, every day!
Thank you for signing up to Windows Central. You will receive a verification email shortly.
There was a problem. Please refresh the page and try again.