Set Bing's daily image as your wallpaper with Microsoft's new official app
Finally, there's an official way to bring Bing's daily pictures to your desktop.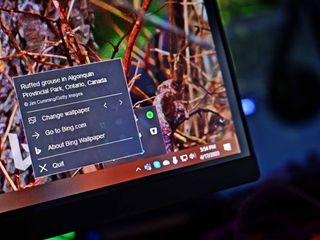 (Image credit: Daniel Rubino/Windows Central)
What you need to know
Microsoft launched the official Bing Wallpaper app this week for Windows.
The app cycles your desktop wallpaper to the daily Bing photo each day.
This works similar to Microsoft Launcher on Android, which can change your wallpaper to the Bing image each day.
One of the biggest requests among a certain subset of Microsoft fans for a while has been to allow people to automatically set their desktop wallpaper to the daily image that appears on the Bing homepage. Now, Microsoft has delivered with an official app called, simply, Bing Wallpaper.
The app is a simple program you can download from Microsoft (opens in new tab) and install on any PC. Once installed, Bing Wallpaper lives in your system tray and will cycle your wallpaper to the daily Bing image automatically.
"Bing Wallpaper includes a collection of beautiful images from around the world that have been featured on the Bing homepage," Microsoft says. Not only will you see a new image on your desktop each day, but you can also browse images and learn where they're from."
We just shipped an officially supported way to set the Bing homepage image as your desktop wallpaper on Windows - happy Friday! - https://t.co/lsR3fB473kWe just shipped an officially supported way to set the Bing homepage image as your desktop wallpaper on Windows - happy Friday! - https://t.co/lsR3fB473k— Michael Schechter (@mikeschechter) April 17, 2020April 17, 2020
The only slight catch with the app is that it asks you to set your homepage and default search provider to Bing in your browsers upon install. If you want to have the daily Bing homepage image on your desktop, but don't want to actually use Bing, that could be an issue. Microsoft makes this optional though so make sure to uncheck the boxes during installation.
Still, it's good to see Microsoft supporting this in an official capacity. It's a similar approach we've seen Microsoft take with Microsoft Launcher on Android, which features a setting that lets you cycle your phone's wallpaper to the Bing daily image as well.
Windows Central Newsletter
Get the best of Windows Central in in your inbox, every day!
Dan Thorp-Lancaster is the former Editor-in-Chief of Windows Central. He began working with Windows Central, Android Central, and iMore as a news writer in 2014 and is obsessed with tech of all sorts. You can follow Dan on Twitter @DthorpL and Instagram @heyitsdtl.
Always wanted this. But it's not in the Store? Why?

I don't recall that store apps have the permission to change the background (or other OS theme settings).

There are plenty of third party Unsplash apps in the store that can do this.

Yeah, so the reasoning that Store app can't change wallpaper doesn't make sense. I guess we even have apps do this on Windows Phone days either.

Store or UWP can change background wallpapers and lockscreen wallpapers. This has been possible for ages. Changing wallpaper isn't much of a security risk to not even allow this.
I use MyerSplash app for wallpapers and I can change my wallpaper from the app itself.

My guess would be support older Windows versions too.

Windows 10 and Windows 8.1 are the only versions that Microsoft still supports and they can both run UWP apps and the store. Unfortunately this is just another example of Microsoft not supporting their own development platform. On the plus side, I can install this on my work PC where they have removed the store.

@Andrew G1 Because to this day MS are nothing more than lukewarm in supporting their own Store. Every single MS app and service after all this time should be in the MS Store. We know it isn't and MS wonder why developers ignore the Store.
It's a MS shoot themselves in the foot example.

There's a link in the article, you have to download it directly from Microsoft. It's not an app in the store.

Ive been using the Bing desktop app for this for years. Is this the same thing as a UWP now?

Same here. I'm trying to figure out what is different about this.

I think this is just a standalone wallpaper app, vs. Bing Desktop. The author could have looked into this though.

It's only for wallpapers. Although it asks you to change the default search engine on all browsers to Bing before installing.

Cool. I can get rid of Daily Wallpaper now.

I feel like this option should have been built into the OS by now. Still, it's good to see progress.

Yeah, they could have actually baked this to the OS. I don't think many people would complain integrating this to the OS instead of having to download a seperate exe app that actively runs on the background.

Agreed. I always wondered why it wasn't.

You don't actually have to set your homepage and default search engine to Bing in order to install the wallpaper. Those are the default options, but you can uncheck them.

Yeah, true. No clue where the author got that idea. I just installed this on my wife's computer and it didn't require anything of the sort. It did offer the option of making Bing your default search.

It's true. Just uncheck the options at installation.

I have been using Bing Desktop (which is official) for years. How is this different?

You cannot set your location/region. Thus, the wallpaper mismatches with the one on my phone and browser... I'll stick for now with Dynamic Theme from the store. It served my very well over years.

I'm using Dynamic Theme too. This app can't update your lock screen so I'll stick with what I have.

Out of curiosity: why isn't this made available via the microsoft store?

This is awesome. I remember Bing having something like this back in the Windows 7 era, it was an optional install in Windows Update back then.

4K support? 3:2 aspect ratio?

It adjusts pretty well to different resolutions abs aspect ratios. But dual monitors support isn't perfect.

backiee is a better app. Actually it is the best wallpaper app out there and also offers bing daily image

"+ offers in-app purchases" What are they (it doesn't say)? One review says you have to sit through video ads. No thanks, not for me.

I use Dinamic Wallpaper from the store. It's lean and accurate for Bing dailies. There are many wallpaper aps that do this in the store.
Always nice having an official app though.

Not in the store... I will continue to use dynamic theme

an OK application but honestly there are better available in the App Store.

not in the store... no thanks

Store is dying. No one, not even MS wants to use it.

@Kadcidxa While you're being a little over dramatic there is no doubt MS sends out mixed messages when it comes to the Store.
They have to lead by example if they want developers using the Store but too often MS fail to do so.

this could be integrated in the taskbar search

it is great and now it is time to retire Bing Desktop app.

Why is this an App and not a Windows feature? Weird way to release it. I hate rubbish living in my Notification area. It can be a cluttered mess.

The problem was the original Bing Desktop Program was no longer available to be downloaded.
I use Daily Desktop Wallpaper. I like that it saves the image so I can make own rotating Desktop Theme if I like.

I guess I'll have to check it out. I've been using DailyPic for quite some time now on Windows and Android. The iOS version is a joke in that you have to manually download each picture everyday.

Dynamic Theme is way better. It allows you to change your lock screen as well. Also allows for manual or automatic updates.

"it asks you to set your homepage and default search provider to Bing in your browsers upon install". No it doesn't. It asks to set Bing as your homepage. It has to do this presumably in order to show you the pictures you just installed it for!

Good to have a Official app but still dynamic theme is very good.
If they attach this feature to os it would be great

Still not as good as the official Bing Desktop app for higher resolution screens. On my Surface Pro 5 (default resolution) it has to stitch 4 of the picture together whereas the old Bing Desktop app filled the screen perfectly each day.
Windows Central Newsletter
Thank you for signing up to Windows Central. You will receive a verification email shortly.
There was a problem. Please refresh the page and try again.