Several app fixes rolling out with the latest Xbox Insider Alpha ring build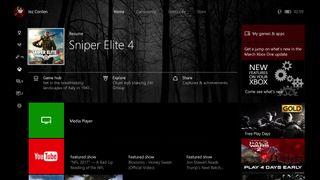 A new build is on its way to select Xbox One consoles – affecting users enrolled in the Alpha ring of the Xbox Insider Program. Although no new features have surfaced as a part of today's update, fixes are being deployed for numerous applications and system-level features.
Like usual, today's update will begin rolling out to applicable Xbox Insiders from 6PM PST/9PM EST over Xbox Live. For those who use the Xbox One's Instant On mode, the update will begin automatically downloading to your console. If you choose to manually install the build, navigate to All Settings > System > Console Info & Updates and check for an update.
Here's a closer look at what's been changed in today's update (via Microsoft (opens in new tab)):
DETAILS
OS version released: rs2_release_xbox_1703.170210-1900
Available: 6:00PM PST 2/13 (2:00AM GMT 14/2)
FIXES:
IGN
Fixed an issue which caused the IGN app to crash to Home upon launch.
Beam
Resolved an issue which caused audio to drop out for a few seconds when viewing a Beam stream.
Ubisoft Club
Fixed an issue which caused the screen to automatically start scrolling down, preventing the user from scrolling back up.
Backward Compatibility
Resolved an issue which caused newly purchased or disc downloaded backward compatible games to fail to launch.
Sign-in
With profile sign-in settings set to "Lock it down", users should now be able to sign-in again after playing a game, then signing out.
KNOWN ISSUES:
Cortana
Cortana may be too responsive to phrases which sound like "Hey Cortana". The development team is continuing to tune and improve this.
Cortana may take a long time to respond when activated while playing certain games.
Scheduled Cortana reminders will not provide a notification if the user who created the reminder is signed in, but not the current active user.
EA Access
The EA Access app may indicate you are not an EA Access subscriber when you are. This does not affect your ability to download or play games from the Vault, or receive discounts on EA titles.
Screen Dimming
The screen may dim after a short amount of time while viewing videos in certain apps (Hulu Plus).
Settings - Ease of Access
When enabling the Mono output setting in Ease of Access - Audio, Settings becomes unresponsive, crashes, and fails to launch on subsequent attempts. Workaround: To launch Settings, perform a hard reset (hold down the button on the front of the console for five seconds until it fully powers down, then power it back on).
Settings - Display & sound
The Audio output page is under construction and some of the new settings are not yet functional. New support is planned for Dolby Atmos for home theater, Dolby Atmos for headphones, and more in upcoming builds. An announcement will be made when these new features are ready to try out; enabling these settings now will have no effect.
Wireless Display
The Wireless Display app fails to launch and immediately crashes to Home.
Stay tuned to Windows Central for all the latest information from the Xbox Insider Program.
More: Everything you need to know about the Xbox Insider Program
Matt Brown is Windows Central's Senior Editor, Xbox & PC, at Future. Following over seven years of professional consumer technology and gaming coverage, he's focused on the world of Microsoft's gaming efforts. You can follow him on Twitter @mattjbrown.
Had my fingers crossed the next build would address the overzealous Cortana activation :/. While playing co-op games it seems especially prone to erroneous activation.

Yep I play fifa with my friends at home couch co-op of course and whenever we talk now cortana gets activated to random words even

Yep I play fifa with my friends at home couch co-op of course and whenever we talk now cortana gets activated to random words even

So, if a purported "Surface Phone" gains popularity can we have Windows Phone Central back as "Surface Phone Central"... Xbox Central

It's not WindowsPhoneCentral, it's WindowsCentral. All of this stuff runs Windows as a base.

Are you really gonna sit here and explain this too me, like I'm serious. 😂

No one wants that old name back. You must be that 1% left. Buy an iPhone. Im looking at it. Lol

Yooooza sellout!!! Windows Central is fine, but ain't nobody got time for no iPhone😂😂😂😂... No, can't agree with you there, swizzlerz... Cool name, BTW

Oh, off subject again... Sorry😏

you just want to be cool like the xbox insiders. maybe buy an xbox and join the program. :D

Nawww, not likely. I don't even have a TV, right now. No time.

Im on alpha. But it glitched updating said install fail. Reported. Will see if it tries again.

I had that happen on the last alpha update. Had to factory reset. All was good though as I had all my stuff on an external and it reset to the new alpha build and everything works fine now.

i wont factory reset mine. dont need the update that bad. they will just keep getting telementry data each time it fails to install lol .

Turns out after a few restarts the update is showing Im in the update screen now. The error code I had before was saying not connected to a network. At least it's downloading now ;)

I wish I could be in the beta ring at least :/ the 3rd ring didn't get any new build till now...

Still waiting for the Wireless display app. When is this coming to everyone?

As Microsoft says: "Coming soon" So tell me, When? lol

They haven't updated that app since they released the preview sooooo long ago. Can't get it to work most of the time. I just use the wireless display built into my TV for now.

it sucks you dont want it. i have a feeling it will never come untill its working and fixed.

I'm in ring 4 will i receive the update i have the message on insider hub about the update

I guess so, cause I'm in Ring 4 and I received the message as well...

I'm new to the program so I don't know yet

I don't stream, really, but the beam integration is pretty decent when I tested it. I am super happy that screen limits have finally been added for XBox. What took so long? My kid is going to really hate me now, I can totally lock down his digital existence with the flip of a few switches. Muahahahahaha!

whats your beam name ill follow you :D

I'm still looking for a way to go back to the 'default' new wallpaper, the Hero images.. I can't get off of custom/acievement art/single color
Windows Central Newsletter
Thank you for signing up to Windows Central. You will receive a verification email shortly.
There was a problem. Please refresh the page and try again.