Shazam app for Windows Phone adds karaoke feature with real-time lyrics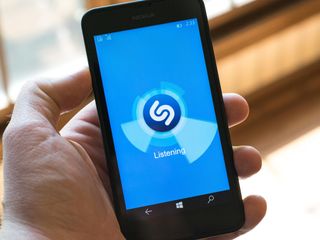 If you like singing along with your favorite songs, but don't quite know all of the lyrics, the latest update to the Shazam Windows Phone app might help out. The new version add real-time lyrics to songs played on the app.
Here's what the new 4.3 version brings to the table:
You can now sing along to the beat with real time lyrics - Shazam a track to check them out!
The settings menu has an updated help section
We've made plenty of other small UI and performance improvements
This new feature should make using the Shazam app a lot more fun for those folks who want to have their own private karaoke party at home.
Thanks to Abhishek for the tip!
Download Shazam from the Windows Phone Store (Free)
That's a pretty good update !! XD

Time to sing 90's songs with vowels.

Soundhound has had this feature for years on WP. But still it's good to see progress from shazam too!

Soundhound last updated in 2013 lol. That's why I've stuck with Shazam: updates.

And yet somehow Shazam still hasn't caught up to SoundHound...

The story on WP is different though. Soundhound has an ugly interface, and crashes a lot. Shazam is great in all respects (except the choppy navigation) and getting better.

I personally use and enjoy Musixmatch for read along lyrics. Works really well too.

Yaaas, i used to musixmatch the isht out of my music. Loved it. Haven't used in a while, so i will download both and see who does better. Hmmm... Now that i think about It... Does shazam let us use our library for "karaoke"? Maybe musixmatch still remains...

Yeah, that's the one I use. Works great.

Yep, musixmatch works really well too.

Shazam detects every song! and has a nicer UI with direct links to Xbox Music

Good on Shazam keep the updates coming! User accounts pls.. ♡.♡

http://winphone.ir/ask-cortana-whats-up-everyday/ ​

We don't understand Persian, so if you want us to read your blog you better write it in English.

Awesome! I just tried it with The Drums' Book of Revelation and it works like a charm!

Yaaaaaas Ps: They have come to Chile like a million billion times and i have missed all of them :(

Shazam is much better than soundhound

Sound hound is better, but since it has nt bn updated for 2 yrs shazam is the ideal choice for wp users! I loved using soundhound on my android phone nd still using it on my wp

Hiw is it possibly better?

Any key compelling advantages for using Shazam over Cortana's music search?

Speed. It's much and much faster. Also library seems bigger on shazam.

Not to mention offline track recognition (it saves the sound clip to send later I think). I always use Cortana first but then switch to Shazam if it fails. Pinned it to start (something those other platforms still don't have).

That too. I'm speaking personally ofc but the wp version is killed by this.

hazam typos in the third paragraph!!

I want to be able to add my tracks to my Spotify playlists like on Android and iOS. Then this will be perfect!

I use Shazam, pinned to start screen, to find the name of a song I don't know, then download the song to my phone, add it to one of my playlists.

Great. Its another app I cant update. Running win 10.

Same here. I can't update or reinstall the app on my 625 with WP 8.1.2. Did anyone solve the problem?

A bit annoying that the free version gets the update but the paid version, Shazam Encore, appears to have missed out.

I agree with synthman4, Shazam Encore should receive the update first or at the same time the free version did

I have Shazam Encore & it did not miss out. I just received an update for it that seems to be the same update that the free version got.

You can get the update for Encore now.

What if the music doesn't have any lyrics?

Then no lyrics will show up. Duhh

It's about time they got around to feature parity on WP. Been missing this for years. Updating now

Time to give this a try then. Musicmatch for WP had this feature for years.

I've been using musixmatch and Cortana now. Musixmatch has a very nice layout for lyrics

Yes, it's a gorgeous app... But sometimes my 3G is not enough for It... Effing Movistar... Effing Antofagasta.

That was the feature why I choose the Music id app. So, what can I do now? :)

Sound Hound has this feature eons ago. But I ditched it since the UI is simply bad compared to IOS. I'm using Shazam since March of this year because they keep on updating and the UI is way better than SoundHound's.

Same here. Shazam all the way.
Windows Central Newsletter
Thank you for signing up to Windows Central. You will receive a verification email shortly.
There was a problem. Please refresh the page and try again.