Shazam scores Xbox Music integration, recommended songs in latest update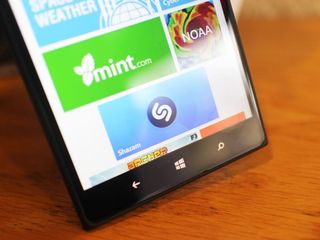 Shazam is the latest subject in a flood of app updates that have come through today after an issue affecting the Windows Store seems to have been resolved. The update bumps Shazam up to version 4.2 and brings some welcome integration with Xbox Music and adds recommended songs based on your Shazams.
Here's the full breakdown of what's new in Shazam 4.2:
Preview your favorite Shazams with Xbox Music Playback
Get recommended songs based on your Shazams
Enjoy Xbox Music in Charts and My Shazam with more to choose from
Add your favorite songs from Charts to My Shazam
The Xbox Music integration looks to be a pretty awesome addition to an already awesome app. Unfortunately, the update doesn't appear to have hit Shazam Encore yet, but it shouldn't be too far off. Hit up the store link below to grab the update, and let us know what you think in the comments below.
Thanks to Rokibul and Mohamed for the tips!
Dan Thorp-Lancaster is the Editor in Chief for Windows Central. He began working with Windows Central as a news writer in 2014 and is obsessed with tech of all sorts. You can follow Dan on Twitter @DthorpL and Instagram @heyitsdtl. Got a hot tip? Send it to daniel.thorp-lancaster@futurenet.com.
The only great job is a footjob.

Dirty. Everyone say, dirty.

Which phone is it in the picture? The buttons are so close to each other!

1520, I think. The buttons do look quite close to each other, because it's such a massive device :) If they were at the extremes, they'd be a LOT harder to reach.

I thought Shazam already had Xbox music integration? I remember reading about it and then using it and seeing it link to Xbox music in the past.

Your name is Alan, you are a male and you were born in '87, that or 87 is your lucky number

Good job. What does that have to do with the article or my comment?

Chillax! He was just brushing up his psychic skills and failed miserably. ;-)

Actually, he didn't. As it was all correct :)

A psychic on Windowscentral...unreal

A Banshee in Windows central. Oh my Lydia.

Yes, I remember using it too, but it hasn't worked lately. Songs found claim to be available on Xbox but the app takes you to an advertisement to subscribe to Xbox Music not the song! It has me logged into Xbox Music (I do subscribe), but no song? Maybe it will be fixed.

AFAIK, before it only searched for the song. Now it takes you directly to the song.

No, I used it to take me right to the song and could add it to my collection/playlists. It hasn't worked, recently. Hope it will again.

So does this mean this is one of the first apps to use the Xbox Music API?

Yes, musiXmatch uses it too.

My app has also been using the Xbox Music API for a while, if you're interested it's called Album Releases :)

Great App. I love it and have it pinned to my start screen. Nice live tile with album art rules! Thank you!

Shazam is much better than soundhound.

Haha get it because its a hound...

Lol, good one. But agreed, Shazam is far better now, thanks to no support from SoundHound.

New features, while that's great how about they actually fix the issue some people have of not even being able to even launch the app.

This. I get stuck at "loading". I downloaded SoundHound for the mean time. Hopefully they'll let us log in the next update as well.

I remember shazam way back with WinMo...
.......
Then all these iDroid users were like "Look at what my phone can do"..... That was annoying, because at the time there was no Shazam app for WP... Lol.

Awesome news. I constantly use Shazam. Now instead of writing down and looking up music later it just does it. I honestly do think Shazam is the best music search engine. I can be in a club, loud bass, 3 seconds of basic house beats, and it already knows what song it is.

nope not seeing it on my android

Awesome I bet Siri is pissed right now

ROTFL. Not sure why you said that but it made me laugh.

Yeeeey . Give it up for progress!!

https://windowsphone.uservoice.com/forums/101801-feature-suggestions/sug... plz vote

I read it, and it doesn't make sense. Maybe you could clarify?

Cool. Haven't used Xbox music since I got my hands on perfect music

Shazam has really been supportive of WP.

They'll get over it soon enough.

This isn't new, it used to exist in the old app. It seems when they updated the app a while back, it killed the feature. Glad to see they fixed it, used to use that function all the time to add songs to my collection/playlists.

They killed live lyrics :(

Yes. I used it all the time to add songs to my collection/playlists too, but then the connection to the actual song on Xbox Music stopped working. I hope this fixes it.

Ask Cortana, "What's playing?" She listens, gives you the song, and links it to Xbox Music. Shazam and Soundcloud to me are sooo 2007. ;)

That is great and all, but putting region restrictions for Cortana is still going to make the music fingerprint analysis limited to a certain group of people. Also, it might not always be ideal in a Avicci techno/disco environment: "CORTANA!! WHAT'S PLAYIIIING?!". Sure, just type the search query manually. Well, no, I prefer Shazam, then ;-)). In a public place like a café it might also disturb prople around you depending on what kind of situation you are in, and the culture. In a supermarket or clothes store, sure :)

FYI there is a music button in the upper left hand corner after you click the search button and load up Cortana. Super fast and easy

WOW! Great tip. I used the button at the bottom in WP 8.0 and was disappointed when it was gone in WP 8.1. I never noticed that it was in the upper RIGHT hand corner of the first screen of Cortona.

I've actually had her recognize techno and trance as well, being an avid trance guy myself. ;) why do I live in the states? I should be in Europe lol

XBox integration when XBox music might get replaced in future (W10) ??

And here I thought "XBOX Music-integrated shazam music discovery" :). Does the XB Music app support that already perhaps?

I want this on the Windows 8.1 version!!

Switched to soundhound a few years back, haven't seen a reason to go back to shazam

Pity it does not work on my Lumia 920... After that earlier update... They need to fix the problem!!!!

Version 3 took ages to recognise a song, and sometimes it wouldn't. Version 4 brings the recognition speed for Windows on par with other platforms. Well done!
Windows Central Newsletter
Get the best of Windows Central in in your inbox, every day!
Thank you for signing up to Windows Central. You will receive a verification email shortly.
There was a problem. Please refresh the page and try again.