Shazam update brings improved video pages, bug fixes
By Dan Thorp-Lancaster published
Shazam has scored an update today, and while it's relatively minor, it does bring some improvements to video pages, along with the usual bug fixes.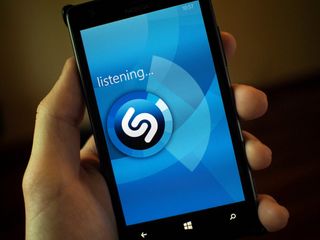 Here's a breakdown of what's new in Shazam version 4.2.1:
We updated to a new version of Youtube to make the video pages even better
Minor bug fixes
While the update is rather small and doesn't contain as much as last week's update, who can complain about improvements and bug fixes? The update applies to both the free version of Shazam, as well as the paid Shazam Encore. If you'd like to snag it for yourself, you can hit up the store links below to get started.
Dan Thorp-Lancaster is the Editor in Chief for Windows Central. He began working with Windows Central as a news writer in 2014 and is obsessed with tech of all sorts. You can follow Dan on Twitter @DthorpL and Instagram @heyitsdtl. Got a hot tip? Send it to daniel.thorp-lancaster@futurenet.com.
This app is amazing, and can someone please explain the "seems faster" joke?

It means that the performance is actually faster or it is just a joke to trick people into it :) - what the guy below said :)

It's an inside joke that manifested from about two years ago, when there was an app update without a changelog. The main offender then was the Facebook app (and sometimes whatsapp) which was continually updated without an explanation of changes in the new version. So the commenters used to joke "[app] seems faster."

Actually, it was Daniel Rubino who started the meme. He wrote about a WhatsApp update and he said "there's no changelog and I don't see any new features, but it seems faster". Then Facebook started updating their app all of the time with the same changelog and everyone started joking that it "seemed faster".

Now that, I didn't know about. Wasn't an avid WPCentral reader back then. Nice to know though, thanks

Thanks for the explanation.

The update worked on my HTC One M8 with Windows Phone 8.1, but it keeps failing on my Lumia 920 with Windows 10 preview...

Because of the extremely early software.

Finally they fixed the app loading issue & I can actually use the app again.

Yes finally!!!
And to think they are calling it a minor bug... Not working at all is a major bug in my books!! :-)

Shazam is kinda lame to me, personally. I like Spotify.

It's meant for identifying music

Coetana does that too, right?

Yes. I use Cortana for music searches now. She works great.

I find her to be a Lot slower and not nearly as accurate as Shazam (unfortunately). Is your experience different?

I find the same experience too. Cortana is generally a lot slower than Shazam (Shazam usually gets the song within 2 seconds) and sometimes doesn't pick up the song at all if there's background noise.

Yep the Bing music search was good at one point until Shazam has improved further with faster and accurate tagging. Cortana seems to fail for me at tagging music for some reason.

Well you have to note that she's still in beta

True, I do however think that music tagging has existed for much longer so I wouldn't expect it to get worse with Cortana as the engine behind it hasn't been rewritten unless I've missed that memo.

Shazam is faster, yes. Accuracy, they're about the same (in my experience, at least).

Different uses. Shazam is a handy app to listen to songs you hear and you don't know the title.

Speaking of music recognition.... A bit off subject, but first off the new Cortana in W10TP is jacked.. Granted it's not finished product...
.......
But, it doesn't yet appear to have music recognition yet... So, maybe MS is planning some new way to integrate it into the OS... Hey Cortana is a possibility... Nevertheless, I've never like the idea of using apps like Shazam for this, especially because of the way it's always been integrated into WP....

The WP music tagging integration IS good. The only problem I have with it is that it, stupidly, doesn't back up previous music tags performed to your Microsoft Account. It's been like this for a while, which is a shame. I can't count the number I've of times I've reset my phone only to realise that all my tags have been lost. Shazam at least (well, it does now in any case) backs up all tags when you perform a system back up which is now why I use it most of the time.

Are you running the TP❓ That would be great feedback..

I'm not. I'm running Windows Phone 8.1, but this has been a niggling inconsistency for me since 8.0 dropped in 2012. I'm just surprised that it has taken MS this long fix this? I'm not even sure if it's broken or whether this is by design. If it is the latter, then it's bizarre and stupid and surprising all at the same time.

This is a good bit faster than the native Cortana music finder.

Cortana works fast on my NL925

I am quite satisfied with the developers who keep supporting Windows Phone.

I don't understand why they don't update their windows version of their app too, considering that the WP version is universal. The windows version was last updated in 2013.

Won't upgrade on Win 10... :(

Meanwhile soundhound haven't updated their app since 2013!!

Shazam, Soundhound, MusiXmatch...etc name it, they all suck !!! Cortana is a way better (Bing music search, for those who don't have Cortana), especially for the underground music's... i still own MusiXmatch only for the lyrics !!

@ZacktheNever:
Does Cortana's music recognition work better than the old music search that's found when you press the search button on a Windows Phone? This music search literally took ages to recognize snippets of music, so sometimes I missed songs. By the way: I personally have the impression that Shazam's catalogue is more versatile.

Thank you Shazam for your awesome work. And thank you again for treating the Windows users equally with the ones in other ecosystems!
If you could just for once contend in the Red stripe deal-sales I would be happy to buy the encore-version.

I am a long time Shazam fan from Windows Mobile days. I purchased the Encore version to show support for Shazam. We need to make sure that the Apps that support Windows Phone, know that we appreciate them and want them to be profitable.

The best in business, get's even better. Say what you want people, but when it comes to identify music, nothing beats Shazam, especially with the latest updates that occur last several months. I've been a Shazam user for years, even the windows mobile version was rock solid and worked great. Cortana (+Bing Music) is great, no question about it, but Shazam is at least twice better. I tested Shazam 2 weeks ago (so that means prior this last update). I chose around 54 songs around the globe. Different genres, world hits, songs from top list from countries like India, Japan, Taiwan, Brazil, Venezuela, etc. First I run Shazam to all songs to see how much of them Shazam will identify and then how much Cortana will do. The results were: Shazam: 53 songs identified, 1 didn't Cortana: 44 songs identified, 9 didn't I did the test second time, the results were the same. So, Shazam is better than Cortana, when it comes to identifying songs. This is a test i did on my own, so this is not official test by any means and i do have in mind that Cortana is in beta (btw, I used US Cortana, not UK Cortana). Anyway, before you jump into replies, keep in mind that this is a test just for identifying songs, not other options. :)

Re: Boris,
That is good information. Seems like you put in alot of effort and did solid work. You should test Soundhound too and then write an article. Maybe publish an update to the results and article periodically? Best Wishes

That actually is very good idea, I might do that and then add the results to the one i got. I still have all those songs on my lap top, so i will test Soundhound with the same songs. I think that will be proper test, right? :) But as i see, the soundhound app is not updated since May 21st 2013! Guess that doesn't matter if the database is updated regularly, like Shazam one is updated daily, right? Never used soundhound before, so that's why i am asking this questions. About writing an article, well, that is even greater idea, i might do that and maybe WC will publish it just cuz of the sake of the information for the people :)
Windows Central Newsletter
Get the best of Windows Central in in your inbox, every day!
Thank you for signing up to Windows Central. You will receive a verification email shortly.
There was a problem. Please refresh the page and try again.