Shazam brings trending, genre charts and more in the latest update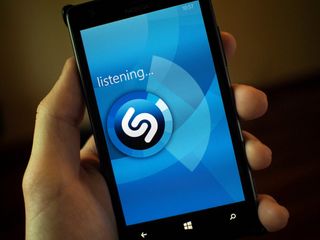 Shazam and Shazam Encore have both been updated to version 4.0.1 on the Windows Phone Store. This is a major release, introducing a number of new features, and follows on the heels of an update published just last month. The app for music lovers just got that little bit better.
According to the store listing, we're looking at the following new features in the 4.0.1.13 release:
Trending Shazams: what's popular right now
Genre Charts: hip-hop, pop, dance, country
Future Hits: the 10 tracks you should know
Global/Local Charts: top 100 most Shazamed tracks worldwide and near you
New Lyrics and Video pages so you can stay connected to your discovered music
Enjoying the new Shazam update? Let us know your thoughts in the comments! You can grab Shazam from the store, as well as the Encore version, which is essentially the same app minus the advertising.
Thanks to everyone who tipped us!
Rich Edmonds is Senior Editor of PC hardware at Windows Central, covering everything related to PC components and NAS. He's been involved in technology for more than a decade and knows a thing or two about the magic inside a PC chassis. You can follow him over on Twitter at @RichEdmonds.
It's about time! But I never use this app

It's a good app. It's my go to app for music id.

One of my most used app as a music lover and music discoverer.
It's really good at following the lyrics.

I've been starting to sing and I'll try this out for lyrics. Thanks :D

Couldn't read your comment....can't get my eyes away from your DP!!!!!

It's a version 4.1.0.13, not version 4.0.1.13 like it's in the article :)

Truffle Butter!!! You know!

I find only to be the better one.

They are both great songs!

That's better right? It's a later build :)

I prefer Cortana :) but she don't show lyrics...

She also doesn't know as many songs as Shazam.

It's one of my favourite apps. It's good to see Shazam updating their WP app from time to time.

Why can't the Encore version be the App of the Day?

It is now amazon free app for a limited period.

Now what about an update to the Windows 8.1 PC version on the Store?

lagging after recent update....

Why aren't they upating the windows desktop version of their app?! It's been about a year since the last update. The WP version is now universal and comes in the AppX format, so what's keeping them?

Still no login option. No backup of your tags.

Would be nice if they hooked into OneDrive for cloud saves.

Excellent app. Gets most songs ID correctly, even local music.

Music+ :) better than Shazam

Re: Delachowski,
There are many Music+ apps. Which one are you suggesting and why? Who is the developer?

Stock Music finder is best one... Shazam sucks on wp...

Re: Silentscream12,
I couldn't find the Stock Music app in the Windows Phone store?

I think this is just a minor update. I had "trending" prior to this update.

The only thing new I see is the charts page...trending used to be in the context menu.

Had an issue where the app would get stuck on the loading screen, so though that the update would hopefully fix the issue, but no still can't start the app at all. Contacted Shazam but weeks later they still haven't bothered to reply at all. Guess it maybe time to ditch the app.

Atleast update your image!!(that ' listening ' pic is from old shazam)

Really nice looking app now. Good update.

I agree. Panorama scrolling is still a bit choppy though.

Much better, videos are now playing again

I wish they also updated their Windows 8.1 app.

The Shazam app in the article's screenshot is way better than the current one.

The app hasn't worked on my 920 over the last three updates. Just gets stuck on loading Using soundHound now

I really like Shazaam, but it annoys the hell out of me that we can't log in, and have our 'Shazaams' be linked to our account so they can be seen on the PC, or any other device we log into. The old version we could log in on the phone, but that didn't do anything. I don't understand why simple things like sending the tag info to their servers is such a big deal. But, then again the 'pin to start' button on musiXmatch lyrics player doesn't work, but they refuse to fix it.

Why do people still use this app? All they need is Darude Sandstorm.
Windows Central Newsletter
Thank you for signing up to Windows Central. You will receive a verification email shortly.
There was a problem. Please refresh the page and try again.