Shazam Windows Phone apps updated with new Cortana support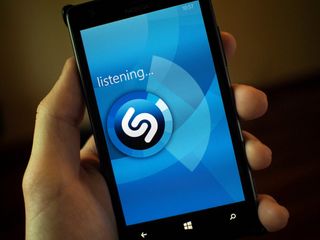 The Windows Phone versions of the music and media discovery app Shazam got news update today that includes access to Cortana in Windows Phone 8.1 for the first time.
The brief change notes for the apps state, "You can now ask Cortana 'Shazam this' to instantly start identifying music around you. We've also improved performance and fixed a few bugs." The update applies to both the free, ad-supported, Shazam app as well as the $5.99 ad free version, Shazam Encore.
Do you like that more Windows Phone apps are adding Cortana support? Thanks to everyone who tipped us!
Windows Central Newsletter
Get the best of Windows Central in your inbox, every day!
Now shazam devs make a universal app next time.

It's universal app, also with this update you can check on WP store.

Curious: Will it also function with TellMe on Windows Phone 8? I'm on Cyan and 8.1.1, but still: Curious.

Obviously not, it says 8.1...and it says Cortana....

No. TellMe didn't have any integration with any apps of any kind (as far as I know). Cortana is better. It was made to integrate with other apps.

Realarm has speach commands via TellMe ;)

Well there you go. I told you "as far as I know".
Cool ;).

TellMe had amazing app integration at the time.

Okay, okay, I got it. TellMe was awesome and it integrated with other apps.

TellMe was a bit underrated, it could search terms, launch apps, etc. I hardly ever uses it though.

I never used it simply because I couldn't type queries. Most of the time: I'm in public places, where talking to your phone is weird. Hence why I love you can type your commands into Cortana, and get the exact same results.

Not true, actually. Lots of apps had TellMe integration (including WPC), and all those apps' commands automatically converted into working with Cortana on 8.1, hence why I was curious if it would also be backwards compatible.

Looks like I never cared about the TellMe assistant in WP8, hence the lack of knowledge on my part.

Yeah the voice commands work with WP 8.0 it'll use Bing Voice Commands.

Awesome... But what is the different between paid and free? Seems same to me.

The difference is ad-supported and ad-free.

I wonder who actually pays that much just to remove ads.

I would, and did, because they annoy me that much.

App development costs alot. This covers costs. There was a subreddit on /r/windowsphone awhile ago.

Why do I need this when Cortana does it already?

Sometimes Shazam works better...but then again sometimes it doesn't lol

I regularly end up going to Shazam after the built int Music search fails to identify something.

I do find Shazzam to be more accurate and faster (since it's a pre-set sample). Also, I believe it can work offline (checks later when it gets a connection).

Yes, for me it's the main point. When I have some connections issues, it keeps the audio to search the song later (soundhound also does that). It's the only thing I wish Cortana could do as well...

Did you notice a drop in identifying quality? On WP8, it would almost always recognize songs, but with 8.1, it almost always fails.

Yes. Accuracy and overall recognition seems to have stepped backwards. At least for me.

Is it possible to have Cortana listen to a song and display the information for said track (Honest question)? If it's true I wasn't aware this was possible. How do I use this feature?

I thought this was activated for every region already? But what I did was; manually changed my outlook and Xbox regional settings to U.S. and the icon appeared soon after

Well I'm already in the US. Should I simply ask Cortana to listen while the music is playing? Are there any settings that needs to be configured in advance?

You can ask Cortana "What's playing?". You can also tap the musical note on the top right of the screen

Thanks for you're help guys (and gals). This is a great community!

You either tap the music icon in the top right corner on Cortana home or you can ask 'what song is this?'

Tap the search button on your phone to start Cortana and you should see a music notes icon top right. When the song you want info for plays you tap that icon and Cortana will listen and tell you what song it is. Tap the song details to look for it in the Xbox music store.

Yes. In Cortana, look at the upper right side of the screen. (2 quarter notes ) when this icon is tapped, Cortana will start listening. The music has to be fairly loud without too many other noises, like human speech.

As far as I know, Cortana only does music. Shazam also does movies and tv

Hey.. Seriously? Shazam also does movies and tv? I didn't know that..

Shazam works way better than Cortanas stupid music listening crap that never works

Cortana music search works excellently for me, and the success rate has been better than both Shazam and Soundhound even though I would acknowledge that Shazam sometimes recognizes some music that Cortana doesn't.

Cortana doesn't recognize a lot of the music I listen to whereas Shazam is much better.

If only Cortana didn't speak like a robot in the UK...

She's terribly posh, isn't she?!

While I feel for you, blame the people who absolutely had to have her NOW and gave no consideration to the fact that making her sound human requires an actual human to record thousands of words first.

If only she didn't forget so often or search bing for absolutely everything.

I ended up having to say "dial x" after trying call numerous times and then phone numerous times. Would have been quicker to pull the car over and use my hands.

This app had last been updated over a year ago. So glad to see they haven't dropped support for Windows Phone.

What does the encore version offer more from standard edition? Just ad free?

Thought they stop supporting windows phone

Yes. That's what I recall too. Good news for wp fans, though.

I thought the same when they got integrated with Apple's I-phone search but Thank God they didn't :)

I read the same a while back.. That they were no longer going to be developing for WP. That's also when I uninstalled it and haven't looked back.

I still haven't forgiven them for for what they did on WP7. Remember when they went to a paid app and everyone who already had the app was supposed to be grandfathered in? Then when they put out an update, it broke the app and we had to download the paid version. I'll just keep using Cortana and Soundcloud

Imagine with Denin: "Hey Cortana, Shazam This".

Well, for now, at least you can ask Cortana, "What is this song?", and she starts listening for music. But I agree that the "always listening" will be pretty cool with Denim!

Yeap, but in some ways, Shazam its a specific app for that, with a huge data base, and maybe has a better engineering for that. Cortana/Bing >> Beta.

GREAT! Now the iPhone freaks can't say they have Shazam with Siri because we can say, well we have Music search with Cortana AND Shazam, BOTH accessible by Cortana! Great one-up for WP!

Cool but... what's the sense of asking Cortana to do for you what she can do herself? hahahaha Nobody will open Cortana do ask SHAZAM to find a music when they can tap the music icon on Cortana and she will find from Xbox Music library (a very complete one).

They don't use the same database, so some songs are only founded by either Cortana or Shazam only. It doesn't happen very often though.

Yes, but the more we use her, the more her database grows

So impressed with Cortana and only been using her for a couple of weeks; the more apps that use Cortana the better.

I don't even have a Word Flow keyboard in Croatia... What's Cortana? :)

Is this legit, cos last I heard they were pulling their apps.

its legit. they said 4.6 woud be the last version, guess they changed their minds.

It's legit. I use their Shazam Encore app and it updated.

Maybe after hearing about Windows 10, they thought "maybe we should get back on board with this platform."

Quite possibly. My guess is a lot of companies/devs are going to be doing that in a couple months, especially when the dev messages becomes clearer.

Let's hope the developers at IMDb also do this.

Doesn't work at all on my 930, the app just crashes after the start up logo

Amazing improvement, I cannot even open the app on my L925 now :( it closes immediately after launch :(

Thanks for the update, but does anyone know if it will sync between your phone and shazam.com? I have been using the previous version and am logged into the phone and the website via facebook, but the website tells me that I don't have any Shazams yet when I have a bunch on my phone. Hope this gets fixed soon if not in this update.

I've seriously had enough with Shazam! They don't update their app for 2 years and when they do, all they do, is to add Cortana support, when there are so many features/functionality missing and some malfunction in the app. Still no Facebook integration or Shazam account!!! And lags like hell!!!

It does what I need it to do: Tell me what song is playing. That's all I demand from it. But that's just me.

It is dissapointing that there's no social networking integration. Honestly, overall social networking on WP is pretty lackluster.

Took a while to get this working. First time she searched the app store, then she just opened the app, third time lucky she opened the app and started to find the song. Which failed. Asking Cortana directly "what song is this" is nearly always better speed and results wise, in my experience.

Cortana does a great job with music. Tv shows as well... Maybe you're style of music isn't actually a genre.. Shazam is fine too but haven't needed it at all but will try it again. Thanks Developers

Cortana works with Xbox music. I ask she gets I download and play.

This is awesome! Shazam is far superior to the built in music identification features.

Why using Shazam? Cortana has this function integrated and it's working very good.

Not for all of us (US only), I don't have it

I thought Shazam wasn't going to be updated any more?

I updated and whenever I say "Shazam this", it just pulls up a search result for Shazam instead of kicking off the application.

I use soundhound because it shows synchronized lyrics!

"Do you like that more Windows Phone apps are adding Cortana support?" No. I mean, come on of course everyone does. Stop with these cheap comments at the end of your articles.

I thought shazam stopped supporting WP.
Great, needed update

I think its cool but Cortana already knows how to search for music

So, I'm in a club with crazy loud music, and I want to know what song is playing, and I pull out my phone and scream into "shazam this"? Yeah that's not gonna work very well.

Then use your finger to scroll down and tap the Shazam icon. Much simpler.

For some reason it's not working for me. I tell Cortana "Shazam this" and it never get's it. Results are: Resume this: wich continues playing the last song. Shazam that: which give me internet search results for Shazam. Are the "magic words" correct? What am I doing (saying) wrong?

No idea why, but after several tries now it works. :? Feature is cool.

Thank God is FASTER! I didnt eve used the old version cuz it takes Forever to load

A while back they announced stopping development for WP. I uninstalled and lost my tags. Now they bring an update? WTF?

Doesn't work anymore after the updated. Constantly crashes after start...

If Cortana is set up so that Microsoft can update and enhance features through the back end...making improvements that allow us to see and notice without having to update the actual Cortana app, why can't they just add into Cortana Shazaam? That way I won't have to download the actual Shazaam app...I could just bring up Cortana and say, "Shazaam this" and it should just work. It's sorta how I can get suggestions of nearby places of interest through Cortana because Cortana taps into Foursquare. This is done through Cortana's background update and I'm essentially using Foursquare without needing or having to have the app on my phone. Shouldn't this work the same with Shazaam? Is there something I'm not getting?

Very good point. It should be done at the backend but then I guess no one would.pay for the non add version....

I'd be interested on your take of this, Daniel Rubino. Daniel Rubino.

We already have "What's playing", integrated into Cortana, right? Is Shazam needed if you have Cortana to identify songs for us?

Hey, if there's anyone from msft music search department and music store reading this, how about making some deals with Digitally Imported and Beatport so that more modern electronic mucus can always be identified? If you want to capture new phone users (teenagers) it would help if your store and search could identify and make available the music they listen too. Something like that anyway. :)

Fantastic. Great to have uk support with Cortana on shazam too. Still no facebook or twitter int with Cortana in uk

Funny I was only trying to get Cortana to open shazam for me the other week while I was driving. It should work now.