Show your Windows Phone support with Tile Me!, now free for the next day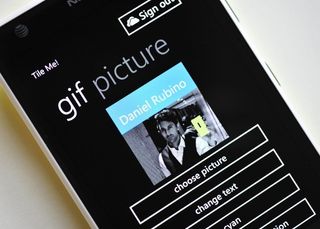 The Windows Phone community may be small, but we stick together. Tile Me! is an app that's helped to unify the community on various social networks like Twitter, Facebook, LinkedIn and others. Tile Me can be useful on basically any social network where you have a profile image. The app allows you to create a "Me tile" for your social networks.
There are two versions of Tile Me!, one free and the other that costs $0.99. For the next day, it's free.
If you wanted to create a Me Tile like others on social networks, you need to use Me Tile to create your image. The video above shows the process. It's really easy.
In the Windows Phone Store, there exists a paid and free version. The free version limits you by not outputting the images in a high-resolution, not supporting PNG and GIF formats, it also lacks custom colors and SkyDrive integration. There's a paid version that only costs $0.99 and we always encourage supporting developers. But, for the next day, you can get that paid version of Tile Me! for free. It's a partnership with MyAppFree that's giving you this app for free.
Show your support for Windows Phone and create your own Me tile.
Grab Tile Me! for both Windows Phone 7.x and 8. It's free for the next day. Grab it in the Windows Phone Store, use the QR codes below, or swipe to the right in our app.
It was worth paying for it. No regrets. This is a fun app to make avatars with. Only wish Twitter would allow us to use animated gifs again.

Don't change it. New gifs do not work anymore. Twitter pulled the plug :(

I'm so glad they got rid of that. Gif avatars are annoying, I pretty much unfollowed anyone with one.

Link goes to the wrong version (ad-inclusive).

Nice catch! Until Sam updates it, you can grab Tile Me! from https://www.windowscentral.com/e?link=https2F%2Fclick.linksynergy.co...

Fixed now. Our app will take a few mins to refresh the feed. Sorry, folks.

Thanks for the prompt response Daniel!

The link is for the Free ad supported version. ;)

Is that Danny sporting a mustache in the men's room selfie?

Movember is coming up. Didn't you guys do it last year?

And hereee.. we... go! :)

i want to update my MeTile on twitter so bad. :(

If you have an animated one, don't! You'll lose the animation :(

Hope that everyone grabs this app.

Yes! We are heading for world domination with our #MeTileNation :)

This is a fun app. I paid for it when it was originally released. I recommend it, especially for free.

Thank you very much Laura!

Downloading now. Thanks for the tip WPCentral.

Enjoy! Don't forget to leave an honest rating and a review :)

I installed the free one today to change my twitter pic.. Hey Daniel, twitter still supports the gif avatar?

No, unfortunately it doesn't :(

This is like giving 3D glasses to a blind person. What am I suppose to do with it, twitter doesn't support GIFs anymore :(

You can still use GIFs on Blogs/Websites, message boards that support it etc.
You also get higher resolution + png format for the static avatars. So, yeah :)

I like the idea behind this app, thank you!

You're welcome! Idea originated from @davidvkimball :)

YouTube just removed my profile pic I've used for the past 5+ years. The timing is perfect.

I use the free app, its great will enjoy this one for free!

Great! Don't forget to leave an honest rating/review in the store :)

Sadly, the app only allows the gif to be uploaded to Skydrive, and to do that it wants access to all my personal information... deleted!!

No personal information is stored or tampered with. The OS does not display animated gifs natively (photos hub) so one of the ways to export gifs from the app is via Skydrive (best way since every WP user has Skydrive).
I am sorry to hear toy feel that way.

So, may I trust in the app to have access to my Skydrive AND my personal data?

Microsoft wouldn't certify it if it was doing something dodgey. Lots of apps ask you to sign in to skydrive or Facebook etc..

To get access to Skydrive, developers have to use software developed by Microsoft. Developers do not have access to the code of this software, so they cannot see anything thatt is going on in the background. So, they can just use functions that are allowed by the software that Microsoft created. Also as Shantek said, if there was something dodgey it would not have been posted in the marketplace in the first place. :)

Will ths Animated GIF work on FACEBOOK profile pic??



Unfortunately Facebook does not support GIF avatars at the moment.

oH tas really sad:(. Frtuntly couple of months back one twitter user @zhoulhas helped me on making animated GIf on twitter..god bless him ..but plz do sumthg fr FB too!!
Thanks:)

That's not under our control :(

I really really don't get this app at all

The point is to use a profile picture (avatar) on social networks that has the form of a Me tile (like the Me tile on your Windows Phone). Doing that let's you show your support for the platform :)
Of course you can create one with the most basic Paint programm but the app speeds this process up to just a few seconds.

Right, for the most part it's a lazy thing. You can easily do a screenshot of your Me tile and crop it. Done.

Hmmm, yes, but the resolution is quite low when you do it that way :)

This would be cool except my "Me" tile would then look kind of odd...

Yes I'm thinking the same. Has anyone got a way round this???

There is a bug in GDR2/Amber, and now you cannot change your Me tile image if you post the new image to Hotmail/Outlook only (deselecting Facebook).
On WP7 using the non Tile Me! image and posting the new image to Hotmail only, fixes this problem. It updates your Hotmail/Outlook image, puts that one on your Me tile, but leaves Facebook/Twitter intact as Tile Me! avatars.

Does WP Central forum support Gif avatar.

Using it from day one. Love it.

How does your ME tile look like on your homescreen?

Your welcome. For example: @GerardCorbier on twitter.

Does gif work for Facebook

Enjoy! Don't forget to leave an honest rating/review :)

@ErtaySh
Thanks for such a cool app. I'll be sure to leave a positive review on the store very soon.
Some of the negative comments people make about the application make me laugh. They really shouldn't rate the application down just because they don't understand it or have no use for it. As far as I'm aware, the application does exactly what it is advertised to do so deserves full marks.
Those who don't need this application or who don't understand what it is for, please just walk away without giving it a bad rating. If you are having technical issues with the application on your particular device then report that issue directly to the developer. Thanks.

Dan is pretty handsome I think.
Windows Central Newsletter
Get the best of Windows Central in in your inbox, every day!
Thank you for signing up to Windows Central. You will receive a verification email shortly.
There was a problem. Please refresh the page and try again.