Sicher from the IM+ team promises to keep your messages 'super-safe'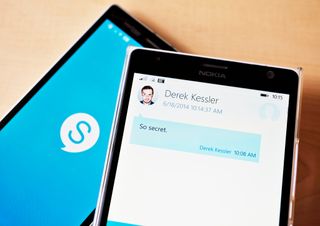 Sicher, a new "super-safe" messenger has arrived today on Windows Phone, iPhone and Android devices. Sicher (pronounced "Zee-her") comes from the team behind IM+ and brings free, encrypted chats and file transfers to users. Using the app, you'll be able to chat, send files, photos and voice messages to other users. Sicher goes so far as to not show incoming messages on your lock screen (only an alert) so you have to open the app to get the full message. Sicher features secure end-to-end encryption of messages, files and group chats, anonymous push notifications and self-destruction message settings.
Nothing is stored on servers, so once your messages are delivered, any trace gets deleted and it can only be read by the recipient. Sicher uses contact matching via phone numbers in your address book to find your friends, so you'll have to have some digits before you can start chatting things up with your buddies. Other features include:
Sicher 1.0
Point-to-point encryption of text messages and files (pictures, videos, .pdf's, .doc's, .xls's, etc.)
Timer for self-destruction of messages or manual purge of chats on all ends of conversation
Group chats
Anonymous Push notifications
Password-protection of the app along with heavy encryption of all data stored on device
Operated and located in Germany for maximum security and privacy
We don't send crash logs, don't track usage statistics, don't use any advertising engines, don't integrate social network SDKs
Sicher is available now as a free download from the Windows Phone Store, though future versions may offer in-app purchases for non-core functionality.
Windows Central Newsletter
Get the best of Windows Central in in your inbox, every day!
Editorial Director - High Yield
After getting his start writing about BlackBerry in 2008, Adam is the Editorial Director of High-Yield content at Future. Leading an outstanding team, he oversees many of the articles the publisher produces about subscriptions and services – VPN, TV streaming and antivirus software. From buying guides and how to watch content, to deal news and in-depth reviews. Adam's work can be seen on numerous Future brands including TechRadar, Tom's Guide, T3, TTR, Android Central, iMore and Real Homes.
This is a really nice app from SHAPE. I'm impressed with how many features (that work) right out the gate. From file sharing, notifications everywhere, etc. it's an impressive "secure" alternative to other messaging apps out there. Curious if it will catch on or not, but you have to be excited to see Windows Phone co-launch with iOS and Android all at once.

Hope more new apps co-launch

Good to see the respective devs made the app for windows phone on time. There are many messengers out there which have great features still we use that stupid watsapp bcoz we have our most contacts there.

I'm really excited to see WP is treated as a 1st class citizen rather than an after thought. Just wondering... is the app number agnostic or it's fixed to your mobile number. I have been seaching high and low for a number agnostic messaging app that would allow me to pickup either of my phones and still gets my messages synced. Schmooze is one of it but the notifications are patchy. How's your short experience with this one?

I installed it and will be demoing it as a replacement. I've been having issues with Telegram's private messaging and I'm fed up.

Are you sure that's the right pronunciation. Looks like the German word for secure to me, which is pronounced slightly different

That's how SHAPE is pronouncing it...

I'll take your word for it. I trust you, enough.

Well I think they tried to find an easy-to-read pronunciation close enough to the german original (depending on your dialect, it's fairly close). As this isnt a language-centered-app it seems sufficient to me. On a sidenote, the App is made in Germany... so I hope they know how it should be pronounced ;)

Sicher means sure in English. It is pronounced like the end of the word 'easy' plus 'cher' is similar to the word 'hair'.

Actually, in this context it means "secure" or "safe". I don't think a german speaking person would understand the word with this pronunciation. It really doesn't matter though.

Sicher can mean "sure" in context, but also means "secure" or "safe". Pronunciation is also somewhat dependent on what dialect of German is spoken. "Zee-her" is a roughly close pronunciation for native English speakers given their difficulty in pronouncing the German "ch" properly. If you say it really quickly is sounds somewhat close.

Yeah, I was trying to think of a way to spell it out phonetically, bur most people wouldn't get it unless they know how to say the "Ch". In any case, it is what it is, and people everywhere will pronounce it differently. The whole reason I even clicked on the article was because I knew there would be German language lessons involved haha.

Haha! Me too! :D
As being German myself it is always funny to see others struggle with it :P Same probably goes for any language! It is always funny to see people fail with pronunciation as a native speaker :)

+925
Not native in German, but I know the alphabet, always funny to see people figure it out :P

Unfortunatly I dont trust a app which claims to be super safe if I cant have a look at the source to confirm it myself

That's certainly fair, although even assuming it's not totally secure, the local security stuff e.g. password to open the app and auto-deletion of messages/media is already a step above other offerings on the market.

I couldn't agree more... But yet the app is quiet new before we consider it "safe"... Although we should give it a try.

Looks like a really nice platform. Unfortunately, it's up against Whatsapp (which for all its issues - security and otherwise - is still the defacto sms platform for most people).
I hope this app succeeds though. More privacy can only be a good thing

Looks great!! How many do use it already?

Considering it just launched for any platform today, not many. But today's Day 1.

It literally just launched a few hours ago across all platforms, so not many.

I have just installed this on my 1020 then checked the Play Store for my Android phone but it's not currently available yet. It's good to see a new app available for Windows Phone before an Android version.

Would rather see a much improved IM+ for WP...

Yes IM+ feels like I'm still using Palm OS. Either way, this app looks good.

File sharing.. Okay so can we send songs from file manager directly or not?

Great to see that this is hosted in Germany. They actually value privacy over there...
Shame on America for treading on their citizens rights in the name of security.

Maybe not as much as you think ;)

I wouldn't be so sure about this statement. https://firstlook.org/theintercept/2014/06/17/germany-nsas-largest-listening-post-europe/

MORE messengers?? Like, just let WhatsApp and Viber be, obviously they will have no competition or decline ever.. Unless the Skype team pulls the Pisa tower out of their behinds and finally offer the best Skype experience to its home OS.. Still no file transfers for fuck's sake..

i know what you mean,i tried skype on friend's HTC One and i was shocked at the experience they have on their OS as compared to our home OS

I'd it's all about security why does it need access to everything on my phone?

Because it can send location, because it can send all files, because it can access your contacts, because it can run under lockscreen. Any other questions? lol I mean, look at what the app can do, of course it will have a lot of permissions.

It's going to be a tough battle to gain any marketshare but at least if it takes off we already have it. Still can't see mass of people dropping WhatsApp at once though.

It's main pull will be security. Not everyone will need this and I doubt they expect to outgrow WhatsApp and the other IM clients. At least, not immediately. Looks like a good business solution to compete with BBM, however.

Am not getting verification code when trying to register it then how can I use it....... And I have checked my number its same only... May be server not pushing a text

why this looks blue, and when I install looks like aqua?

Not getting verification code.!!

Sicher is German and pronounced Zee-ch-her.

not in Carinthia, Austria. Sihali find i des e a supa, des "Sicher"!

M not getting confirmation code! :(

Same here, No confirmation code.

This app looks great including new features such as self destruct messages etc. Probably features will be copied across other messaging apps but still a new innovation.

damn. when i saw the cover picture for this article first, i thought its a Skype app update.
ah, wishful thinking.
anyways all the best to Sicher! :)

Crashed on me too. Keeps wanting my password

crashes on L521. goes back to Start screen after it flashes the Welcome sign :(

Yaa me too,not getting confrmation,code??:(

I am having trouble registering my phone number. The app asks for verification code but I didn't receive any. How am i supposed to register.

Not able to verify number. :(

Where is the f******* code. Now it says SMS sending limit exceeded.

Now I got all the codes but I can't register anymore :3

Secure sure it is... nothing is private in the digital age

Didn't get verification code :/

So cool to have more options. I wish all success to Sicher :-)

Has anyone got it running? It quits after the welcome screen ... (8X with latest Dev Preview update)

Mine crashes after the 6 step configuration wizard. 920.

Is slingshot coming anytime soon here?

Calling it "super-safe" just put a target on there head by the NSA :-)

How the heck can I add contacts there? oO

Sicher means safe in German. So makes sense it is a safe app lol Posted via Windows Phone Central App

Just crashes for me on the invite contacts screen. 8.1 Preview on Lumia 928.

SMS sending limit exceeded. What does this means :/

Do they mean to say that they were 'inefficient'?

No good. After the welcome screen it just crashes. 920.

why does it require location services?

Hi, If you have any problems with registration in Sicher, please write to our support team.
sicher-support@shape.ag We are glad to help you. Best regards,
Sicher Team

Tried to email to this address but it failed.

Worked fine for me so far. I am thinking that there might be quite a few people trying to get registered.

Can't get confirmation code... And its not an exclusive wp8.1 problem, tried it on a colleage android phone and the app kept freezing and never sent a confirmation message

Worked just fine over here on a Lumia 925 and Xperia Z2. I'm liking it so far. Been sending messages and pictures so far. Everything just works, including push notifications. Strange that so many are having problems...

Hello, please how to send a file? I'm using WP8.1

Not getting verification code.! 2x.!

With file sharing? Awesome!!

Keep crashing in step 6,so of no use for me

I wish we could send music files.. *sadly shakes head* I dont know when that feature will be available.

Cannot register! It doesnt send me the text message with verification code.

And now it says me "Text message limit exceeded" Arrghh

This sicher is not in windows store

Want to use it asap ! But one thing that sucks is I can't register! The verification sms doesn't arrive at all! I use two phone numbers, on one it now says SMS SENDING LIMIT EXCEEDED coz probably I tried too many times. Uninstalled and reinstalled the app, nothing changed!

Unable to send invites....plus keeps on looping to enter new password..SMH

I'm getting the same thing as far as it keeps asking me to create a new password. I can finish the install just fine and I am able to get the SMS code, it's just that when I leave the app and come back, it asks me to create a new passcode. Frustrating.

Actually, for those having problems with 'Sicher' or generally weighing their options on secure messengers, there is another candidate, with similar features: SCHMOOSE. (www.schmoose.ms) Contrary to 'Sicher', it uses 2048 bit encryption keys (some experts apparently deem 1024 bit not entirely secure anymore).

Do i send message to non smartphone user by using this app

Still waiting for verification code
Windows Central Newsletter
Thank you for signing up to Windows Central. You will receive a verification email shortly.
There was a problem. Please refresh the page and try again.