The Sims 4 releasing for Xbox One this November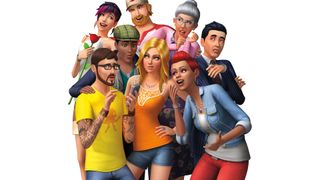 The Sims 4, the latest entry in Electronic Arts' iconic life-simulation franchise, first debuted for the PC back in 2014. Three years later, it now appears the game is getting a revival, via a re-release for Xbox One.
As spotted by TrueAchievements, an unexpected listing for an Xbox One version of The Sims 4 (opens in new tab) has appeared on the Xbox Store. Despite no official announcement from EA, the full-fledged store page confirms a console debut, expected for November 17, 2017.
While earlier entries to The Sims have surfaced on previous generation consoles, the franchise has remained relatively PC-centric in recent years. As with other titles built with PC in mind, it will be interesting to see how the game adapts to a controller and the changes made during the transition. It's also not currently clear if expansions will be making their way to console, following a strong line of post-launch PC content still releasing into 2017.
For now, we'll have to sit back and wait for an official announcement from Electronic Arts, with further details on the Xbox One version. While pricing is currently unavailable, those who choose to preorder later down the line will supposedly gain access to the "Perfect Patio Stuff" DLC pack. As always, let us know if you're interested in The Sims 4 for Xbox One in the comments section below.
Matt Brown is Windows Central's Senior Editor, Xbox & PC, at Future. Following over seven years of professional consumer technology and gaming coverage, he's focused on the world of Microsoft's gaming efforts. You can follow him on Twitter @mattjbrown.
Huge fan back in the day, honestly had no clue there was a 4th one.

My neither. I thought people were still rocking 3 the whole time.

Really? Its been out for nearly 3 years. I don't see a point of it coming to the Xbox One at this stage might as well wait for Sims 5.

They seem to be on a 5 year release schedule. Why would EA wait 2 years when they can suck money from people for at least another 2?

Wish this had Kinect support, always wondered if this or strategy games could work well with the more accurate Kinect v2

A good reason to talk about the One X with my girlfriend. :D

I still get excited about new Sims games even though I don't play anymore. Childhood excitement comes back though.

Is this heading to XBox One as an exclusive?! That could be a huge leg up against Play Station 4 in the female demographic ;-)

I don't think its hitting PS4. This could actually be a big thing with alot of gamers choosing 1 console over the other.

I still believe the Sims 2 was the greatest game of the franchise. So many quality expansions and so much to do.

The sims 2 is the greatest! The Sims 4 had so much potential but all of it has been wasted... Everything it's such a disappointment. I advice you all to get a second hand copy of the PC version and expansions and download tons of played made items and mods. This game is limited.

I'm a big Sims fan going all the way back to the beginning. Even beta tested & played The Sims Online. Sims 2 with expansions was fantastic. Sims 3 with all expansions became fantastic, except for the technical glitches causing sims to just stand there because an NPC got stuck somewhere in the (huge) map. The game engine didn't handle all that activity all over the map very well at times. The Sims 4 was released an unfinished product, missing so many things, but performed perfectly and was fun in what they did give you. As months went by they patched it with a lot of free content. It's still not 2 or 3, but has become quite great if you can open your mind up enough to not compare it constantly. Because what it gives you is still addictingly fun, and it's brilliant in some new ways. It would have bombed if it were released with the PC version. I think it's ready now. Good luck to them.

... and no Play Anywhere. thx MS

I mean, it's been out on PC for 3 years and it's EAs choice not Microsoft's. EA sells PC games through Origin. Little to expect they'll want to stop that cash cow any time soon.

You're right, but with MS they have the option to enable Play Anywhere, of course, they want to sell us the game twice. Xbox Store on PC urgently requests games.

you would get downloadable DLC just like the pc. In past ea release expansions as a separate game for consoles.
Windows Central Newsletter
Thank you for signing up to Windows Central. You will receive a verification email shortly.
There was a problem. Please refresh the page and try again.