Site Announcement: WPCentral app v2.1 now available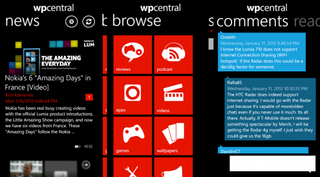 It's been just over a week since we released WPCentral v2.0 into the world, pushing up the total number of app downloads to over 30,000. Honestly myself and everyone involved have been absolutely blown away by the incredible feedback we've received on the site, via e-mail and of course in marketplace reviews. We couldn't be more thrilled that you guys are enjoying the new app and I wanted to say thank you one more time for the continued investment our community shows.
With that said, v2.0 is already being replaced, proving that if you want to find any mistakes in your code, just release it to the public to test in their masses!
You'll be able to download it from the marketplace right now here, but I know you're keen to know what's changed so here we go:
New: Added a refresh button to the comments pivot app bar
Several optimisations to the comments section to fix lagging performance with 100+ comments
Changed behaviour of the 'add comment' bubble to always be shown
Fixed a bug where duplicate comments could be posted
Fixed the offline section's pin button
Fixed the e-mail sharing functionality
When tapping the comments bubble you will now always see what you are typing
Fixed a bug in comments sign in where strong characters in passwords would fail
Changed the app bar to minimize when not needed but be visible for the comments refresh button
When enabled, the system tray is now transparent so as not to take up screen real estate
Fixed an issue where users could attempt to comment despite not being logged in
Fixed a bug where some users could not delete their comments
So I've been busy! As we've said before, v2.1 is here to tighten up the v2.0 release, with the exception of the comments refresh button it's all about tweaks and bug fixes.
However, coming in v2.2 should be the full wallpapers functionality as well as a couple of other small improvements that we're mulling over.
As always we hope you enjoy the app, and welcome your feedback in any form, whether direct to us through e-mail, site comments, or as a review on the Windows Phone marketplace.
Get the Windows Central Newsletter
All the latest news, reviews, and guides for Windows and Xbox diehards.
Quick note, if you're not seeing the update you may need to power your phone off then on :)

Also folks, you can select an updateable app from the Marketplace and if it only offers the "share" option, tap back, and reselect the app to show the option to "update".

This worked! Whereas turning my phone off and on again did not.

Have you been to the about page Jay? ;-)

Ha! A few pixels weren't my priority this time ;)

Oh goodness. Jay is secretly the joker. The signs were all there!

Thats a lot of work you did...thanks:)

Just keeps getting better and better!

Nice. Glad to see the app advancing. It would be great if you could someday add forum support as it's the only forum I currently use board express for.

Version 3 is the planned release for forum support at this time ;)

Awesome. Can't hardly wait.

You are doing an excellent job! This app is BY FAR the best native app from any news-site I've seen!

Exactly, plus I really like how they where able to fix the panoramic text. This is the best WP news app I've found.

I've noticed a stutter in the animation when loading an article. But other than that this app is awesome. I check it more than I do Facebook...

Thanks lion, will add this to the list for 2.2

Gotta love the systemTray opacity ~.O

Nice work Jay, really thorough. It's a pain tracking down all the minor bugs that dont stand out when developing the heavy duty stuff and you've nailed most of them.

Keep up the awesome work, Jay. You're a genius, man. :)

I would like to see some type of separator between news items, even something as basic as a single pixel line. It's a little jumbled together in my opinion.

You know in design draft v0.1 I had that... Decided I didn't like it... How about I make it an option for v2.2?

Cant go wrong with more options :)

I may have to agree with him even if I have a hard time criticizing anything about my favorite app ;-)

I love the way this app has progressed. Its very beautifully designed. Great job guys

What an appropriate name!

I agree. Visually, the app has progressed nicely.

You broke the logo :( ... Just kidding, once again... Great job!

Best app on Windows Phone period! Most usefully app on WP, most informative app on WP, most definitely the highest quality WP community app, and it's the app that builds the most excitement around WP period.. With useful updates, and news tips everyday on the hour,, well, I don't expect these guys to spend Sunday updating WPC because they work so hard all week. Great job....... MS should hold annual award ceremony's where the users vote for the top 20 apps.

I like this idea, can't say I've won an award before... :)

Yeah! I second this idea.

Love the app, keep up the excellent work

Looks like the temp invisible Quantum text got fixed yay

Yes sir,they fix the comment box.. Thank you..

Awesome thanks for keeping the community well informed.

I use this app pretty much every day. I don't miss a day. Really great job=D=D=D=D

You are the bomb James Bennett. Keep it up weeeee=)=D

This is fantastic! Keep up the excellent work!!

I don't remember what I paid for this app when it first went live.but in all honestly this is one of the best looking apps on mp today. Jay you did a cracker jack of a job with this. It keeps getting better all the time now when we can get the forums on it wowsa...

I agree. I wish Jay could work on everyone's app- especially Engadget's. They could learn a thing or two.

Engadgets app is a joke. when up against this app.

I agree 100%. Engadgets is nice, but wpc app looks... More high budget? More polished? Jay, you are a true professional. I can only hope you make more apps soon

What did you expect? Engadget app is free, while WPC's is a dollar. If you're an app developer, would you have more incentives to make your app better if you know you're going to be getting thousands of dollars? The article said 30,000 downloads! That's some nice change in your pocket already.

For some reason when I downloaded the 2.0 update my live tile stopped working and so did notifications...I hope this new version fixes the problem because it's very annoying >_

Mistercool, disable then re-enable your live tile in app settings, that should fix the problem :)

Well I'll try again....but I've tried that a few times already before the 2.1 update....

Ok :) in which case use the app's feedback button and I'll do my best to work out the problem with you

Ok, well for now I have to wait since there's nothing new on wpcentral which would be the only way to tell if the tile and notification is working but yes if anything I'll use the feedback, thanks again you've been very responsive and helpful :)

One thing to keep in mind is the MS limit on live tiles. When my WPcentral live tile has quit updating before it was because I might have installed a new app with live tile. If you go to see what items are running in the background in settings, you might have to disable others and then re-enable WPcentral's.

** >_< and by the way I have a Titan AT&T US..

Already great app getting even better. Thanks. Keep up great work. Love it.

Thank you Jay! You da man & WPCentral is da hizzi!!!

Brilliant job. Many thanks. This app is not only the best, but now the most beautiful as well!!

I've noticed that when I start the app and scroll to the bottom of the main news list "before" opening a news item, the load more items text doesn't show up without holding the list all the way down. Once I open a news item and the go back, the load more text shows up at the bottom of the screen. However, once the new results are loaded and you scroll to the bottom of the list, the load more text is only partially visible. This seems to correct itself once you open another news item and go back. Hope this helps.

Yeah something not quite right with the listbox control here, might send this to Microsoft...

I like this app. I wish you could tap for large print. Please see if you can help with that.

Holy cow! Why didn't you mention that sooner!!! :D

That's been there since v1.4 I think :) while you're exploring: you can tap and hold articles in lists to add/remove them from the offline list :)

So is it customisation or customization? Fix that in 2.2

It's customisation: I'm British remember ;)

Great job as always Jay, now if only my keyboard would stop disappearing as it only took me 10 minutes to type this comment :S

Not criticism, just an observation, I do UI design for my job. It's my favorite app too. :-). Jay, an option would be awesome!

One of the best available app on Mango

Totally the best app I have used. I always use it everyday 24/7! Really awesome!

Love this app! great job guys!

Awesome app and bugs squashed. Now I can see my comments! :D

And maybe, you should make it go directly to the comment after posting.

This is awesome, now the app is much better, especially the comment section :) I wish every WP7 app had all this support from the devs :)

My favorite app just got better!

Thanks for making my user experience more enjoyable everytime I open this app. :)

Works! I can now log in with a strong password (with special chars).

One thing I'd like to see is when ever I reply to a post, I'd like to be able to go back directly where I left off vs scrolling all the way back to where I was. Over all, the updates to this news app is just outstanding!!
Awesome hob guys!!!

I obviously meant to say job. Lol.

Yep agreed this is bugging me too, will be in v2.2

This app just keeps getting better and better.

I was just kidding with ya. Amazing app. I took win phone 7 news and 1800 off my home screen and bought your app instead. love it

Great to hear :) don't forget you can tap and hold someone's comment to reply directly to them :D

Oh ok. Nice tip. Couple more questions. What do the little circled numbers on the live tile represent and is there a way to quickly jump to the latest message in the comments section?

Number on the live tile is the number of new articles since you last opened the app (try going to the app's settings screen to customise the look of this article count). As for the quick jump, there currently isn't but now you've got me thinking there probably should be with a list so long...

Yeah it scrolls fast so it's only a minor hassle but the devil is in the details right! Maybe tap and hold "comments" at the top with a jump to last option?

Thanks for the update. Keep up the great work.

Love the speed of the app! Getting better and better..

Love it! Keep up the good work:)

This is honestly one of the best wp7 apps there is. Beats even the bigger names like the Engadget app.

I have always used rss readers for wp for a long time, but i thought let me try the official app, and yes im really impressed, so much so i have actually bought it.

I use this app every day and think it has the best information on Windows Phone anywhere, presented in a professional package. Well done.

Good looking Jay, you are the man of the moment. I'm so addicted to this app and the better it gets the more addicted I become. I doff off my hat for you and the entire Wpcentral team for the hard work of whipping up the people's enthusiasm for Windows Phone. MS certainly should give you an award for this great app and the awesome editorial work you do here.

Another excellent update Jay & team. Fantastic app. One of my most used to date.

The message "Could not connect to Wpcental to fetch comments" stays on display even after fetching new comments!

Message disappeared now! Best WP app for me.

Love it Jay thank WP central!

U guys are doing a great job with this app...at its state right I would have paid for it....

This is probably the best app for Windows Phone news and it just gets better and better. Thanks and keep up the good work.

Great job. A little bit of honesty though here, I really liked the blue WPCentral theme and kind of miss it haha
Good job though. I love bug fixes

Nice App. However, I guess I'll stick to reading WPCental on the internet for free.

Or you know, you could download the free version...

Just bought it! My first paid app.

Forum support!! PLEASE!! Board Express sucks. I would never need to open IE for WP news if you added forum support...