Site Announcement: WPCentral app v2.1 now available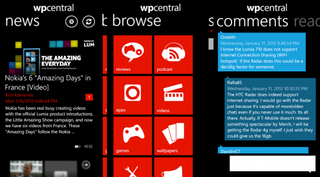 It's been just over a week since we released WPCentral v2.0 into the world, pushing up the total number of app downloads to over 30,000. Honestly myself and everyone involved have been absolutely blown away by the incredible feedback we've received on the site, via e-mail and of course in marketplace reviews. We couldn't be more thrilled that you guys are enjoying the new app and I wanted to say thank you one more time for the continued investment our community shows.
With that said, v2.0 is already being replaced, proving that if you want to find any mistakes in your code, just release it to the public to test in their masses!
You'll be able to download it from the marketplace right now here, but I know you're keen to know what's changed so here we go:
New: Added a refresh button to the comments pivot app bar
Several optimisations to the comments section to fix lagging performance with 100+ comments
Changed behaviour of the 'add comment' bubble to always be shown
Fixed a bug where duplicate comments could be posted
Fixed the offline section's pin button
Fixed the e-mail sharing functionality
When tapping the comments bubble you will now always see what you are typing
Fixed a bug in comments sign in where strong characters in passwords would fail
Changed the app bar to minimize when not needed but be visible for the comments refresh button
When enabled, the system tray is now transparent so as not to take up screen real estate
Fixed an issue where users could attempt to comment despite not being logged in
Fixed a bug where some users could not delete their comments
So I've been busy! As we've said before, v2.1 is here to tighten up the v2.0 release, with the exception of the comments refresh button it's all about tweaks and bug fixes.
However, coming in v2.2 should be the full wallpapers functionality as well as a couple of other small improvements that we're mulling over.
As always we hope you enjoy the app, and welcome your feedback in any form, whether direct to us through e-mail, site comments, or as a review on the Windows Phone marketplace.
Get the Windows Central Newsletter
All the latest news, reviews, and guides for Windows and Xbox diehards.