Sketchable, a feature rich drawing app for Windows 8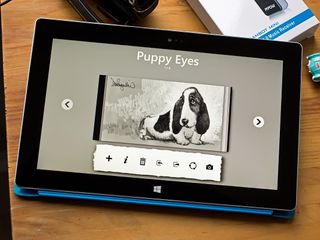 Sketchable is a feature rich drawing app for Windows 8 that will let you tap into your creative juices. It approaches things in journal fashion with pages you can fill with doodles, detailed sketches enhance photographs and more.
Sketchable provides layers and PSD export support along with a host of drawing tools and a custom color palette. The app was recently updated to version 2.0 with a host of improvements and while my talent at drawing leaves a lot to be desired, Sketchable should be very appeal to those with a talent or knack for sketches.
Quick Look at Sketchable Features
Sketchable has a nice range of features that include the following.
Resolutions up to 4k on 64 bit devices
Documents can support up to 8 layers with industry standard controls, and commands.
In addition to all the typical transform options, and combinations, Sketchable provides an X-ray Glasses mode to render obscuring layers semi-transparent.
Optional, precise text input.
PSD Export
Nine distinct painting tools with presets, and for those who want more control, an elaborate preset editor.
Color Picker control HUB
Icons for other commonly used features, such as the brush preview scrubber, dropper tool, transform, and the layers palette.
Unlike most desktop applications, the UI scales to adapt to both low and high-density displays.
Resizable UI, Sketchable provides two custom scale factors, one for touch, and another for mouse/trackpad use.
Scales from 7 inch tablets to 4k monitors, even Perceptive Pixels.
For devices with an active stylus, Sketchable provides a way to assign independent tools to both touch, and stylus eraser. For example, a user can set their single touch input to the dropper tool or smudge tool, and their stylus eraser to any paint tool they find themselves switching between. Two finger gestures still zoom and pan the canvas.
Sketchable presents itself in journal fashion. Your opening page will open to the last image page you were editing along with a help button in the upper left corner that sends you to Sketchable's tutorial website and a menu bar that has the following features.
Adding a new page to your journal
Deleting a page
Import/Export controls
Access to sharing options
Access to your device camera (if available)
Closing the journal and choosing another
Launch the editor
Sketchable has the pre-loaded journal available with a few sketches already in place that can be edited or you can add new pages to this journal. You can also add new journals to Sketchable as the need arises.
Drawing Pad
The layout of the Sketchable drawing pad has your drawing tools and color pallet running across the bottom of the screen. A menu bar runs along the side of the screen with options to access settings, return to the journal view, share the drawing, export the drawing, sent it to your clipboard, launch the camera app, create layers, a magnification tool and a few movement tools.
The free version of Sketchable has an eraser and brush tool. You can purchase additional tools (airbrush, marker, pencil, chalk, etc.) individually through in-app purchase or as a bundle. The individual tools run $1.99 each and the bundle is running $11.99. The bundle includes all the tools, a color picker and will unlock the layers feature.
Each tool has fine adjustments that can be accessed by tapping on the tool icon. Some have slight variations and you can adjust the concentration by sliding left or right on the too pop-up menu.
Settings for Sketchable include turning on/off brush curser visibility, left handed use, always show in Desktop UI and assignment of touch paint tool. You can also adjust the touch button and mouse button scale as well as resetting the color wells and tool presets to the default values.
Performance
In the spirit of full disclosure, the amount of drawing talent I have wouldn't fill a pixel on a DSLR sensor. Even my doodles scream for help. Having said that, I'm a little bit of a fish out of water in using Sketchable. I will say the app has a very friendly user-interface and a nice collection of tools that should be appealing to most. While you can use Sketchable with your mouse, a pen is likely the better option and you'll need a pen-enabled device to use Sketchable to its fullest potential.
As you are drawing, if your pen stroke reaches the bottom or sides of the screen the tool bars will automatically disappear, giving you full access to the screen. You also have the option to keep everything hidden until you need it. The app was very responsive to the stroke with no lag detected. With regards to stability, I did not experience any glitches, bugs or crashes while using Sketchable.
Overall Impression
From the range of tools to the user-friendly interface, Sketchable should appeal to those who are looking for a Windows 8 drawing app. It may not be everyone's cup of tea but Sketchable is an appealing choice worth considering. It is a really nice sketching app with plenty of features and a very eye appealing design.
I was on the fence about only having the one brush tool with the free version but the in-app purchases are reasonably priced allowing you to buy what you need and the bundle will save you a bit. If you aren't sure you want to invest that much into Sketchable, there is a brief trial period with each tool and the free version does give you a nice feel for things.
Again, Sketchable is free to download with single tools available for $1.99 and the color picker for $2.99. Alternatively, there is a full bundle for $11.99 and includes all functionality, including layers. Let us know in the comments below what you think of Sketchable should you give it a spin and don't forget to rate the app in the Windows Store to provide feedback to the developer.
Windows Central Newsletter
Get the best of Windows Central in your inbox, every day!
George is the Reviews Editor at Windows Central, concentrating on Windows 10 PC and Mobile apps. He's been a supporter of the platform since the days of Windows CE and uses his current Windows 10 Mobile phone daily to keep up with life and enjoy a game during down time.
That looks good. I know is a professional tool but find it a bit pricey. Windows 8 should have a MyAppFree like program. :P

Can I have an amen brothers?

I've never used it, but the words"professional tool" and "pricey" shouldn't be in the same sentence when the price is $11.99 for the whole meal deal. Seriously how cheap are you guys? I'm used to spending $400-$1000 for my professional software tools, and have to pay $199-$499 every year or two just to upgrade the versions to keep them current. Anything that is even 1/4 as powerful as a professional tool is an absolute steal at $11.99. More like, highway robbery.

Some people in some countries only have to spend about $2 - $5 to eat for the whole day. Please feel free to call me cheap.

$20-$50 on food per day is a lot of money. Did you mean week or month? Also, developers have to eat too.

Haha. My bad, I don't use dollars, it's $2-$5 per day. Not a lot, right?

LOL, no it's not a lot. Here in the US that a couple cans of vegetables and a pack of ramen noodles.

It is totally worth the price. Didn't i tip WC about this a couple days ago?

Amazing app. Bundle edition is great.

I loved it before, but since the last update, which introduced layer support and so much more, it is almost indispensable now.

I've been eyeing this app for drawing for a while now but wasn't ready to throw down cash on it yet. Is it truly that awesome?

Try the demo, you can try all the tools for a limited time. I am not sure if you have access to the layers, but they have implemented them in a simple but effective way.

If a company isn't willing to put their stuff on every platform some enterprising folks can and will step up to the plate to fill in the gap. However, I like the part where you don't have to buy a proprietary "pencil" to draw since Windows supports a variety of stylus types.

This seems like a nice app. However the price is not justified when you have things like SketchBook Pro available for free with the free version of that having more tools than this one. Posted via the Windows Central App for Android

While Sketchbook is good, Sketchable gives you finer control over your tools and input. Also, the ability to have layers is absolutely vital and Sketchbook doesn't look to be offering anything of the sort. It's remained largely unchanged since it launched.

Sketchbook also hasn't received any significant updates ever. Composted to the Android counterpart, the Windows version is well behind. Sketchables has been regular updates, and is awesome. Maybe they will even start to as some of the modest features that Sketchbook has, like enabling mirrored drawing.

Sketchbook Pro has layers.

Indeed, the (payed for) version of sketchbook pro has layers ... can you remind me of the price?... hmmm $65 for Sketchbook pro 7 and $215 for Sketchbook pro 2015... Compare this to the $11.99 of Sketchable? The Sketchbook Layer option suddenly becomes very expensive ! (I agree that with Sketchbook pro 2015, you also get much more functions, but then you must be a serious pro to justify the cost!)... I have tried a few sketching / painting tools including the free sketchbook express (useless, far too limiting)... and found sketchable to be way ahead of the game... even the surface pro 3's pen seems to be better supported and quicker, the pressure is better handled etc (you can assign tools to the eraser button etc)... I love the way you can easily customise your tools and create tools "presets" to flick through and reuse at will...
I tried the free version and went straight for the bundle (bargain!) to get all the tools and layers... Sketchable is great, very intuitive, touch friendly and quite powerful when you start to set up your tools etc... A lot of fun ahead... now the only missing part for me is "talent" ;-) I hope the developers will continue to enhance this app. This could become a serious affordable "reference" on Windows based tablet sketching / drawing !!! Thanks Windows Central for the tip!

No love for Windows Phone. I'm still awaiting Autodesk Sketchbook for Windows Phone !

Also, sketchbook pro kinda sucks for sketching unless you have a digitizer.....just try drawing a diagonal line on the surface 2 with a stylus.

This app is implemented with a lot of thought around tablet use. You can just feel it in sublte details of the workflow, which has improved even more in version 2. Simultaneous stylus and touch are a pleasure to use on my Surface Pro 3, moreso than pretty much any other drawing/painting software I've tried. It wasn't mentioned in the review, but each tool has quite a lot of settings that can be customized. The popup shown in the second-last screenshot is a preview of the current preset settings. From this popup you can set the size and concentration of the tool, but you can fine tune a lot more settings by clicking/touching the "i" icon.

OK, what am I missing here? how do import a picture as a layer to 'trace' it ? it should be really simple, but how do I do that? the only think I appear to be able to do is take a picture using the camera? completely stumped.

If you have access to the color picker and the layers button. Tap the layers button on the bottom left of the picker. This brings up the layers window and on the bottom of that is an icon of a box with an arrow. That will allow you to insert a picture from a file into that layer.

got it!! thanks!! I was expecting it to be on that left hand menu where you can insert from the camera.

The big question now is, which is better, Fresh Paint or Sketchable?