Microsoft's Skype gets more Cortana integration as a new helper AI bot
Microsoft's Cortana is slowly being interwoven into its Skype communicator. Today, a new round of features are enabled on some releases.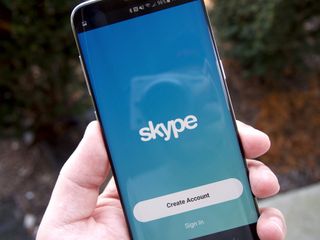 (Image credit: Windows Central)
Microsoft is experimenting with ways of integrating its artificial intelligence (AI) Cortana into Skype. Starting in August, we reported that those using Skype Preview for iOS and Android began seeing Cortana as a contact. The bot was pinned by default and users could interact with and ask questions of the assistant.
Now, a second execution is being witnessed on various Skype releases. This new iteration acts a helper object embedded within existing chats with other, non-Cortana contacts. For instance, if someone messaged you Cortana can offer pre-canned responses to the conversation. Tapping the "Turn on suggestions" takes you to a dedicated Cortana chat for further interaction.
Users can add Cortana to a current chat by hitting the "+" button and scrolling to the left, although the full implementation seems to be lacking. Microsoft has also updated the Cortana icon to be black with a blue ring instead of the earlier, eye-scorching white version.
Further, this Cortana does not appear to integrate with your personal Cortana Notebook meaning – as of now – it cannot access your calendar or other personal information. That is likely to change later as the APIs and background features become entwined into Skype and other Microsoft products, but for now, Cortana is just an AI-powered bot that can fetch or suggest things.
We can confirm the new secondary feature is available on Android, iOS, and Skype Desktop Preview for Windows – that is, those with the updated Skype experience and redesign. Ironically, the feature is not a part of Skype for Windows 10 and Mobile (UWP) as that version appears to be a few steps behind current releases.
How to install Skype Desktop Preview even on Windows 10
While this helper Cortana is available for non-preview users it is not clear if Microsoft will add Cortana as a full contact to Skype going forward, or what other features will come online. Many of Cortana's functions are handled through the cloud so new abilities can be turned on remotely.
Windows Central Newsletter
Get the best of Windows Central in in your inbox, every day!
Daniel Rubino is the Editor-in-chief of Windows Central, head reviewer, podcast co-host, and analyst. He has been covering Microsoft since 2007 when this site was called WMExperts (and later Windows Phone Central). His interests include Windows, laptops, next-gen computing, and for some reason, watches. Before all this tech stuff, he worked on a Ph.D. in linguistics, watched people sleep (for medical purposes!), and ran the projectors at movie theaters because it was fun.
You can't get developers to support Windows Phone, not even MS's own. You know that.

Never. MS has thrown in the towel with mobile. Hence the reason they are selling galaxy Microsoft editions at the MS stores. If that's not CLUE enough for the fanboys ooooooopppppssssss I mean FAN(Genderless)....

Says the Google fanboy turning over his data for Google to sell.

Brilliant. Completely useless in most of the world where localized cortana doesn't exist....

Should have stropped on "Completely useless"

Hi, Herbert is right! In most Latin American countries Cortana doesn't exist. Only in Mexico and Argentina, I think. So if I live in Panama, for example, I need to set up my phone as if I lived in Mexico or Argentina. Losing the location of my country and the suggestions will be either mexican or argentinean. All the apps that need the location will make mexican or argentinean suggestions. For example, the Money app. So if you live in Central America you will never have the integration of Cortana on Skype. These are the famous OOOPSS! Microsoft's.

I'm in the US where all this stuff actually works, and I'm pretty sure I'd still call it completely useless.

"It looks like you're making a call. Would you like help?" 📎😂

Then, it's of no value. I'm sick of Microsoft NOT GETTING IT. Cortana absolutely must be a 100% integrated experience, no matter what device she's used on. She is currently multiple entities in various places that may or may NOT share anything.

Better make it work dependable worldwide. The times I used Cortana on my Dutch Win 10 PC and phone it started screwing up the installation of the OS.

Microsoft have completely gone out of their minds.

Didn't you notice that all the products which Daniel Rubino is writting a lot of articles about, end up being a failure (windows phone, cortana...) or doesn't even existe (surface phone, CShell...) ?

https://imgur.com/a/8eGRm

Why did MS even bother releasing Win 10 S, if they are not supporting their own platform (UWP)? Do they think that inspires other developers to support UWP? With Microsoft's track record, they (other developers) probably see it as an omen that MS is going to drop it. And I don't blame them. MS if you want developer support, show them that you are dedicated to making your platform a success! Oh, and why can't we make comments via the windows central app anymore??? Hasn't worked for several months.

because its a UWP app. Mobile Nations are no longer supporting it.

You can post comments using the Windows Central Android app, as I am doing now. Spot the irony here...

Well thats the first time in several months. I could not, as well as MANY others....finally someone woke up and fixed the issue MANY MANY people have been complaining about here. Love the fanbabies....."spot the irony"....wwwwaaaaaahhhhh

I still can't get cortana to properly play music when told. just opens edge with a search for "play the artist audioslave" or something to that effect. Useless.

How about a delete button for a conversation? Like every chat app on the planet has? Is that too much to ask? I'm asking 10 years for this and still they can't bring the most basic feature.... Skype should die quickly together with that US focused Cortana crap which will suck forever because it has Bing as the backbone.

Hey, what do you expect? Microsoft is clueless when it comes to mobile.

Not in UWP and no surprise. Stephen Elop to Nokia is what Satya NaDella to Microsoft except he is developed-in-house Trojan.

The most interesting tidbit here, to me, is actually the fact that the UWP version is behind. This says something about cross platform development and the ease of porting or bringing apps from Android or is to UWP. If Microsoft themselves don't have an easy way right now,, notably with an app that they (re)built from scratch, then how are third parties expected to find one? Obviously Microsoft is aware of this and are working to "bridge" the gap. I read somewhere that the Skype team chose React as their platform of choice, which at this point is not yet fully supported on UWP. It will be interesting to see how they handle the UWP version going forward. Will we, at some point, see the React version that is running on other platforms replace the UWP version? Or will they stick to the current version and find other ways to bring new features faster to UWP? This not only says something about programming language, but also about design language and ux. Perhaps, for now, they are waiting to see how UWP pans out with cshell coming as well as the new design language that includes acrylic and other elements? We shall see...

I have Skype 8.5.0.56085 on my Android phone, and Cortana installed. I do not see the Cortana integration icon in a chat. What am I missing?

"Starting in August, we reported that those using Skype Preview for iOS and Android ". You have the production (official) Skype version, or the preview?

Production. From the text of Daniel I concluded that not only Preview got it, but that was probably wrong.

She was there yesterday but she's gone now, at least for me outside the US.

I like this and hope it'll help them to make better and better. I'm just concerned about the privacy?

This is also part of Mount Rushmore, Just wait for ultramobile /s

Time to find a replacement for Skype I think, I have no desire to have anything to do with Cortana.

It can probably be deleted, just like any other bot.

Nice to see Microsoft supporting the 2 popular mobile platforms.

Brace yourself for tomorrow's massive Microsoft leak (probably something Surface related). After all Microsoft and Microsoft paid bloggers will try to shadow the Apple iPhone X event with a "totally unintentional" leak in that exact same date.

We could already expect it, Mr.Nadella is fighting hard against Win10M customers. M$ tries hard to force customers into Android: To use the word IRONICALLY is very polite. ".... Ironically, the feature is not a part of Skype for Windows 10 and Mobile (UWP) as that version appears to be a few steps behind current releases. ...."

One time i download Skype but to me is not a free application and is useless to me so i always use wassap for almost everything easy and free.
Windows Central Newsletter
Thank you for signing up to Windows Central. You will receive a verification email shortly.
There was a problem. Please refresh the page and try again.