Microsoft brings some Cortana magic to Skype Preview for Android
Microsoft has brought a little bit of Cortana magic to the Skype Preview app on Android.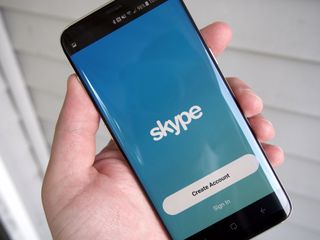 If you use the Skype Preview app for Android, then you can now interact with Cortana alongside all of your other chats — so long as you call the U.S. home. The latest update to the app, which acts as sort of a beta testing ground for new features, adds Microsoft's digital assistant as a bot, along with a couple of other notable features.
Cortana in Skype Preview acts much as you'd expect if you've already used it on other platforms. Once you've granted Cortana access to the requisite permissions, the digital assistant can offer help in completing tasks like navigation, general facts, and weather. Skype even helps things along by offering up some sample phrases to ask Cortana.
Alongside Cortana, Skype Preview has also picked up other goodies like panoramic photos. Here's a look at all of what's new:
Panoramic photos - share panoramic photos with friends via chat or your highlights.
Sprinkles - simply tap on the wand to add fun Sprinkles to your photos.
Cortana - We're bringing the intelligent assistance of Cortana into Skype (US only).
General performance and reliability improvements.
Like so many other things when it comes to new features from Microsoft apps, Cortana is currently only available in Skype Preview for U.S. users. If you want to give it a shot, however, you can grab the latest version of Skype Preview from Google Play now (opens in new tab).
Windows Central Newsletter
Get the best of Windows Central in in your inbox, every day!
Dan Thorp-Lancaster is the former Editor-in-Chief of Windows Central. He began working with Windows Central, Android Central, and iMore as a news writer in 2014 and is obsessed with tech of all sorts. You can follow Dan on Twitter @DthorpL and Instagram @heyitsdtl.
F@ck Microsoft. In the meanwhile, Skype for Windows Mobile is still sh@t. I havent received any update on any app for weeks!!!!

Take it down a notch. It's a chat app, not your life.

is this real or and I don't mean to be rude but could it be faulse. I ask cause in 2016 you did a article about Cortana being part of plex and to this day it still isn't. Personally I love Cortana things like location reminders still trump both siri and google assistant but no working control in things like plex and Netflix at this stage seems way over due. I'm glad its in skype but truthfully I am not a fan of that skype preview for androdid. Its why I now use alternatives. Shame casue I used to like skype until then. Still Cortana in android is a pain(not intergrated into the phone or google.) so I doupt having her in skype will mean much for my android phone.

Why on earth is Cortana needed in skype? All I want it for is to chat to people, that is it. Maybe not enough people are using Cortana, but that do not mean it has to be forced.

Well, chat bots are thing or at least are supposed to be. Regardless, you can hide, unpin, etc. Cortana. It's just like any contact. It makes a bit more sense on devices where Cortana is not native/built in/default search, etc. Just more places.

chat bots are a stupid idea as well. Skype is communications software, well it was before useless Microsoft got hold of it. I am not sure if cortana will be any good if people use an old Skype name like I do unless Ms stops us using that. Also Cortana can not be turned off in windows 10, so I doubt Ms will allow it to be turned off in Android. Great, getting spied on both ways, by Google and Microsoft.

Because Google has Assistant in Allo. MS doesn't want to be worse in this department. In fact, the resemblance is uncanny

I want Cortana to be context sensitive and pop up with relevant information like ms showed at build a couple years ago.

I understand this not being available on Windows Mobile. But is it on the desktop?

In skype preview on desktop we have to search for cortana bot. But it will disappear if we change chat window. We have search for bot again.

Have they added an sms relay from android to pc like with my 950? I'm thinking of picking up the new Note when it comes out and this would tip me over the edge on getting it. I've waited for the surface phone for 2 years now and with the current landscape of W10M it may be time to finally give it up. I have bad luck with mobile os picking, haha. I was previously a palm pre user before switching to wp7, then wp8, and then 10....

I have Cortana on my Pixel, and it relays texts to my SP3 just fine. When the notification pops up I can reply from the notification, or I can respond from the action center later. Over all, it seems to work well. My biggest gripe is that the texts appear in the action center when I turn my computer on, even if I had already seen/replied on my phone earlier. They are easy to dismiss, individually or as a group, just a little annoying that I have to. Yeah yeah, I know. First world problems and all that.

The Cortana bot appears to be live in the iOS Preview as well :)

I really wish I knew more people who use Skype.

I only use it to keep in contact with three people, that is it, other people I have a phone and can phone them or text them.

i think i should ask trump if i can move to the states just to get access to betas

Um...maybe this should be in a Android forum. It basically says to me 'F*ck you Windows Phone user, we betrayed you" Could I see myself with an Iphone? But then I see this: http://gadgets.ndtv.com/nokia-9-4109 Ugh...then I think MS will come out with some solid device.... Oh MS...I can't quit you!!!!

skype for android how about a skype program for windows 10 that's doesn't bug out every few weeks, or better still Cortana control in Netflix and plex for windows 10. Or is windows 10 a thing of the past for microsoft? voice control for alexia on things like Netflix is great, why cant microsoft take a step in alexias direction with Cortana?

Good to see Microsoft is consistent in their US centric ideology. Cortana is available outside the US on Windows Phones and PCs yet for some unknown reason Cortana is not on any of the countless other platforms outside the US (android, Xbox and now Skype)
Windows Central Newsletter
Thank you for signing up to Windows Central. You will receive a verification email shortly.
There was a problem. Please refresh the page and try again.