Skype Translator can now speak Arabic on your behalf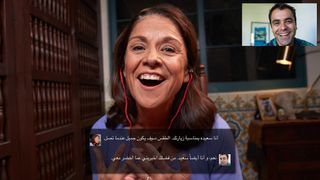 Skype Translator has enabled users of the popular communications platform to engage with others in calls who happen to speak different languages. Microsoft has rolled out an update to allow for Arabic translation by supporting Modern Standard Arabic (MSA), used in not only the Middle East but also Northern Africa as a standard form of the language.
Microsoft has added Arabic to the list of supported languages on the Skype desktop app, as well as available translation apps for iOS and Android. There are now eight spoken languages offered by Skype Translator, including English, Spanish, French, German, Chinese (Mandarin), Italian, Portuguese (Brazilian). These are complimented by more than 50 written languages. More details can be found on the Skype blog (opens in new tab).
Rich Edmonds is Senior Editor of PC hardware at Windows Central, covering everything related to PC components and NAS. He's been involved in technology for more than a decade and knows a thing or two about the magic inside a PC chassis. You can follow him over on Twitter at @RichEdmonds.
They really need to hurry up merging skype into windows!

Im using w10m. Is there any way that I can use it?

PC or buy another phone that MS supports (iOS or Android)

Exactly my thoughts... Posted from EARTH-2, where Windows 10 Mobile is a great Success in Year 2024

The reply that I was expecting!!

Yes. Buy an iPhone. Posted from my Lumia 950XL

Does iPhone already have Skype translator built into the app?

Just about trying my w10 from English to Spanish but yet again it might be limited us region, no ham in trying

When will they add Japanese? I can see that being useful when dealing with people when I move until I get a grasp on the language. But Arabic is useful for me as I have some Arabic friends.

Happy to see this, but the translation in the image above seems done by a ROBOT lol

It IS translated by a robot, what do you exptect? A human being sitting there and translating it in real time?

I know it's just funny sorry

Bas mesh 3atel , mnee7 :p

Eh chakla l3arabia moch haine :)

The FBI must be getting its warrants ready for monitoring Skype calls. Posted from my Lumia 950XL

US is mostly in bed with KSA. So not sure what you mean. - Posted via W10M device

يقدر يترجملي تعرف عايظ بالانجليزي؟ Posted via the Windows Central App for Android

OMG
ههههههههههههههههههه
Do you know Aayid?
Hahaha

اجل Posted via the Windows Central App for Android

Should we talk in MSA to have Skype understand us to translate? Or we can talk in regional Arabic?

This must be a part of the preparations for islamisation of Europe!

Found the racist Posted via the Windows Central App for Android

I didn't say anything about a race...

Really ?
"Islamisation of Europe" is not racist ? Posted via the Windows Central App for Android

Nope. It's religionist if anything. :)

Lol i like how you think Posted via the Windows Central App for Android

Thanks! I'm not against any race of people ;)

Indeed. You're not against a race, a religion maybe. Posted via the Windows Central App for Android

To assume a reference to a specific religion is also a reference to a specific race with no indicator of such, is racist. Though I don't like the post, the racism is in fact in the response.

Well said, sir. Well said.

BTW this was a joke like the found the vegan joke but apparently people in here don't have that kind of humor Posted via the Windows Central App for Android

Don't blame him for your ignorant assumption. If the post was to have said it is the Christianisation of Arabia, would you assume he's white? By your statement, you likely would. And again, you would be wrong. Religion and race have nothing to do with each other. One is a conscious choice, the other is genetic trait.

Amazing , I'd love to see this coming to the translator app on Windows phone Posted via the Windows Central App for Android

Will this come to win10M ? Posted from Windows Central for Windows 10

Oh look, Skype now supports terrorist communications.

Arabic ≠ Islam ≠ Terrorist just an fyi

They're preparing for Arabic communication with Europe, since, you know, soon there will be more Arabs than Europeans. ;)

Yeah, at some point, we'll just have to wade in and save their asses again :-)

Maybe not starting wars in the Middle East and thus forcing those people to escape to Europe would be better, but yeah...

LOL you said it. Posted via carrier pigeon.

Don't worry. When Germans start to realise what Merkel's done and civil wars start bursting across Europe they'll fire up the ovens again. It will be ugly but it won't be a surprise. Just look at European History. You'll see what always happens when European and Arab relations go sour.

Got a friend over there, native German, not US military or transplant, and he tells me its worse than any news outlet will report.

Shut up u are so close minded person to say thay

فل يحيى العربي!! This means viva arabic:P Posted from here.

Why the hell u are proud of? It's something ordinary.

No the arabic language is always behind for companies to Support, are khaliji? Posted with all the power my fingers have, 1520.

تعلم كتابة ✏ العربية جيدًا قبل أن تحييها

(shouts as the drone blows him up LOL

So is Skype translator separate top Skype? How do I use the translator?

This is Great, this will help see Cortana speaking Arabic sooner

Cortana is American. It won't be speaking Arabic anytime soon.

So an American can't speak Arabic?
If do, so why does she speak Chinese and Japanese and other languages?

Because they're not terrorists

Racist people must vanish

So much bigotry and racism in the comments. The slightest mention of anything related to Arabs brings out all the bigots and trolls. On topic, I'm glad they're adding Arabic translation to Skype. Now give me Cortana in Arabic so at least there might be a chance for it to come to Windows 10 Mobile!

Yeah you are right Ja'far bro

Skype did such a good job on this feature! Real-time translation. Wow! This is awesome. I bet that even a native speaker will not be able to translate as fast as this. I am currently learning Arabic at Preply.com ( http://preply.com/en/arabic-by-skype ) by Skype classes and I'm enjoying the course immensely. This weekend, me and my friends are planning on playing around with this feature. :)
Windows Central Newsletter
Get the best of Windows Central in in your inbox, every day!
Thank you for signing up to Windows Central. You will receive a verification email shortly.
There was a problem. Please refresh the page and try again.