Skype for Web beta is now open to all users in the US and UK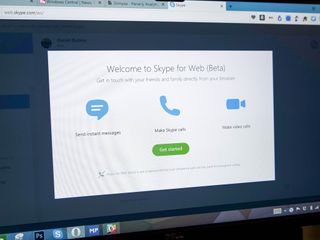 Beta access to Skype for Web is now open to a much wider range of people. All new and existing users in both the US and the UK can take a look the next big thing from Skype. To use it, you will need to download Skype for Web plug-in.
Microsoft initially started rolling out beta invitations in March. It allows users to place Skype calls through a web browser, removing the need to download a standalone application. It has the major features you would expect from Skype, including messaging, audio calls, and video calls.
No word yet on a release date of the full product, but with this widening of the beta, perhaps it's not that far off. Note that Skype for Web currently supports Internet Explorer, Chrome, Firefox, or Safari. Additionally, Chromebooks only support instant messaging at this time.
Source: Skype (opens in new tab)
Nice ! Haha why this hate for other coutries ?

You must be new to microsoft. I think you can actually just change the country within you skype profile to UK or US and you get the invitation link on the skype landing page. Had this yesterday after my profile was not "complete" with those fields

I'm sure its a language issue, its much easier to change a few word spellings between U.S. and U.K. English than to add a whole different language.

I am sure Skype is already available in a few more languages and the interface has not really any text except of status and "search skype"

Then they better not discriminate on country basis, they could just categorize under languages, whoever knows English must be able to access the feature, whatever country they might be

They always use that thinly veiled excuse but why would you need autocorrect in a im application

I thought they were working on Skype for web that did not require any additional downloads or plugins at all.

They are probably waiting Microsoft browsers support WebRTC.

Or better, don't support Chromebook at all, they are minority anyway, do what Google does to Windows Phone *evillaugh*

Unlike Google Microsoft is concerned about their customers and not the rivals.

Or at least they would like you to believe.

What is the browser and operator system in this photo?

The browser is Opera, I think. And the OS is definitely 8.1

Yes. Looks like Spartan tabs but Opera is open on taskbar. The the OS certainly is not Windows 10 because the way apps are shown as open in taskbar. Good guess.

Which is curious since opera is not listed in compatible browsers.

Browser is Opera Next, beta version of Opera browser.

It will be nice when we stop to need a plugin for voice. Sure the wait will over this year.

skype now requires the caller to have credit to make a call!

sure someone had been making some calls without any problems for the past years without any problem, but on Wednesday it started to ask him to buy some credits in order to make some calls to the same numbers he has been calling before. (pc to pc both with skype) Credits were required when calling a cellphone, but not with PC on ethernet, but this now i wonder!

Happened to me recently, until I realised I'm pressing a phone number. Its stupid easy to missklick and use a real phone number or actual Skype call.

Regional Discrimination.......

Except it does NOT work in Spartan. Flippin' hilarious. I tried to spin that up on my Windows 10 test machine and it NEEDS AN EXTENSION FOR CHROME. Microsoft is just brilliant.

Mmmm, well I'll give it a go in the hope that it works better than other Skype apps but I ain't gonna hold my breath. Apart from the desktop version, every skype app I've tried (Winphone/Win 8/IOS & Android) is a steaming pile of poop. Wish I didn't have to use it for work but I do.
Windows Central Newsletter
Thank you for signing up to Windows Central. You will receive a verification email shortly.
There was a problem. Please refresh the page and try again.