Skype's India-specific app is tailored for slow cellular networks, entry-level devices
Skype is working on launching an Indian-centric version of its app that will work on 2G and 3G networks in the country, and on devices with limited processing capabilities.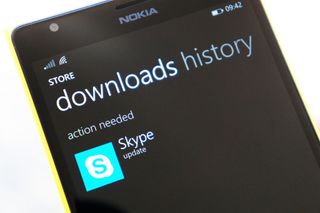 Although several major cities in India are blanketed by 3G (with 4G going mainstream later this year), most of the towns — particularly those in the rural regions — are still on 2G connectivity, prompting Skype to launch an app which will work on low-speed networks.
Also, given that most of the device sales occur in the low-end category, with the Lumia 520 and Lumia 535 outpacing all other Windows Phones in terms of volume, Skype is looking to increase its userbase by catering to entry-level Lumia (and Asha) handsets. Another goal for Skype is to improve its experience as a whole to match that of the competition, which includes the likes of Viber, Line and Hike.
According to Skype spokesperson Filipp Seljanko, speaking to The Indian Express:
Seljanko also offered his views on the net neutrality debate that has taken center-stage in India, stating:
Indian readers, are you excited that a less resource-intensive version of Skype will be available in the country shortly?
Source: The Indian Express
Your comment seemed faster!
What's up with you?

Who all got tickets for Avengers: Age Of Ultron from Skype..??

Got tickets of Avengers2 for tomorrow (M2K Delhi)
I don't know how but it was houseful today :P

Got tickets for the 23rd April's screening. PVR Saket.

Would be glad if they improve the current one as well :/

If you have windows phone which means u always have to wait for the best things. But still I love windows phone :P

But you will see the store app reviews rated 2/3 stars... For less features. People won't understand what is the meaning of lite version....

It doesn't have to be "lite" in terms of features but better optimised, even on 4g messages take ages to go through or to be received. This even happens on Wi Fi. Last time it happened was yesterday, a mate sent a message in the morning and I got it 5:34 pm in the afternoon. Desktop client was instant - I switch between the two and have both signed in to the same account.

Yeah, the current app is extremely laggy and slow on 512MB devices.

Works great on Lumia 530.

Well, I used it on 720. Press the call button, and it will call after 10 seconds or sometimes even won't.

That happens on even 2GB RAM phones, so that's not the issue.

So then everyone needs a less resource intensive app.

Indeed. I'm very interested in seeing how it gets integrated in Win10

Works perfect on my Lumia 620.

I think everyone wants a lighter Skype app, not just Indians. Hope it won't be region-locked.

I hope not, as I use US region for enabling other features. Skype should provide a country dropdown for enabling such optimisations.

Switch regions and download when it's available... :)

LOL, good one Wam1q. But seriously, can't the app just automatically recognize what connection & phone's memory device you are on and start the corresponding Skype app/experience to fit that.

I don't think the Store gives a lighter app when it sees low-memory phones. It's the same app that's installed everywhere.

Skype may not be lighter, but the quality of call is definitely better on it. I tried WhatsApp calling recently (not on my WP) and the difference is noticeable.

Try line!! its the best for VoIP calls

Yup, if your using the skype app on your phone for IM. Forget it, it is anything but instant. They still have a long road ahead of them to get it where it needs to be. If Skype was initially designed for mobility than it would be a different story.

Yeah. I'm really interested whether the integration into the OS with win 10 will help. However the most annoying thing is that stuff dies not really sync between devices. E.g. favourites, names of people and there still is the problem with messenger and skype not being merged ...

I can start Skyping now....

Well I wont be using a lighter version....as it will have less features than the original one...also...i don't think...updates will be frequent on the lite version than a full fleged skype app...as it is...apps on WP are not on par with android....and now if a lite version..will come..we jsut don't know what we may actually be missing out.. However best of luck for those who would use it..its always good to see new apps join the store...

Looking at how MS is intrested in Low end devices, maybe lite version will get more support compared to Orignal app. And lite version will not have less features, I think it will cap the call quality to save internet data.

And your assumptions are based on..?

Much needed improvement . I feel the app is quite slow as of now. Whenever you switch the camera it hangs. Crashes too often.

I would like to save my cellular data on skype too. Internet is too expensive in Australia.

Well skype could be more competitive if it would be working good or at least okay. but well.. we will just wait till the market share is further down the drain and wait till microsoft wakes up

Here also network is slow....how to get it outside India?

I wonder if this will apply for Skype for WP as they are any way planning to integrate the whole thing to the phone...which technically should male it as fast the OS is right...?

How can other countries with crappy service like Jamaica get this version also?

After app launches in STORE

Skype should have for long been integrated into the Windows Phone ecosystem, much like FaceTime. That, in my opinion, would have been more ideal from a performance standpoint alone, not to mention much more hassle free than it is now. Lets hope somewhere in Redmond ( or where ever it is their brains are ) they are silently working to achieve the same with the next big upgrade for our beloved Windows Phones.

Coming soon to Australia!?

I bet it'll be released for Android or iOS first!

please improve it first on 1520..lags like hell

Skype's India-specific app is tailored for slow cellular networks, entry-level devices... and government's mass surveilance program. ;-)

Well this is certainly good, but even after realising that most of India still has greater 2G coverage than 3G, the important feature of 3G lock is neglected. You place a call on 3G on skype while travelling around, the phone switches to 2G and the skype call drops. Even if the carier gives like just 1 bar of 3G coverage, thats enough to hold a call or atleast a skype audio call but no, Microsoft simply wont include that damn lock.

Skype, well didn't start out on phones but desktops hence why their backend was archaic when it came to the demands of the mobile era. Anyway once people get to play with the new version of Skype on Windows Phone 10, the bigger picture should become clearer.

He's talking about how WP don't have a "lock to 3g" feature, and not how Skype works in mobile devices...

Gimme that version. Skype is too big and bloated and slow.

They simply need to pull out their Windows XP app from 10 years ago that used to actually work for making phone and video calls with
Windows Central Newsletter
Thank you for signing up to Windows Central. You will receive a verification email shortly.
There was a problem. Please refresh the page and try again.