Slack is now available for Windows desktop in beta form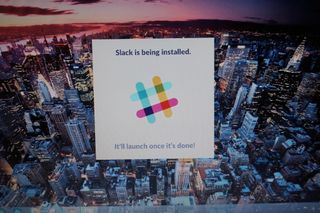 The collaboration app that has taken the world by storm, Slack, is now available for Windows in beta form. However, it didn't come the way many of us would expect it to. Unfortunately, the app is only available for desktop. Therefore, those on a Windows RT device cannot use it, nor will it be easily available as a universal app.
Slack is an efficient collaboration tool that allows its users to create 'channels' to chat with their co-workers and the likes. We here at Windows Central use the product on a daily basis to share pictures, news, and to converse so that we don't step on each other's toes when working on an article.
Last summer, we reported that Slack was looking for a full-time engineer to help them build an app for Windows. Late tonight, Slack sent out an email to those that have previously contacted them about bringing an app to the Windows platform. The email read like this:
They also know of a few bugs that the app is experiencing, as they've compiled a list that you can read here. And as a friendly reminder, this is a beta, people. So don't go knocking it, or sending hate mail to the developers that have worked so hard to bring it to where it is today.
Hopefully, this is the beginning of Slack's journey with Windows. Let's hope they plan to bring their app to the Windows Store or a Windows Phone app in the near future.
So if you are a user of Slack or just want to try out the service for the first time, head to the link below to download the beta now.
How do I get in on this? Our engineering teams just started using this and I spent an hour today looking for the WP app. Wondering if it renders well in WP browser, if nothing else.

I emailed them some time ago. They, answered that they will bring a windows phone app in the "near future". Now you can use third party app channel messenger.

I also tweeted them last year. Tipped WC about their response. http://twitter.com/SlackHQ/statuses/507366970065682432

I also emailed them last year and they "confirmed" that the WP version was in development. I guess its on the backburner.

I don't get it - I slack in front of my desktop all day long, so what's new here? How did it become something so special? ;)

It's a native app instead of using the browser

Not really. It is a chrome app, just like the browser one. It simply installs as a stand alone application. You can even "inspect elements". Nothing really different. Most of the options open in the browser.

Does anyone know which software they used to put their web application into an installer? For this use case, there is already software which just does that out-of-the-box!?

I posted the link at the bottom for all to enjoy :)

They released a WP beta app last week. I got in on it by raising a help request with them. It has some bugs but it's good enough to use day to day

Nice -- I was is contract with them last year about making one, I should see if they can let me in too.

Microsoft should buy them.

Happened to Lync, could see the same thing here.

Because they're competitors in the enterprise space, and their app would be a great addition to office

Microsoft do have Yammer. There are plenty of similarities between Yammer and Slack.

Nice idea, would be great to have a WP app

There will be. It's been in the works for a while.

The page with the apps states: We are actively working on apps for Windows Desktop and Windows Phone.

They should go universal.

Ivaylo - thanks for pointing that out. I had read it, hence my comment supporting the development of the app. Do you want to state the obvious again?

Sorry, tought you wished for WP app.

http://www.windowsphone.com/s?appid=a017cbac-d107-485d-8618-00dcdf9fb2b7

Yeah I have it, but it is kinda buggy, does not support many features, like integrations. Also links does not open and many attachments are missinf. Also crashes sometimes.

Oh no - they are missing the opportunity to create a universal app...

They have a WP app in beta too so they could create a universal app from that in the future

Don't hold your breath. Now that the end of RT is happening and the reinforcement of legacy Win32 is a core "feature" of Windows 10, universal apps are never going to happen.

Universal apps will have way more visibility than desktop ones. And with a generation users growing up on stores and apps, you'd be stupid not to put it in the store.

It is cool that there is a Windows app available, but this merely seems to be the web version hosted in a Windows form... From what I understand this is the same sort of approach they took with the Mac version. I am struggling to understand what the advantage is of using this app over the browser based version. Maybe you guys can ask Slack for some more clarification on what is going on here?

You can have multiple teams open at the same time.

Honestly never hears slack first time lol but it sounds good the IDE to communicate in one app across all communications messenger. Now lets hope they make an app for windows 10 and windows 10 phone it would be nice or Microsoft should just buy this and integrate with skype

How to release an app NOT the right way..

Honestly never heard slack first time lol but it sounds good the IDE to communicate in one app across all communications messenger. Now lets hope they make an app for windows 10 and windows 10 phone it would be nice or Microsoft should just buy this and integrate with skype

Great, will have a look now :)

I guess they were joking when they said: "Does it feel native to Windows?" because this is simply Slack web site on a web view. You can even "inspect element" when you right click on anywhere, lol.

Exactly the same as the Mac app.

Years spent developing.... Umm.

Yup, the only difference compared to a using Slack as a "Chrome app" is the notification design. That's quite sad.

It is still a chrome app, just stand alone.

Have the same wallpaper on my desktop..!!

Is this like Workspace or better or nothing like?

The video on their homepage makes it look a lot like Yammer to me.

This is a chat less like skype and more like irc, developer oriented, with many 3rd party integrations, paid services and more.

I've never used Slack so far, but just watched the video on their website. Would I be right to say it's very similar to Yammer? The features they talked about in the video mainly seemed to do what we use Yammer for. Will give Slack a try at some point and see how it compares. With Slack are you able to export all of your data and conversations at any point? I saw in the video it integrates with Dropbox so all of those files are obviously somewhere you can access even if you stop using Slack.

Universal Apps for what, right?

Here's the beta link for the Windows Phone app. You'll need to get permission from Slack to download it (just raise a help request on their website). http://www.windowsphone.com/en-us/store/app/slack/742c3fef-bebe-4cce-9e1...

This guy is right. There's a Slack Windows Phone app at the Store.

Good stuff. Going to hit up their Zendesk now!

It would be interesting to get an application for the same wp navigation via browser is fast

Indeed. Probably has a custom updater to add to the junk installed. And no security model to clearly restrict what it might be doing. Etc.

It's just a web wrapper so pretty low on "junk".

Let me guess, this app is available on the Android and iOS platforms for mobiles? See what I'm talking about? And they say there's no app gap.
And the sad thing is that even if I'm wrong about this particular app, it still is true.

Slack is a relatively new service, anyway.

It is available for OS X only though

They have a Windows Phone app in closed beta right now so they're actively working on it.

You have a hard life. Whine more.

without sub channels it's useless.

Looks interesting, just signed up. I use a ton of these services for everyday work (designer), trello, asana, skype, all the storage services etc.. but would be nice to have a tool that consoldated these a bit. Looks nifty, but noticed there's no OneDrive or OneDrive Business integration. Microsoft late to the party again, would be great to get notifications of updated files etc across the board. Missing a trick!

I wonder if Microsoft has really opened up an API for 3rd Party use or if there's some weirdness with it. It seems like a lot of vendors run to Google Drive and Dropbox but OneDrive seems like an afterthought, if it comes at all. Which is strange because even Apple/Android crazed tech blogs seem to give OneDrive its dues.

Dunno, and I think the fact that neither of us know tells a story I think. If they are opening up, they need to let developers know or it'll always be overlooked. Microsoft is tainted with the notion that everything is a closed book and they really need to change this. OneDrive is my favourite cloud storage solution but I rarely see it being used for collaboration which is a big shame.

Slack for WP - beta ivite only https://www.dropbox.com/s/qqqvk845718yu57/wp_ss_20150219_0001.jpg?dl=0

You have to request a code from Slack's Support.

NATIVE WINDOWS DESKTOP CLIENT PLS, SLACK.

I think Justin Angel's wife is working on the WP version

Yup she is. Effie Barak. https://twitter.com/CodingChick

Lync what? for 2 bucks per user per month on O365...

Cool, I always had to keep a tab open for this one!

I miss Slick, the IM client from Symbian. The name "Slack" reminded me of it.

There is a 3rd party slack client for Windows Phone http://www.windowsphone.com/en-us/store/app/channel-messenger/a017cbac-d...

They also recently released it for Windows Phone 8.1 in closed beta form. I'm very happy to have it on my phone finally.

It's just a Chrome app exported to a binary. Right click anywhere and you can Inspect Element. What a joke for a serious company.

Slack still does not have a 'native app'. Spark/Openfire has a native app. Lync/Skype has a native app. Even google hangouts has a native app. Slack has a web page. To make their supposed 'native app', they did the lamest of all mobile 'app' tricks, stuffing a link to a website into a binary & calling it an 'app', ON A DESKTOP PC.
Windows Central Newsletter
Get the best of Windows Central in in your inbox, every day!
Thank you for signing up to Windows Central. You will receive a verification email shortly.
There was a problem. Please refresh the page and try again.