Slack is now available for Windows desktop in beta form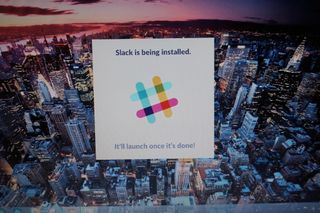 The collaboration app that has taken the world by storm, Slack, is now available for Windows in beta form. However, it didn't come the way many of us would expect it to. Unfortunately, the app is only available for desktop. Therefore, those on a Windows RT device cannot use it, nor will it be easily available as a universal app.
Slack is an efficient collaboration tool that allows its users to create 'channels' to chat with their co-workers and the likes. We here at Windows Central use the product on a daily basis to share pictures, news, and to converse so that we don't step on each other's toes when working on an article.
Last summer, we reported that Slack was looking for a full-time engineer to help them build an app for Windows. Late tonight, Slack sent out an email to those that have previously contacted them about bringing an app to the Windows platform. The email read like this:
They also know of a few bugs that the app is experiencing, as they've compiled a list that you can read here. And as a friendly reminder, this is a beta, people. So don't go knocking it, or sending hate mail to the developers that have worked so hard to bring it to where it is today.
Hopefully, this is the beginning of Slack's journey with Windows. Let's hope they plan to bring their app to the Windows Store or a Windows Phone app in the near future.
So if you are a user of Slack or just want to try out the service for the first time, head to the link below to download the beta now.
Get the Windows Central Newsletter
All the latest news, reviews, and guides for Windows and Xbox diehards.