Slack for Windows desktop updated with new MSI installer, Chromium 45 support and more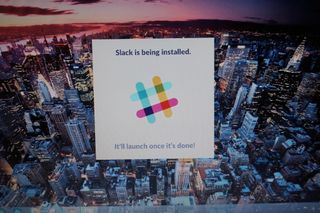 The Slack business messaging service has released a new update for Windows desktop users. Version 1.2.5, which has the sub-title "To The Teeth" includes a new installer, support for Chromium 45, as well as more additions and bug fixes:
Here's a look at what's new and improved in the updated version:
Fixed: Reclaim seconds of your day by holding Shift to drop files immediately.
A sparkling new MSI installer for your IT deployment needs. Visit https://slack.com/apps to learn more.
Slack now supports Integrated (Windows) authentication for SSO in more scenarios, so for folks who saw authentication errors while trying to sign in, see them no more!
We've upgraded to Chromium 45, which greatly improves scrolling speed and general snappiness. Snapocity. Something!
Fixed: For the umpteenth time, we've made pinning more reliable. Folks: Pinning is hard.
Fixed: It should now be impossible to have more than one Slack app open at a time, which will solve many odd issues that you may have been experiencing.
If you are already using the Windows desktop app just hit Help > Check for Updates…> Update Now to get version 1.2.5.
Download Slack for Windows and Windows 10 (.exe)
Source: Slack
Windows Central Newsletter
Get the best of Windows Central in your inbox, every day!
Why can't automatic open app when I start Windows 10, all is marked to automatic open app when Windows is started?

Sorry for off topic comment but it is Stunning Wallpaper....

You can get some of those in the Windows Personalization Gallery page in Microsoft's website.

They have a sense of humour which warms me over

The scrolling thing is a big deal, really improves in this update.

I hope that they push forward with the Windows app more (still in beta) and eventually only have that instead of this Win32 program.

I agree. They really should be focusing on UWP development.

You do know there are people using older versions of Windows, right? Why would you want them to get screwed? Not everyone is going to update not everyone wants to limit themselves to the, as of this writing, anemic UWP platform.

Thinking about next windows mobo preview update(10575)... More where is it????

Wow. So they use the Mac version to showcase the product in their tour video, when Mac has only 10% of PC market share? Boycott now.

as long as it is an Apple computer running Windows then it should be fine :)

Anyone know what the SSO change brings?

Super Sidekick Optimizations

MS, please buy Slack! They are doing cool things. Let them be another Wunderlist and incorperate their ideas into Skype in some way or something. =)

I already find the ability to launch multple instances of slack to be annoying. Maybe it's a bug, but if I click on toast notifications instead of using the current open version it launches another instance, then I start getting push notifications for both.