Sling TV update for Xbox One tackles nagging buffering issues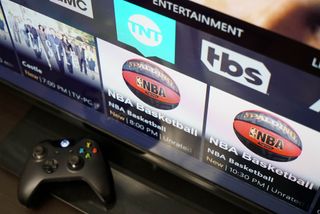 A fresh update has rolled out to the Sling TV app on Xbox One. While the update doesn't appear to have brought anything in the way of significant interface changes, it does look to at least address some nagging performance issues that users have users have been complaining about — namely buffering.
According to users responding to a thread on Reddit, the update appears to significantly reduce the stuttering and buffering issues that were impacting the app before. While some still report the app hitting a snag here and there, it looks as though it's in a much better state than prior to the update:
While it's not the type of interface revamp that some users have been hoping for, this is certainly a step in the right direction at a base performance level. The developers behind Sling TV did note in September that a bigger update was in the works to move the Xbox One app to the Universal Windows Platform (UWP), so it's likely we'll see more significant changes in the future.
Have you had any hands-on time with the latest version of Sling TV for Xbox One? Let us know your thoughts in the comments!
Dan Thorp-Lancaster is the former Editor-in-Chief of Windows Central. He began working with Windows Central, Android Central, and iMore as a news writer in 2014 and is obsessed with tech of all sorts. You can follow Dan on Twitter @DthorpL and Instagram @heyitsdtl.
Wow, sounds awesome. Just wish one of my favorite channels wasn't missing.

I just cancelled my SlingTV subscription the other day because I couldn't stand it any longer. The buffering and stuttering finally drove me to cancel. It figures that they fix the issues the moment I cancel. I may have to turn it back on if they did.

Same. Just cancelled for same reason. It was ridiculous

Thank gosh. I was about to cancel and buy a fire stick and go with DTV Now. Might still, but this gives me something to think about. Though I hope DTV Now gets an Xbox app soon.

I signed up for DTV Now today, with their $35/mo offer with the free FireTV Stick. Ditto on hoping for an xbone app, would also love a W10M app, but there's about no chance of that, and also FYI, it doesn't work with the Edge browser, as in on a W10 desktop. Have to use IE, Chrome, etc.

Yeah, IE works ok, it was not great. Usable I guess.

Performance is way better in Chrome vs IE, fwiw. Fingers crossed we get more apps and Edge support soon.

Thanks for the info. Was originally gonna go with edge via Xbox one to use. But guess ill do their firestick deal

I just signed up for this as well. The nice thing is that this supports 5.1 surround and 1080p 60fps. I also figure you can plug in the Fire TV stick into the "cable in" hdmi port and still have everything running on the Xbox.

Ohhh... good call on the Cable In port!

Unfortunately they are a little too late getting to this. Nearly every other streaming service functions far better than theirs on any platform. I moved to Vue.

How is the quality on Vue? I've been thinking of signing up for it.

I honestly can't remember any buffering at all with Vue both on the Roku and PS4. The UI Is great as well. I highly recommend it.

It's good, but the ui sucks.

But those of us only using Xbox for streaming, can't use VUE.

It's about time. I was tired of having to switch to Roku for a good experience

They should give everyone a free month

I can only up vote this once. I have suffered through a year of crappy service. I know the quality is MUCH better on the UWP, makes no sense why it was so bad on xbox one when other streaming providers figured it out

I tried Sling TV for about 6 months on our XBox One and the buffering and sketchy picture quality was agonizing to try to watch shows. just like TJALSMA said above; Too late for me to come back and try it again. I moved on.

Hopefully when it becomes UWP, it will work on mobile like WWE Network now does.

Yes sling is awful on Xbox One compared to Firetv or Roku which is the best device for Sling signed up for Directv NOW 35 dollar offer but no boomerang its in the 70 dollar package so sling tv is better in that deal but I will keep both. haven't seen the update yet I'm watching sling on the Xbox now so ill wait n see.

Re: Clive Rennie,
Respectively, using some punctuation would really make it easier to read what you are trying to say.

About dang time! I was just about to switch to DTV

In general, Xbox One applications (at least those that are not universal) have awful performance. The ESPN app for instance is really poor. For a console that is supposed to also be a media center it really leaves a lot to be desired.

Where the heck is Sling TV for Windows Phone

Hear, hear. We got nothing now. And, in November, I believe, they said they were "working on it." A understand a UWP app moves platforms easily, so its curious it's taken this long. I just hope they do it!
Windows Central Newsletter
Thank you for signing up to Windows Central. You will receive a verification email shortly.
There was a problem. Please refresh the page and try again.