SlingPlayer for Windows 8 now available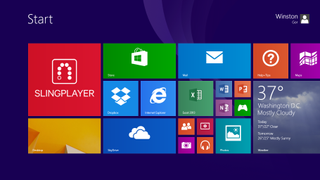 If you have a Slingbox at home, we have good news. The SlingPlayer app is now available for Windows 8 tablets or PC. It lets you watch and control your cable or satellite TV from anywhere in the world. You can try it for free for 24 hours.
The SlingPlayer features a Program Guide that makes it easy to browse content choices while watching TV. The Gallery view also helps you find your favorite shows, sports events or movies.
In order to use the SlingPlayer app on your Windows 8 tablet or PC, you need one of these Slingboxes at home:
Slingbox 500
Slingbox 350
Slingbox PRO-HD
Slingbox SOLO
The Slingbox must be configured for Internet-viewing and requires a high-speed Internet connection with an upload speed of at least 500 Kbps. For best viewing results from your tablet or pc, you need a network download speed of at least 500 Kbps.
You can download the SlingPlayer app from the Windows Store (opens in new tab). It costs $14.99, but there's a free trial available. Give it a go if you have a Slingbox at home and let us know what you think in the comments!
Windows Central Newsletter
Get the best of Windows Central in your inbox, every day!
Cool. Too bad they don't make a sling box qam

The article failed to mention that the app is also available for WP❕
And, the app is still discounted to$14.99 from the ridiculous $29.99...

I believe the 500 supports ClearQAM. The PRO-HD does. I just wish they had one that supported CableCARD so I could pay $2/month instead of $10 for a set-top box.

Didn't they get rid of the coax input? Cablecard would be nice as well.

I wasn't aware, but it looks like they did.

Awesome. One of these days I'm going to wake up and find out that all this goodness coming to the platform is a dream. Anybody have Slingbox? What do you use it form and how do you use it?

I use it to watch anything anywhere. I use it mainly for sports. As I am usually BBQ on the weekends I bring out my tablet with me and sling my tv at home. If there is a series I missed because I was traveling then I use it to watch it on my time. Its great one of the best things I ever bought I have had it for 3 years now I believe.

What's the video quality like these days? I used to have one back in the day and the video was very pixilated and choppy.

I have a solo and I have it setup so that it is always displaying an HD input. So the picture is great. Especially on the 1520. I do hear the new ones the 300 &500 ? Stream better however.

Unlike TiVo, does SlingBox let you watch ANY program you've recorded while off your home network? TiVo doesn't let you stream copy protected shows from Food Network, Bravo, etc, while off your home network. Tivo let's you stream shows from broadcast networks off your home network.

Yes, you can stream anything on the cablebox/DVR that your slingbox is connected to. It has an IR blaster that controls your cablebox/DVR to change channels, set recordings, watch content. I've used to watch stuff on my DVR while staying at hotels when travelling, or from my mother's house which doesn't have cable while tethered to my LTE phone with unlimited data.

Interesting I'll be looking into this a bit deeper. Thanks family.

I have a dish hopper with sling....Love it, wish there was a Dish Network app for WIndows/Windows Phone... As this sling app wont work with dish boxes...

Its ridiculous that they still charge a hefty amount for what should be free when you buy their $300 HD box. I don't expect free, but $15?

I think they cater to very niche market....

There is free remote viewing thru any web browser on any intel-based laptop/pc or Mac. It's only the mobile phone/tablet apps that you have to pay for. I think... that since Windows RT doesn't run on an intel (x86) processor, it's desktop browser isnt' supported.

WinRT can watch in browser too, but it doesn't work with older boxes actually the same ones this app uses. Unwired made it with slingboxes flash embed they offer. Slingbox.theunwired.net

I tried and failed to use the RT browser. How did you make it work?

We need to keep bugging them about an app that will support the Hopper w/ Sling. Request here https://support.dish.com/viewtopic.php?f=9&t=5393&sid=43ef8205853828f9d3...

The DISH Support forum mods are tosspots that wouldn't know lamb from goat.

Yup. Done. Again. Sure wish Dish would put a Windows Phone and Windows 8 app out there for us. Can't understand why they won't just get it done.

whaaat, official dropbox app??

This really sucks, I have the Dish Network Hopper with Sling receiver and this app will not work with that box. I have been writing Dish about the dish anywhere app for over two months now and nothing.

$15 for an app that should be free? Not exactly what I was looking for. Guess I will continue to use the free browser version. Not even going to bother with the free trial.

Does anyone use Slingbox to view remotely, their TV recordings made from Windows Media Center and a Ceton Cable-TV Tuner?

Why wouldn't you just use Ceton's My Media Center? It's a great app and is only $5.

Rishicash, Thanks for reminding me. I'll try it out.

I've been using Slingbox since 2007 when I used to stream it to my Moto Q running Windows Mobile on Sprint (unlimited data). It was choppy and fuzzy but you could also just stream audio if your bandwidth was slow. It was much better over a wired connection. I think they've gone down hill over the years but I still have one (forced to upgrade my hardware like everyone else and buy a new mobile app whenever I switched phone OS.) I tried their new Windows app on my atom-based Thinkpad Tablet 2 and it didn't work. The cpu might be too slow. It does work thru any web browser and the Dell Venue 8 Pro can handle it that way without the app. I think their mobile apps have been pretty buggy in my experience and the firmware on the slingboxes updates automatically with no way to stop it from introducing new bugs. They're one of the most frustrating companies in my opinion when it comes to buggy software on the Android and Windows phone side. On the other hand, when it's working, it's great having a phone/tablet that can double as a portable live TV that you can carry around the house or use when traveling, visiting relatives, etc. You can even control your DVR through the app to playback recorded shows, etc. Picture clarity is very good over wifi, but the software is too stupid to buffer itself well so I have video quality set to standard instead of auto. Also the software is apparently too stupid to wake up your wifi radio so I often have to open up a web browser to wake up wifi on my device and then the slingplayer will connect, otherwise it often tells me I have no internet access. Thank god Comcast has released a live TV viewing app called Xfinity TV I think, and it seems to work much better. I doubt I'll be buying another Slingbox in the future. I watch mainly news shows (news junkie) on my slingbox and the Xfinity app carries all the news channels with live broadcasting.

DroidDaddy,
The Comcast Xfinity App on Windows Phone says it is a Remote Control? I'm downloading to see if it stream live TV.
Did you ever stream recorded TV? If so, may we hear your experience?
-[Edit] The Xfinity App does not stream any TV.

Thanks for the heads up Mark! Installed

Better off that Comcast or the cable providers offer their apps instead. I got the first ugly slingbox that came in red and have a paid ios app. Don't use it much.. Rather watch my content when I want to and xfinity.com works fine with the metro browser on my Lumia 2520.