SlingPlayer for Windows Phone 7 - Review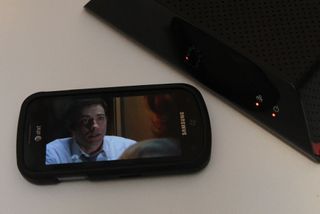 The whole point of owning a smartphone is to maintain a constant connection with the things that are important to you. Your calendar, email, pictures, documents, and music are all right at your fingertips with a Windows Phone.
We've talked about Slingboxes and their associated apps before; but with Windows Phone 7 our devices are much more media-centric and offer better performance, making something like Sling Player something worth considering.
Overview
If you haven't heard of it before, a Slingbox is a hardware device that connects to your TV connection. The Slingbox then connects to your home network, allowing you to watch TV from any computer in your house; and with some minor configuration to your network, outside your house.
The SlingPlayer is a piece of software for iPhone, Android, and Windows Phone that allows you to connect remotely to the Slingbox at your house. In addition to "place-shifting" your TV service the Slingbox can optionally be connected to a DVR or other device, allowing you to remotely control whatever it is connected to.
Note: SlingPlayer for Windows Phone only supports the Slingbox Solo or Slingbox Pro HD devices. Older Slingboxes are not supported.
Usability
SlingPlayer for Windows Phone is one of those apps that almost seem too simple for the function it provides. Most of the setup and configuration is done on the Slingbox side of things. Once the hardware is configured and registered with the Sling service, you simply log in on your phone and you are automatically connected to the video from your Slingbox.
The only real settings on the SlingPlayer itself are related to quality and aspect ratio, though it is possible to connect to multiple Slingboxes if you have them.
Quality
Like the Netflix app for Windows Phone 7, playback quality depends largely on your data connection. SlingPlayer will work over Wi-Fi or your cellular (watch out for those bandwidth caps). Additionally, when streaming from your home network, you could experience bandwidth issues with your broadband upload speed.
Caveats aside, quality isn't an issue with SlingPlayer. If your data connection supports it, the picture is nice and crisp on the phone's screen. The only performance issue comes when trying to change channels or manage settings, in which case it takes a few seconds for the signal to make its way to your Slingbox and back.
Conclusion
If you want the ability to watch live TV streaming to your Windows Phone, SlingPlayer is really the only viable option (though there are some competitors that may be showing up in the next few months). At $29.99, SlingPlayer is one of the more pricey apps in the Marketplace; especially when coupled with the price of the Slingbox hardware. The ability to access your home TV service, as well as offering remote control of your DVR or set-top box make SlingPlayer one of the more interesting applications I've seen for Windows Phone. SlingPlayer is $29.99 from the Zune Marketplace.
Windows Central Newsletter
Get the best of Windows Central in your inbox, every day!
I invested in a Slingbox back when they first came out around 2005. I've used them with many PCs, Windows Mobile (which was the first mobile platform to be supported, around Spring 2006), and even on the web with the browser plug-in. And I've always been very happy with my Slingbox until recently. In late 2009, I bought the Slingbox PRO-HD to upgrade from my original that had finally reached a phase of non-support (no new features, new mobile support, etc). The Slingbox PRO-HD works wonderfully (minus a nagging issue with 720p video where the stream resolution comes through as 1280x544 on the PC, stretching and cropping the image. I can force 1280x720 manually in the settings, but it shouldn't be necessary).Anyway, I got the SlingPlayer Mobile app for Windows Phone 7 and was very disappointed. The old SlingPlayer Mobile 1.5 on Windows Mobile was much faster and more reliable. The SlingPlayer app on WP7 crashes almost every time I try to use it, sending me directly back to the Start screen with no error message. When I get it working it is slow and takes over a minute to connect over my own home Wi-Fi. The Windows Mobile version took about 5-10 seconds, at most. With the new version, if you accidentally tune to a channel that isn't carrying a broadcast the SlingPlayer will "lose" its connection and cut you off. Worse yet, once the Slingbox remembers its "last channel" as this it won't allow you to reconnect using the Mobile software. I actually have to get to my PC with SlingPlayer, connect, then change the channel for it to start working again. If they could update this app and fix these very serious bugs, I would be satisfied. But until then, I sadly have to recommend against purchasing this app. As expensive as this app is, I expect it to at least work as well as the free streaming apps with which I rarely, if ever, have had any problems.

Hey Tim, Chuck is getting good this season isn't it? :)