Small update v3.4 for Windows Phone Central app now available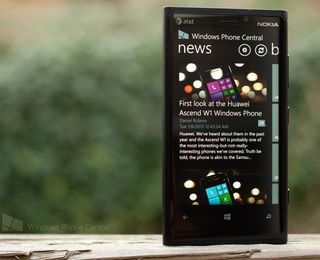 As we covered in last week's announcement of the v3.3 update, there was a minor content enrichment bug which slipped past our normal quality control procedures, and so today brings v3.4 to fix said bug. You can download to your heart's content here in the marketplace.
Of course I know this is not the update many of you are looking for, and I promise that the first Windows Phone 8 build is now very close (so please, no more 1 star reviews just because all of your HTC 8X's screen isn't being fully used! They're destroying my soul!)
In the meantime we always welcome constructive feedback, and encourage you to get in touch either via the app's help request functionality, in the comments below, or on the forums.
Windows Central Newsletter
Get the best of Windows Central in in your inbox, every day!
Good work! Its a really great example of how good WP apps can be.

Your app is awesome, I use it everyday!

I guess I can spare your soul a little longer, ha! Honestly, though, I don't think that the lack of wp8 support makes it a bad app, but it could definitely be enhanced by the features that wp8 brings to the table. It has been kind of sad that the major news source for WP8 doesn't have an updated app, though. Definitely puts it in perspective when looking at games that haven't made the move. Nevertheless, great app and good work.

To jump on your point about apps that need updating, I'm shocked the xda app hasn't been updated for mango even!
But WPCentral has such a quality app, it's one of the few I use everyday. Can't wait to see a wide tile for it!

1 star for 8X SCREEN not being updated haha :P

I kind of like that unused space for the system tray :D

There is a setting to add it. It has been there since v1.

"destroying my soul".... LOL.

Anyone who gives this app 1 star sucks. This app rocks!!

Too bad you can't inject happiness into the doom and gloom forums.

thanks! Seems to have fixed my notifications issue where the app tile would go blank with push notifications enabled. Awesome, I have turned them back on... Missed them... jejeje

You mean this isn't optimised for WP8 yet? It's still the best app in my collection (and my collection is huge!), so I can't wait to see what you do to make it better!

My favorite app, I would give it five stars if it could control my coffee maker. Perhaps that's asking too much...

Actually that's planned for version 9.4.... ;)

You just know we're gonna hold you to it.

Your current Coffee maker is incompatable sorry. You need Model MEGA-1456, it is $5,499.99 and will be compatable with the WPcentral 9.4 app for Windows Phone 8.

:)

Really people, have some patience. This dev puts alot into this app.

This is an awesome app,keep up the great work.

Awesome and i didnt know it wasnt WP8 optimised yet as it looks super on my 920

What is the issue with the 8x? since the last update I hadn't noticed any issues on my 8x. It works perfectly.

8X's screen has a different aspect ratio than other WP phones, hence "old" apps have black bars on top and bottom. A similar issue as with the eyePhone 5.

Don't get destroyed. There is also large amount of happy users as I am.

Honestly whoever says this app sucks is a jerk. I've had this app since day 1 I got my LG Optimus 7 and saw MAJOR improvements. You guys are hard workers and I am always a supporter :). Great job guys!

Oh, and not to mention that I loved it then, and I still love it now!

Hi Jay. Great work with the app. I've been meaning to start on a WP8 version of my own app (Calculator²) but the Windows 8 version has been taking all of my time recently. I get the odd frustrating one star review so I know how you feel, although none yet about the wrong aspect ratio!
There's actually one thing I dislike about the WPCentral app (sorry!), and that's the turnstile animation you've used when tapping on a news item. You've animated only the tapped item, while typically in the rest of the OS the entire page is animated. I just feel that your animation takes me out of the Metro experience. The Windows Phone (aka Silverlight) Toolkit now comes with a turnstile feather effect for WP8, which looks really nice and could be good for the WP8 version.
I hope the feedback is useful. Everything else is great! :) Richard.

If the toolkit now has a workable turnstile effect i will absolutely look at that as a replacement. All the others I tried were too performance costly :(

Well, I haven't tried it out except in the demo app. I am eager to build a WP8 app to test this stuff out and see what's improved over WP7, although I don't find the performance of the animations too bad on the latter. I've used them throughout my app and just made sure in places that nothing else is on the UI thread during the animation. I load the content of my settings/history pages using a backgroundworker, which helps.
Some of the other controls don't run that well though, the ContextMenu in particular. I set IsZoomEnabled = false whenever I use it, otherwise it just appears, and I felt sacrificing the zoom effect for a smooth opening transition on the menu was worth it. Similar with the grouped view on the longlistselector, although that's now part of the SDK for WP8 with improvements.
Johnny Westlake is the master of animations -- his Artist Info and Music Info apps are great examples of how to use them well.

Anyone else have random logouts of their comment and forum credentials?

Another potential issue I have come across. I discovered two coworkers that have WPs and are seemingly huge WPCentral followers as well, but we were comparing start screens and neither of them had your app. They both had the very ugly "wpcentral" app. What a shame. Either they did not want to pay the $1 for your app, or just plain didnt see it. Also I thought there used to be a free version of the app? Is that gone?

Not sure what can be done about this but it is a shame. I wonder how many folks out there wont break down and pay the $1, or just plain dont know about the good app. It's weird though because that other app only had 4 ratings. And those two coworkers dont even know each other.

The trial is the free version and is completely unlimited

Thanks Jay was reading on line about the update when I got notification in store checked updated and it was 3.4. Keep up the good work.

I gave it 5 stars, and to be honest I can wait for the 8. Hell, the app is great, I couldn't care less if this was the Windows 3.11 version. Having said that, what improvements will the 8 bring?

Initially just resolution support as everyone wants it so much. Then a v4 will bring in some bigger features

Thanks Jay man. Keep up the good work. Can't wait for the windows 8 app. Its gonna be awesome :-)

Regardless! This app is about the best i have used on windows phone, you get a nice community feel and relevant news. If i was to leave windows phone tomorrow this would be the app i would miss most :-)

How about a button to jump to the first post in a thread AS WELL AS the last post?

It's there :) it's just under the application bar (3 dot/elipsis/'...' menu) as it's less frequently needed

Yeah. I've seen it there, but as there are only two buttons currently (the quick reply and last post), it just seems like there is pleny of space for it. Logically, if I see a last post button, I expect to see a first post button as well, rather than have to drill down a level to get it.

Very good I especially love how all the news involves a lumia920. it is the best phone in the world duh......

Ignore those 1 star rating the app you've made is fantastic and deserves more then 5 stars actually!

I love windows phone central. One of the best apps in the store. Kick wmpoweruser in the butt.

Hi
Cant update this app. Trying to re-install, but the following error message thrown up : "The Store isn't available at the moment. Please check back in a bit. Error Code : 805a01f4". I also re-started the phone, but still the same issue. I find that this problem occurs for apps that are purchased and not for the free ones. I have purchased apps including the WPcentral app earlier without any issues. Just to check, I also tried to change the system location as well, but still the same issue while re-installating this app. I have now lost the earlier version of this beautiful app too, since I un-installed it in an attempt to re-install. I dont want to hard reset, since restoring all my apps would take a lot of time. Please advise. Thankyou. Mandar. Mumbai, India

Similar but c101a006 error for me after bar gets to 50% :'( Just installed some other app and that went fine.

Same here, doesn't matter if over WiFi or mobile network :-(. Am in UK with L820

Afraid i have no control over marketplace errors so apart from suggesting you uninstall then reinstall you will need to get in touch with Microsoft sorry!

I get the same error. I think. It's a problem with the store.

I'm having this issue too, in Australia

So with this update I have two issues. Blank notification on the start screen and I have to log in everytime I go to the forums. Not knocking this app though, it is the most used app on my phone.

I can confirm that it only happens a.) during a call & b.) immediately after a call. Once the app cycles it is business as usual.

Do you mean that you see a blank toast notification? That's very weird

Not the toast notification. A blank tile. It looks like there is no tile until it cycles. I have a screenshot, but do not know how to post it on the thread.

I can't download the update. It keeps giving me a tap to whatever then says error

Getting a c101a007 in the US, on Wi-fi or 3G for updating.... just installed 2 other updates for apps fine, WPcentral is the only one having this issue.

Your current Coffee maker is incompatable sorry. You need Model MEGA-1456, it is $5,499.99 and will be compatable with the WPcentral 9.4 app for Windows Phone 8.

:)

I'm also having an issue with the WPCentral app only. I tried to do the update and recieved an error so I removed the app to try and reinstall it. The phone was stuck in a look trying to install the update and failed. I had to allow it to start downloading then long hold the download and remove it. Now the store is showing me the option to try or buy when I click either of them I am greeted with an error about the Windows Phone Store. Thinking it was the store I tried to download the new speedtest.net app and that worked just fine. I wonder if it is an issue with the WP Store trying to connect to the server for purchased items.

Same here, I can install other apps, but not this. Error C101A007 :'(

Guys this is with MS unfortunately, I've contacted them but it would help a lot!

Just updated it. But live tile still don't get updated

Issue seems to be resolved..thx MS.
Windows Central Newsletter
Thank you for signing up to Windows Central. You will receive a verification email shortly.
There was a problem. Please refresh the page and try again.