Smart Resize for Windows Phone 8, squeezing unwanted items out of your photos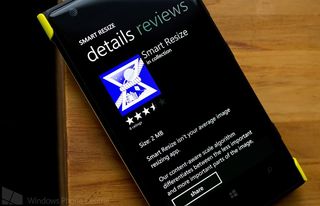 Smart Resize first hit the radar last month as the winning app in Nokia's Future Capture contest. The Windows Phone 8 photography app is now available over in the Windows Phone Store and takes an interesting approach to editing things out of your photos.
Instead of cloning or cropping unwanted items or empty space out of your photo, Smart Resize downsamples the image. It utilizes a content-aware scale algorithm that differentiates between the less important and more important parts of the image.
In a manner of speaking, Smart Resize squeezes out the unwanted areas of your photos.
When you first launch Smart Resize you can walk through the help screens or tap the Windows Phone Back Button to jump into the editing app. Once you exit the help screens, Smart Resize launches a camera app where you can capture new images to resize or you can pull up an image from your Windows Phone Pictures Hub to edit.
The first order of task is to highlight the unwanted or unprotected areas and highlight the wanted/protected areas. You'll need to tap the brush button to pull up the protect/remove tools.
Once you mark all the areas, tap the done button and you can start the horizontal compression. Just pinch the image to compress the image and squeeze out the unwanted portion of your image. Once done you can move to the vertical compression screen and squish your image further.
Smart Resize also has a collection of thirty one effects filters that can be applied to your photos once you've resized things. Once you've got all the resizing and filters complete, tap the check mark and Smart Resize will process your image. You can then save, share or remove the edits and restart the entire process.
In using Smart Resize for a short period, I found the final stitching/blending of the image to be decent. It would appear that the key is highlighting enough of the area you want to remove and not to compress the image too much. There seems to be a point of no return when downsampling the image that if you pass it, the stitching can be more noticeable.
Smart Resize is definitely an interesting photo editing app and does make an good first impression. However, the app still needs a little fine tuning. Nothing mission critical but fixes that would make the app a little more user friendly.
For example, when you view images in landscape orientation, the control buttons do not rotate. I also wouldn't mind seeing an "undo" button in the mix. The back button doesn't always do the trick and it's easy to forget about the reset command that's hidden under the three-dot menu.
Overall, Smart Resize is an appealing app and it's easy to see how it took first place in the Future Capture contest. Smart Resize is a free app, available for Windows Phone 8 devices, that you can pick up here (opens in new tab) in the Windows Phone Store.
Via: Nokia Conversations
George is the Reviews Editor at Windows Central, concentrating on Windows 10 PC and Mobile apps. He's been a supporter of the platform since the days of Windows CE and uses his current Windows 10 Mobile phone daily to keep up with life and enjoy a game during down time.
Sweet, thanks for the tipser !!!

Good idea behind the app, but it doesn't look good with all pics, I've tried

I wasn't able to get it to work. It was hard to use, for myself anyway.

Installed. Played. Worked pretty well (depending on picture).

If it can't strip girls off their underwear, it's useless to me.

Are you useless to yourself then? Awe snap! :D

You know that the "it" in my comment means "app" right? Therefore, your smart remark has no valid grounds! If I said "if something can't" then yes, you would have gotten me. :p

Who lives in a pineapple under the sea!

Congrats to Rudi and Shida! Glad to see it in the market

It works, but depending on the pic the shrinkage may look obvious

MAY?! It looks obvious even in the sample in the article. I installed this and tried to remove something on my desk. All is did was crop the whole center of the picture out which then distorted everything else. I don't see how this app won anything. It is terrible.

Looks like a cool feature to have if you`re really that much into photography. As an avarage camera user and with the awsome features the nokia camera app (along with sophie lens hd, photosynth, etc, etc), i don`t feel i need this right now, but it`s always nice to have the option of downloading it if i ever feel like i need it. Good job anyway, thx to the devs.

Pretty cool! Great idea and nice app!

Resized photo looses much quality:-( any tip?

Try image resizer anyway..

We have a few image resizer apps on WP store but we also urgently need a video resizer. The minimum video resolution on most of the Lumia devices is 720P. So we can't share/send videos easily. We need smaller sizes on chat messengers. An easy video converter working on phone would help. Anyone have ideas or tips about this issue?
Windows Central Newsletter
Get the best of Windows Central in in your inbox, every day!
Thank you for signing up to Windows Central. You will receive a verification email shortly.
There was a problem. Please refresh the page and try again.