Smash Bandits Racing – Road Rage from the safety of your Windows Phone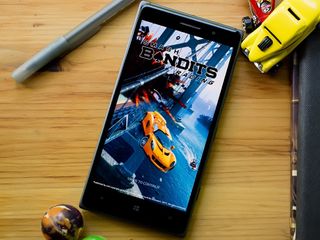 Smash Bandits Racing is a Windows Phone game that destroys the norm as it applies to street racing. Where most games discourage you from crashing into light posts, mail boxes, other cars and other objects that line the roadway, Smash Bandits Racing does the opposite.
With over 100 challenges, Smash Bandits Racing allows you to vent all your road rage from the safety of your Windows Phone or Windows 8 devices. Controls are simple, game play challenging and this unique racing game is a fun way to pass the time with. If you are looking for a racing game that breaks all the rules, you should give Smash Bandits Racing a try. Unfortunately, Smash Bandits Racing is not available for low-memory Windows Phones.
When you first launch Smash Bandits Racing, the game will walk you through a series of tutorials that cover game play. Once you complete the tutorial, the game will start you off in the garage where you can upgrade your current vehicle or pick up a new one to smash. As you complete the courses, you will earn gaming cash to purchase the upgrades and new cars with.
You also have Bandit points that are earned as you progress through game challenges that will advance you through the various experience levels. Game challenges include tasks such as smashing through a number of barricades, surviving a set distance or cleanly smashing a number of cop cars.
Controlling the car is rather easy. You play the game from an overhead view and the gaming control is an overlay that encircles the car. A button is present that when pressed will serve as an accelerator and as you slide the button around the car, you control the steering.
You play Smash Bandits Racing in portrait orientation and without a lot of elbowroom, this control design works our really well. Having the 360 degree steering also helps when you have to spin around quickly after realizing that turn you just made was to a Dead End street.
While there are certain objectives to each level of play in Smash Bandits Racing, the core goal is one of survival. Stay one step ahead of the cops, smash everything you can with a blue flag and if the cops get too close, give them a smash as well. A blue arrow will appear around your controls that points your car in the direction of the nearest checkpoint, which is your rallying point. Then again, if you fancy aimlessly racing down the streets, smashing things you can take that approach as well.
There is a TV helicopter documenting your trail of destruction and the more you smash, the higher the television ratings and the higher your earnings. The distance you survive, displayed on the main gaming screen, will also be used to determine your earning. The game ends when either the cops crash your car or you sustain enough damage to render your ride unusable.
The garage has areas to upgrade and repair your current vehicle as well as pick up a new, improved car. Upgrades cover speed, smash power and handling. You will begin the game with a tiny compact car (reminds me of a Yugo) and additional cars range from the classic muscle cars to pick-up trucks to streamlined sports cars. There's even the A-Team Van available to smash things up with.
There is also a series of gadgets you can pick up to help with your destructive abilities that include a sonic repulsor, oil slick and stunner. Gadgets are progressively available for gaming currency as you advance in experience levels. You can even transform your car into a tank for extra smashing abilities.
Game play has a fast pace as you zip through the roads with your car handling slightly different as you see the road surface change. For example, dirt roads will have a little more drift than asphalt surfaces. Cop cars that are preparing to ram you will turn red just before they strike and when they glow red, just tap them to ram them first. Just keep in mind that while Smash Bandits Racing does let you unleash your wild side, you still need to exercise some caution. You can run your car off the road into a ravine, a lake or demolish it as you side swipe a building.
Overall Impression
The more I played Smash Bandits Racing, the more the game grew on me. The graphics are great, gaming controls are simple and responsive and the game play challenging enough to keep things interesting.
While there is a Windows 8 version available, it appears to be designed for tablets with no keyboard support and on a 15.6" laptop, the gaming screen only fills the left third of the screen. The game is well suited for the small screen of a Windows Phone and does nicely on an 8" tablet. The resolution issues is likely what has driven the Windows 8 version's rating down to 2.8 stars (the Windows Phone version is rated at 4.5 stars).
Game play does not synchronize between devices but there is a setting to log into/out of a Facebook account. You cannot access that setting though. Hopefully the developer will enable this feature and we can bounce between tablet play and Windows Phone play with Smash Bandits Racing.
Overall, if you are in search of a racing game that isn't the norm you will want to give Smash Bandits Racing a try. It may not be a traditional racing game but it can be a fun way to pass the time or to relieve a little stress. If you try Smash Bandits Racing, let us know what you think of the game in the comments below and remember to rate the game in the Windows or Windows Phone Store to give the developer a little feedback.
Get the Windows Central Newsletter
All the latest news, reviews, and guides for Windows and Xbox diehards.
George is the Reviews Editor at Windows Central, concentrating on Windows 10 PC and Mobile apps. He's been a supporter of the platform since the days of Windows CE and uses his current Windows 10 Mobile phone daily to keep up with life and enjoy a game during down time.