Smoked by Windows Phone challenge action captured in Toronto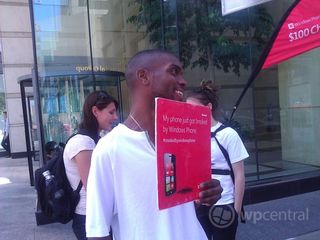 The Smoked by Windows Phone challenge, the popular marketing campaign that was born back at CES 2012, has made its way to Toronto, Canada. The public are challenged by the Windows Phone team to see if their smartphone can beat Microsoft's mobile OS and pocket $100. As usual, these challenges include common tasks such as uploading a photo to Facebook.
Windows Phone has been steadily growing in reach when it comes to Canada. The 4G Radar and Lumia 900 are both available to take advantage of faster network speeds, and carriers are supporting the platform with stocking a number of devices. But we've yet to see a strong push by Nokia or Microsoft so it's good to see such marketing ongoing.
If you wish to check out the Windows Phone challenge, here are the event locations for the next few days:
May 25: Yonge and Eglington - 12pm-8pm
May 26: The Danforth - 10am-6pm
May 27: Yonge and Dundas - 11am-5pm
Thanks, Charles, for sending in the photos!
Windows Central Newsletter
Get the best of Windows Central in in your inbox, every day!
Rich Edmonds was formerly a Senior Editor of PC hardware at Windows Central, covering everything related to PC components and NAS. He's been involved in technology for more than a decade and knows a thing or two about the magic inside a PC chassis. You can follow him on Twitter at @RichEdmonds.
Love it! Hope it comes to Vancouver.

Awesome to see MS doing some marketing groundwork in Canada. I hope it continues to other Provinces as well!

Damn wish I was there lol. Was just there on Sunday

I love that WP continues to smoke other smartphones, hoping to see in Vancouver or may in Abbotsford BC.

This is sweet glade to see MS and Nokia pushing more

This is awesome. I'm gonna try and go to see this.

Wow, love for the great white north! :)

Ps. I hate going to Toronto. But this might be worth watching.

Danforth is a large road... I wonder where on Danforth, maybe it will be up the street from me.

No problem WPC. Yeah I was dumbfounded when I saw it. I always wondered if this promotion would make it here. It really good to see some momentum happening here with Windows Phone. Yonge & Eglington or should I say young & eligible, Danforth (Greek Town), and Yonge and Dundas (Dundas Square) are really great locations for this promotion including today's at Yonge & Bloor. Someone please get some video footage of this.

Just to let you know the challenge was to find a Restaurant in the area. What I found interesting is that the MS rep typed Food into the search to get a list of local restaurants. I'm not sure if he had local scout because with the wrong setting local scout will not show up in Canada. They were using the Nokia Lumia 900.

Sounds awesome. Spread that awareness.

Been following this on Microsoft Canada's FB page the last couple days. Love to see some marketing directed at Canadians. I was hoping for some other cool Nokia silliness too (like the elevator gig) but this is better than nothing.

I really wish they'd but just a teensy tiny itty bit percentage of the kind of education and promotion they did with AT&T staff into Rogers and Telus staff up here. I've been into stores all over town "secret shopping" the staff, they know next to nothing about WP, and have zero enthusiasm for the platform. As much as I love SMBWP, a few hundred challenges in downtown TO don't amount to a hill 'o beans difference when it comes to reaching Canadian consumers in a meaningful way.
As a matter of fact, it probably provides a good case study for the effectiveness of targeting the staff at the purchasing level. A good effort in the US vs a dismal one in Canada, with a simultaneous, but argueably LARGE device rollout in Canada (we got the 800 at the same time as the 710 and 900). Lets see what the market penetration is at the 6 month point.

Your definatley right about the carrier staff not knowing and having zero enthusiasm here. I do think windows phone will have any penetration here in Canada for a long time. Its a real shame. It took them 3 weeks after the launch to put the 900 on display. No one knew that it even existed. As long as windows phone takes off in the major markets I'll be very happy. I live in Toronto Canada but Canada is a pretty small market. I want to know that's its a legit 3rd ecosystem even if it doesn't feel like it in Canada

I ran into the same problem with the Telus stores I went to here in BC when I bought my two L800's. The girls were all about Android, specifically the GS2 and Note. I knew about how to set up the phone then the rep. Quite sad really. Really need more carrier support. I know people would be much happier with a L800 over anything in the Galaxy line.

They will not find a five star restaurant. Local scout can't find any restaurant with any rating here.

My rep was well educated in Burlington. His sister had an 800 in England. He even txts me randomly to see how I like my Lumia 900 and what I like about it.

Why is Bell the only carrier not supporting WP7 phones? They have 4G phone now, so there's no excuse for them. These guys should go into the Bell stores and get the customers to see the difference. ;-)

I was told by an online Bell rep that they may be carrying Windows Phones soon. She may have just said that to satisfy my questioning but I suspect Bell will be getting WPs sometime this year (I have no evidence for this though)

Nice, welcome to Toronto!
Windows Central Newsletter
Thank you for signing up to Windows Central. You will receive a verification email shortly.
There was a problem. Please refresh the page and try again.