It's official: Microsoft Copilot AI is coming to Windows 10 as company reevaluates OS update strategy
Windows 10 is back on the menu... for now.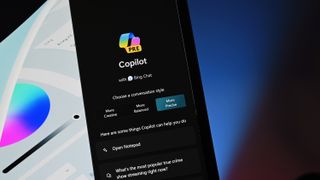 (Image credit: Daniel Rubino)
What you need to know
Microsoft Copilot is officially coming to Windows 10 soon.
An upcoming update will add a dedicated Copilot button to the Windows 10 Taskbar, next to the Action Center icon.
The feature will be available for testing in the Release Preview Channel shortly.
Microsoft says it is revisiting its approach to Windows 10 updates, with plans to make additional investments over time.
---
Last week, I reported that Microsoft was planning to backport Windows 11's new AI Copilot feature to Windows 10 in an update coming soon. Today, Microsoft has published a new support document titled "How we are maximizing value in Windows 10" that confirms that it is indeed bringing Copilot to Windows 10 Home and Pro.
The support document says that AI has been at the forefront of innovation in the PC space in the last year, and that Microsoft wants to extend that value to Windows 10 users. As a result, the company has decided to "revisit" its decision to stop updating Windows 10 with new features and is planning to make "additional investments" in the Windows 10 OS, beginning with Windows Copilot.
Functionally, Microsoft says Copilot for Windows 10 will be similar, but not identical to Windows 11. While many plugins will be cross compatible between Windows 10 and Windows 11, there will be some specific plugins and functions that are Windows 11 only.
Microsoft is also adding the same "Get the latest updates as soon as they're available" toggle found on Windows 11 to Windows Update on Windows 10, which will allow Windows 10 users to access the latest features as soon as Microsoft is ready to ship them.
Additionally, Microsoft is rolling out the first Windows 10 preview build for testers in the Release Preview Channel lays the foundation for the new Copilot on Windows 10. The company says testers should install the latest preview build to be the first to try out Copilot on Windows 10 when it's made available in preview shortly.
This preview build also includes an update to the "News & Interests" flyout on the Taskbar, which is now described as being larger. This preview build also includes changes to how Windows 10 treats app defaults, which now mimics that of Windows 11. Finally, Microsoft notes there are now Windows Update opt-in notifications that will appear when you sign-in to Windows 10.
Of course, Microsoft announced last year that Windows 10 version 22H2 would be the last version of Windows 10. Microsoft's Aaron Woodman, vice president of Windows marketing, tells Windows Central that this is still the case, and that the end of support date is not changing for now.
"This is the last version of Windows 10. So that's 22H2. This will get delivered as a CFR (controlled feature rollout) on top of that. We're not changing any of that orientation to Windows 10. We're not making any changes to the end of support for Windows 10, which remains at October 14th, 2025."
Insider baseball: A change of heart (and mindset)
According to my sources, the decision to reinvest in Windows 10 is spearheaded by the new Windows Web Experiences org, which took over Windows development when Panos Panay left the company in September. This new team merges the Windows org with Microsoft's web experiences team, now lead by Mikhail Parakhin and includes Microsoft News, Bing, and Edge.
With that in mind, it makes sense that the first thing the new Windows Web Experiences team wanted to do was backport the biggest new Microsoft service of 2023 to the version of Windows that has the most market share, that being Windows 10 with around 1 billion monthly active users.
I understand that the new Windows Web Experiences org likes how Microsoft updated the OS in the Windows 10 era, treating it more like a continuous service instead of shipping a new version of Windows every few years. Microsoft doesn't want to keep fragmenting the Windows userbase with different versions of the OS.
As a result, sources say that Microsoft is reevaluating its entire OS update strategy. Originally, the company was planning to ship a new version of the Windows platform every three years, but now I hear the company is looking to return to an annual ship cycle for major OS platform releases.
The next major Windows OS update is currently in development under the codename Hudson Valley, which is expected to ship in 2024. This update will primarily focus on next-generation AI experiences woven into the OS.
Get the Windows Central Newsletter
All the latest news, reviews, and guides for Windows and Xbox diehards.