Dear Microsoft: STOP asking me to OneDrive sync my local folders — it's stupid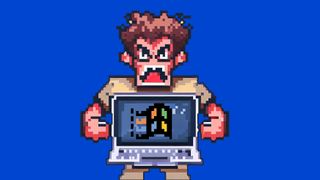 (Image credit: Windows Central | Bing Image Creator)
Microsoft doesn't think I'm using OneDrive correctly, and it's getting annoying.
I'm not sure if anyone at Microsoft actually uses Windows 11, but the efforts to degrade the user experience with "ads" in the shell are increasingly annoying. Microsoft has faced backlash for putting "recommendations" everywhere in Windows 11, decreasing a sense of ownership over the Surface Pro, laptop or desktop you may have spent a ton of cash to buy. Whether it's the lockscreen, search bar, or File Explorer itself, Microsoft seems hellbent on annoying users off its platform for some reason, and it's tiring.
I usually ignore this kind of stuff, I mean, after all, you can turn most of the ads in Windows 11 off. However, one of the most recent "additions" is not only annoying, it's also stupid — and it won't let you hide it until you opt-in, then opt-out again.
Microsoft, stop asking me to sync my Desktop, and my local Pictures and Documents folders to OneDrive. It's dumb af.
Sorry, Microsoft, the local Documents folder isn't for storage
I don't know who needs to hear this, but your local documents folder is not for storing files. At some point in history, Microsoft seemed to be aware of this, which is why OneDrive (formerly SkyDrive) originally came with its own Documents folder, one that I personally use to this day.
It's then all the more maddening that Microsoft increasingly begs me to sync my Documents and my local Pictures folders, despite the fact I already have cloud versions of these folders, and despite the fact I am a paying subscriber. It would at least make some vague modicum of sense if I wasn't a subscriber, but asking me to change my habits so you can get a deeper look into the inner workings of my PC is insulting.
Listen, my Documents folder, like most people, is full of garbage. Do you know why it's full of garbage? It's because at some point, Microsoft, you asked app developers to start storing temporary files in the local "Documents" folder. My Documents folder is thus full of random Steam game save files, huge, storage-gobbling temporary data from Adobe Premier, and a random "Backup" folder from your own PowerToys which serves literally no purpose, amongst other random bullshit. It's disorganized as hell. It's 1.5 GB of ugly. And it spits in the face of the pristinely organized Documents folder I have been maintaining in OneDrive for years upon years. I do not want to sync your stupid local Documents folder, and I am tired of being asked to do so. The minute I start syncing it, random folders and files are going to pop up in my OneDrive, sync at random since the usage of the local Documents folder is the Windows app equivalent of the Wild West.
To a lesser extent, this applies to the Desktop as well. I know some people maintain an absurd and cluttered desktop full of random folders, shortcuts from apps that haven't been used in years, and cat pictures. But I do not. My desktop is clean. It is empty. The desktop is purely for nice photographs and temporary moving of files as they travel to greener, more organized pastures. I do not want to sync the Desktop "folder," since it is not for storage. I will absolutely die on this hill.
Stop it
This really touches upon a wider problem of Microsoft urging users to spend money on its platform. I already subscribe to Microsoft 365, and I have done so for years, which is why it's all the more annoying that these "ads" are impacting me. You got me already, Microsoft, why are you still trying to bait me with these weird, desperate messages?
This extends to the begging tone of messages you get if you dare try to move your default browser from Microsoft Edge to something else, or if you change your default search engine. There's a hilarious box that pops up if you search "Google" in Bing too, which just adds a second search bar to remind users of the search bar that is literally 50 pixels above it. What?
Listen, why don't you try and improve OneDrive with cool new features and grow Microsoft 365 via its merits rather than these hard-coded, manipulative ads that you are increasingly reluctant to let us hide? Why don't you fix the fact OneDrive for Android keeps uploading screenshots despite the fact I keep telling it not to? Why don't you invest in some normal, traditional marketing like every other company on Earth?
Look, it's been a long week.
Get the Windows Central Newsletter
All the latest news, reviews, and guides for Windows and Xbox diehards.
Jez Corden a Managing Editor at Windows Central, focusing primarily on all things Xbox and gaming. Jez is known for breaking exclusive news and analysis as relates to the Microsoft ecosystem while being powered by caffeine. Follow on Twitter @JezCorden and listen to his Xbox Two podcast, all about, you guessed it, Xbox!