Windows 11 preview build 25236 rolls out to Insiders in the Dev Channel with fixes and enhancements
Tooltips and Store updates are top billing.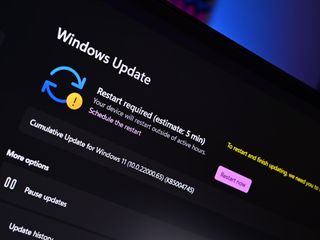 (Image credit: Future)
What you need to know
Windows 11 Insider Preview build 25236 is now rolling out in the Dev Channel.
It features minor fixes and enhancements.
There's also minor improvements to the Microsoft Store app.
It's another week, which means it's time for another Windows 11 preview build for Insiders in the Dev Channel! This week's build is 25236, and features a handful of minor fixes and enhancements, including a new tooltip that will sometimes appear from the Taskbar, letting you know about the Windows Search button.
In addition to the new tooltips for search, Microsoft is also rolling out an update to the Microsoft Store which improves search card results when scrolling through the UI, and the discoverability of offers included with new PCs. The rest of the changes with today's build are all bug fixes and under the hood improvements. The changelog is as follows:
To improve the value of Search shortcuts and reduce friction in the broader Windows Search experience, we are trying out different ways to provide tips on how to use Windows Search via the taskbar. Only some English-speaking Windows Insiders in the U.S. will see this. If you do, be sure to give us feedback on what you think in Feedback Hub.
We fixed the issue causing natural voices such as Microsoft David or Mark to not speak in Narrator.
Fixed an issue where if you opened the hidden icons flyout, it caused a File Explorer entry for it to appear in the taskbar.
Fixed an issue that was causing the taskbar previews to freeze or show as blank and not open when using Windows key + (#) key commands to try and switch between windows.
The show hidden icons flyout in the system tray should now responsively resize with changes again to prevent empty spaces and columns.
Fixed multiple issues related to the taskbar which were impacting explorer.exe reliability.
Fixed an issue that was causing the volume icon in the system tray to incorrectly show as muted.
Fixed a GDI handle leak related to updating the notification center icon in the taskbar, which would eventually lead to an explorer.exe crash for people who received a large number of notifications.
Narrator will now announce the pinned and unpinned status of apps in the taskbar.
Fixed an issue which was making File Explorer crash when closing tabs for some people.
Made another fix for an issue which could cause errant divider lines in File Explorer's navigation pane.
Made a change to hide the battery graph on the Power & Battery page if a UPS is connected, as the capacity information it displayed in that case wasn't correct.
If you don't have a kiosk set up, we've now updated the text on Accounts > Other Users > Kiosk to make it clearer you need to do that, so it doesn't appear to be a dead end.
Fixed an issue where if you went into the properties for an audio device, this could make it unexpectedly show in the output devices list on System > Sound although it was actually an input device.
In the accessibility settings for color filters, the inverted option should work correctly again now and not just set your PC to grayscale colors.
We've made it much easier for you to discover that your device came with digital attach offers (Office, Game Pass, or standalone games) and redeem it.
We've optimized our layout and rendering architecture for search card results to provide a much smoother scrolling and resizing experience – especially on low powered devices
Get the Windows Central Newsletter
All the latest news, reviews, and guides for Windows and Xbox diehards.