Simplify Windows optimization with Wintoys: Streamlined bloatware removal and quick system tweaks
Take control of your privacy and combat pre-installed bloatware on Windows devices.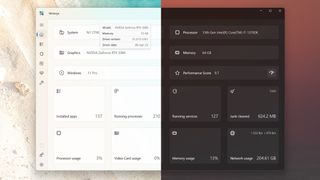 (Image credit: Bogdan Pătrăucean)
What you need to know
WinToys is a user-made app that helps optimize Windows PCs by removing bloatware and applying straightforward system tweaks.
Most tweaks are accompanied by detailed descriptions, though some high-level commands lack explanations which may lead to accidental OS damage.
Available for download from the Microsoft Store, Wintoys is currently free to use.
---
Considering our name, it's understandable to assume that we hold Windows 11 up on a pedestal as an operating system that can do no wrong. It's the best option for most people, but undoubtedly imperfect, especially if you pick up a third-party laptop or pre-built desktop PC loaded with bloatware and other unwanted junk. We have an extensive catalog of how-to guides focused on Windows 10 and 11 for a good reason, catering to the masses who search the Internet for optimization tips daily.
Thankfully, a new all-in-one solution called Wintoys is available on the Microsoft Store. Created by Bogdan Pătrăucean as their only live piece of software so far, it promises to boost the performance of your Windows machine by offering curated tweaks and quick access to settings that commonly impact memory and storage usage. It holds a confusingly similar title to Microsoft's PowerToys, the open-source app providing a different collection of equally valuable tools but one more closely related to improving your daily desktop experience.

Wintoys
Make Windows work for you and enjoy a new experience every day. Easily and safely set up, clean up, speed up, fix, and customize your operating system. Keep it in top shape and access everything you need from one place.
What is Wintoys?
Wintoys is a collection of live statistics from the components and software installed in your Windows machine alongside simple lists of quick tweaks to promote performance and reduce bloat. Rather than searching through the Settings menu or learning about in-depth operating system changes that might seem daunting to a beginner or even intermediate user, Wintoys can disable services it deems unnecessary for everyday use without impacting security and stability.
Considering a common gripe with Windows is its default options for advertising and privacy settings, Wintoys offers a simplified list of toggles to disable anything that might be bothering you, including location access, telemetry data within apps, and error reports sending themselves to Microsoft. None of this is particularly detrimental to an average desktop computer or laptop. Still, some machines with outdated hardware can start to feel the pinch of running so many otherwise helpful services simultaneously, so Wintoys is ideal for older devices.
Does Wintoys really work?
My computer is starting to show its age, though there's nothing inherently wrong with the parts inside. Still, I'm a few generations behind in core components, a testament to Windows 11 that I barely need to tweak a fresh install besides my usual choices. However, I'll jump at any chance to squeeze some extra power out of my old rig if it means I don't have to spend money upgrading it, so Wintoys appeals directly to me.
Most of what Wintoys presents is familiar to me since I'm in the business of offering the same kinds of performance improvements. If nothing else, it's refreshing to use a third-party app with dynamically scaling UI elements in line with the native Windows options. Resizing Wintoys sees its elements shifting to fit the space, and I get a straightforward collection of hardware info and currently installed apps.
Image 1 of 2
The most exciting features offered by Wintoys are in the 'Boost, Health, and Tweaks' sections, with detailed descriptions for each. Some are a little vague about their efficacy, including an option to disable VBS (virtualization-based security) with the notion it can boost gaming performance by 'up to around 30%, depending on the game.' Nevertheless, Bogdan includes 'Read more...' links underneath some of the more intense-sounding tweaks with official documentation to put your mind at ease.
On the other hand, some compelling features like 'God Mode' are available in Wintoys at the flick of a switch and shouldn't be trifled with if you don't confidently know what you're doing. These inclusions don't knock points off any score I would give to the app. Still, I'd appreciate future updates to address these high-level tweaks, including cautionary warnings about the more powerful options within. Otherwise, a one-click solution to flushing my DNS outweighs the negatives since my ISP loves to break my Internet at least once a month, and this is usually among the list of troubleshooting steps. Appreciate that one.
Wintoys only appeared on the Microsoft Store within the past week, but it seems promising. It has a long way to go before it can appeal to a broader selection of Windows users, given that only one language is currently supported (English) and very little documentation exists outside of the app's description. Above all, it impressed me well enough during my hands-on time with it, especially since my Windows machine is getting into its senior years and benefits from little tweaks now and then.
I'd recommend exercising caution if you're planning to click every button on offer in Wintoys, as some might alter your desktop in ways you haven't ever experienced. Nothing appears inherently dangerous, but giving any user free reign to tweak settings that are usually kept a little more under the hood is intrinsically risky. Give Wintoys a shot and share your experiences in the official Windows Central forums; it might give your machine the little boost it needs.

Wintoys
Make Windows work for you and enjoy a new experience every day. Easily and safely set up, clean up, speed up, fix, and customize your operating system. Keep it in top shape and access everything you need from one place.
Get the Windows Central Newsletter
All the latest news, reviews, and guides for Windows and Xbox diehards.
Ben is the channel editor for all things tech-related at Windows Central. That includes PCs, the components inside, and any accessory you can connect to a Windows desktop or Xbox console. Not restricted to one platform, he also has a keen interest in Valve's Steam Deck handheld and the Linux-based operating system inside. Fueling this career with coffee since 2021, you can usually find him behind one screen or another. Find him on Mastodon @trzomb@mastodon.online to ask questions or share opinions.