Popular game SongArc now available for Windows 8.1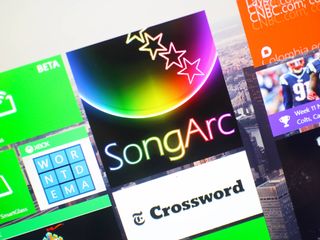 SongArc is one of the most popular music games on Windows Phone. Which is why we're happy to see an update to the game in the Windows Phone Store. But we might be even more stoked to try out the new version for Windows 8.1. That's right; you can now play SongArc on your Lumia and your Surface.
Here's what's in new in SongArc version 3.2.0.5 for Windows Phone:
New Leaderboard backend
Bug fixes
Not a big update, but one we know a lot of you will appreciate if you try and make it to the top of the leaderboard often.
The Windows 8.1 version of SongArc is the same as the one you get on Windows Phone, but just played on your bigger touchscreen. Here's what you can look forward to with SongArc for Windows:
Unique, ergonomically designed gameplay which is easy to learn but difficult to master – you never thought music games can be this fun on a tablet!
Play with any songs you have
Create new Sheets for your songs to play with
Share your best Sheet creation for others to play with
Share your scores on social networks and compete on worldwide leaderboards
Grab the free Windows game and let us know your first impressions!
Finally :D :D
installing it on my surface right way :P

Cool! Let us know what you think.

Can it be played with a mouse and keyboard?

We tried to make it work with a keyboard, but couldn't make it fun enough. If we find a way to do that, we will definitely include keyboard support.

Everyone that plays it must be wrong /s

We're working on that, too :)

Hoping for different difficulty speeds on edit mode, it's hard to compose for hero level when you have to switch to try out a new part :(

Can you send us an email detailing your issue with the editor? Maybe we can help...

Hey :) it's not really an issue, more of a feature suggestion: in the editor you can only test it in normal speed, but sometimes some notes that seem well positioned on normal speed will seem a bit off in hero speed. I try to test songs in both speeds while composing, forcing me to leave the editor and go to play mode when I need to try hero mode.

OK, got it. Thanks for the feedback, noted!

Try "Cardboard runner" or "Silent Scream" very good games

Sorry, we couldn't do it properly. We experimented, but it didn't get back the quality gameplay we need to make it fun.

About the PC version with keyboard, You could make it with the same display, but instead of clicking with your finger, you click with the mouse. Spacebar for the base. Click for a long time (or drag) for long notes. On the side you put the whole path of notes, it will be easier to copy paterns. A rewind sytem that is functional. Very similar to all video editors softwares, except you kep the Arc. How about that?

Does it support achievements?

Sorry, no... Microsoft doesn't allow the "average" developer to take advantage of the XBox Live Achievement system.

Really? Figures. I'll try it out anyway looks like a lot of fun.

This game was fun, but they fucked it up. They created a credit system so I cannot play sheets all the time I want, otherwise I have to pay. THIS IS PATHETIC

Well, it's a freemium game, and they do need to make a living...

Hi Max, We said so from the first moment that the game wouldn't be free forever. Thousands of hours were spent on the project, which means years of work. If we didn't try got get paid at least a little, we would have have to stop development altogether. Don't forget that we also have to spend money on keeping the servers running... And we have some great stuff coming soon!

If you make a paid version without having to pay for credits to play a sheet, I'd certainly buy it. I love the game, it's great that the company is here listening and replying to everyone who comments, here, I hope they see this reply. You made a great work, could have Xbox features. But freemium games makes me feel like I am paying for the game indefinetly, a paid version would be cool. Even greater if it has Xbox features.

Second, third and fourth this. One price to purchase, please. We are not fans of the 'freemium' model and will not support it. Too bad as this game seems to be right in our wheelhouse.

Please see my answer to Max in this thread.

We have a Fan Pack, which gives you all present and future features in SongArc, including all Sheets. We even have sales sometimes to make it more affordable. As for XBox Live features, unfortunately it is up to Microsoft to allow that.

Awesome, did not know this! All we saw was 'buy more coins.' Will be buying it momentarily.

This is a great game, I don't have Windows 8, but this game is great

Thanks! We'll keep updating the WP version, too!

It's great but game shows me there is sheet for some music but there is nothing....

Hi Soble, Please send us a mail from within the game with details on what the game won't find for you, and we'll try to help.

Never played it but now downloading it for showing support

Omg... I downloaded it then halfway through it pauses... So I pressed resume and it took me to a porn site.... Is this a server problem?

Hey song arc team, do you have plans to make a better login system? I love making sheets, but everytime that I reset my phone or uninstall the game for some reason I have to create a new login to make my sheets. Do you have plans to work on this?

We can merge your users if you send us a mail from within the app. In the long term, we do plan to add something like a Facebook login.

Great! A Facebook login would be awesome!!

Hehehe. Love your game. Btw any plan to make this game much like Guitar hero/FretsOnFire? I mean with a virtual key.

Hi Matt, We tried that, but unfortunately the experience wasn't good. One of the great things about SongArc is that it has way more than 5 notes to express the music. But if you map there notes to the keyboard, you're always messing up, it is too easy to hit note 8 instead of note 9.

Not showing in the store :( But using the links gave by WC It doesn't download

I'm having the same problem. (I'm running the technical preview)

Technical preview is showing but on 8.1 it's not working on my laptop

I can now see it in the store, I just can't download it. I keep getting the error code 0x80240438.

The Windows version is only available for touch enabled tablets.

Does SongArc support Xbox Cloud Music? Meaning can I play without having to download the song if it is in my collection for streaming? Other than my phone I stream all my music across PCs and tablets.

Sadly, no. The XBox Music API forbids the use of streaming for games in its license.

Hi, I tried this game and i never managed to connect, I mean when I launch the game, I go on "play" and then it says, trying to connect and then it says the connection failed, I already try to reinstall the game but it still doesn't work, can you help me because i'm a little bit dessapointed not to be able to try the very famous music game of the windows store (I have this issue on my nokia lumia 1320). I'm connectiong with wifi and I can go on internet, ont the store, I don't think it's because of my connection Thanks
Windows Central Newsletter
Get the best of Windows Central in in your inbox, every day!
Thank you for signing up to Windows Central. You will receive a verification email shortly.
There was a problem. Please refresh the page and try again.