Sonos app for Windows Phone in private beta as promised, no ETA for release though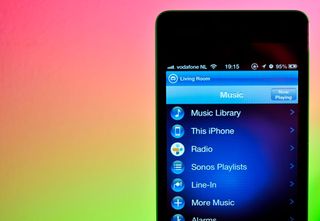 Back in December, we reported that Sonos (Sonos.com (opens in new tab), who makes wireless home stereo equipment that connects up to third party media services, was in development of a Windows Phone app.
Now, the link for that app has been found. Interestingly, if you browse the Store listing on the web, the date for the last update is back in October. However, navigating to the link on your phone and it will tell you that the last update came at the end of January, including adding support for Windows Phone 8.1.
Unfortunately, nothing else can be discerned from the app as it is private (invite only). Yes, that means you cannot download it to your device.
The good news here is the app still looks to be in active development as suggested by Sonos tech support. The bad news is we have no idea when it will release. However, we cannot imagine it will be too much longer.
Currently, Sonos is encouraging Windows Phone users to utilize third-party app Phonos until their official app hits the Store.
Sonos is growing its presence significantly, especially in the US where the somewhat pricey hardware is more likely to sell. The service works through hubs, including one that can connect to your Hi-Fi stereo system, and then placing wireless speakers anywhere in your home. Users can then select services like Pandora or Spotify to stream music to specific speakers, giving a very custom music listening experience. Recently, they have begun to air commercials on TV (we just saw one last night).
You can check out the Store listing for 'Phish Alpha', which is the codename for the app. However, you will be unable to download it.
Via: Microsoft Place; Thanks, Gabriel D., for the tip!
Windows Central Newsletter
Get the best of Windows Central in in your inbox, every day!
Daniel Rubino is the Editor-in-chief of Windows Central, head reviewer, podcast co-host, and analyst. He has been covering Microsoft since 2007 when this site was called WMExperts (and later Windows Phone Central). His interests include Windows, laptops, next-gen computing, and for some reason, watches. Before all this tech stuff, he worked on a Ph.D. in linguistics, watched people sleep (for medical purposes!), and ran the projectors at movie theaters because it was fun.
Great! Much more important for me than Snapchat. ;)

Also makes a change that a company recommends a third party app while the official app finishes testing.

Agreed! If companies don't have a first-party solution they should at least thank the community for good third-party solutions

Ya...and the 3rd party app is good and has improved in the past months on phone and for windows. Actually wonder if they hired ControlAV to do the official one for them.

Finally!!! Please, please , please provide XBox Music intergration as well!

Nope. It doesn't have it. It's basically a port of the iPhone/Android apps. Sorry!
If you own the music (you bought the album) from Xbox music it can play that since these are not encryted, but anything you have cached from Xbox MusicPass is encrypted and won't work.

No modern UI? Do you have screenshots?

I don't have any. I saw an early build and it was basically just as I said. Things could have changed though, since that was about 3 years ago. Yes, it's been in development that long.

Well it's something at least. I was envisioning Cortana + Xbox Music + Sonos all working together seemlessly. Imagine coming home and saying " Hey Cortana play some Nine Inch Nails in the Kitchen" One can only dream.

According to the Sonos website, support for XBM is something Microsoft has to add, not Sonos.

That comment on their website was made at a time prior to XBox opening up their music APIs to third party developers. I may be wrong, but as I understand it Microsoft has done what needed to be done to enable SONOS to make use of XBox Music. I think now its possible for them to support it.

This is great news. I generally use my Kindle or desktop app for my Sonos equipment sometimes it's easier to use my phone. Phonos is ok but really rough around the edges.

That Green Beast Though..

*rushes to see how many people are asking how to download it, why it's not working*

I agree, this is awesome news. And integration into XBOX Music would be awesome!!

More official apps. Let the good times roll. Also note the article is by DanRub. He seems to be bringing all the big news so far this week ;)

Finally... Phonos works well... but not better than sonos app and desktop app...

Ok I know I can bing it but what is so special about Sonos over other bluetooth speakers? I am trying to convence my wife on some new tech and been looking at bluetooth speakers for all my bedrooms.

These use Wi-Fi or Ethernet so you can get more bandwidth (= higher quality sound), also more distance for placement. They also have SonosNet (a proprietary peer-to-peer synchronous mesh network using AES encryption) that lets you create sound zones to selectively play music in one area of the house (say, your bedroom) and not another (like the living room). It's like what Philips Hues is for light bulbs. It's a whole network/system, not just speakers.

Thanks Daniel for the response this really helps, as well as thanks with the fitbit charge help via twitter. Your hardwork to this site and community is appreciated.

Also, since these are network connected, you can use the speakers even if your devices are turned off. I get up in the morning and just hit the play button on my Sonos speaker. Instant Pandora. Posted via the Windows Central App for Android

It's so cool, I love my Sonos! :D

It's not Bluetooth and has been around for 10 years or more. You can have a mesh of speakers around your home and each one of them can be playing different music. It's what they call a multi room system. Their playbar can also be used to listen to music, radio as well as being a tv speaker with surround sound.

Oh shit, I was scared for a second when I saw the cover photo. I was like, "THAT'S the design they're going with?!?!?! What is this, iOS 6?!?!?!" Thanks god, haha.

Does anyone knows if Bose will release the Soundtouch Controller app for WP?

This is great news! Phonos is a great stop gap... Their (Phonos Lite) updated Windows 8 app is great too...

They phonos lite update made huge advances. When I downloaded it, I still had issues. I emailed the developer (Andy). And he was great about figuring it out and working with me to get it fixed.

About time! Been twitting them every so often regarding this. Number of clients Sonos official app is the first app they ask about along with streaming YouTube to their Apple TV which thankfully is now possible using TubeCast Pro.

Cant wait for this to come out..... I have a couple in my shopping basket ready!!!

Yay! Got my Sonos custom surround sound waiting.

This is SWEET news. Test away and when its ready for me, just nod your head.

Just last week I got Player 1 from Sonos... The audio quality is simply mind-blowing. Have been using the Sonos app on my iphone 4S. Wish they come out with the Windows phone one soon... Also, can anyone tell me if Phonos supports song listening via Xbox Music (not just the purchased ones)?

I love my Sonos5 but just wish they would support Xbox music. I currently have to subcribe to Spotify but would prefer to live in one ecosystem

You can get a bluetooth streamer adapter, pair it with your Windows Phone, then attached to Line in on the Play 5. I know its a whole bunch of steps and the sound quality isn't really there but it's only way I can stream Xbox Music to Sonos. Obviously if you walk to far away from the adapter, the music will stop streaming.

I have considered that along with just leaving my phone connected to the SONOS but we use the SONOS at our holiday home and its nearly always outside. I like to keep my phone close by. I could use another WP i have a few old ones laying around i guess but it kind of defeats the whoel SONOS idea. I want to get some more SONOS and replace my home hifi as its just loads of big speakers for TV that rarely make a difference to my viewing and it would be nice to take teh music out on the patio but still... it all costs lots of money for arguable benefits. I love the SONOS but its a real luxury item

Agree, for the money they want for these speakers that should be covering all angles, spending that kind of money then having to jerry rig on top? Sonos needs some competition to drive the price down.

Sorry but this is no indication at all that it is coming out soon. If it has been in development for 3 years already, I have no confidence that they are going to rush this out.

Wow they listen to there customers and are launching and official sonos app unlike Microsoft. How many people have asked to bring ZUNE back and you have dismissed it!

Hope it comes soon! I own a P1 and been waiting ages.

Sonos for windows phone isn't listed on their site just like free prints never listed it had an app for windows phone

Did you read the article or just title? The app is in closed beta (not even private beta open to their beta program). It won't be listed in their website until its released.

Awesome news indeed!...Just got a Sonos Playbar and have been using the Phonos app but have been waiting for this news impatiently...I'm grateful for the developer's support though!...This is a very big deal app for the Windows Mobile store!

Very cool! I will now look into their equipment and most likely make a purchase.

This is great news! So glad an official app is coming. Even better news would be Xbox Music integration. Every other streaming service that I know of is on Sonos, even MixRadio (with a MixRadio subscription). What is taking Xbox Music so long? Daniel, have you heard any rumors? Sonos and Microsoft seem to be mum on the subject.

As a Sonos integrator/retailer in Ohio, whom has sold/installed more Sonos products than I can count, I reached out to Sonos after reading this with an inquiry about joining the Beta. Their response: We have no plans for a WP Beta at this time. Sigh. After replying with a link to this article...crickets. Siiiiiiiiiiiigh. No different from Control4. No love. Primary reason I considered iP6 before coming to my f'ing senses and virtually running out of ATT cuddling my NL1520.

I also work in retail in Utah and I asked the Sonos Rep we have a few months back (4-6) his response was, "something is there but nothing to announce at this moment." Take that story with whatever grain of salt or truth to what a lowly rep would know. And @downseygoblue how do you like your Lovely Lumia 1520?

Malaysia Lumia 1520 received Lumia Denim a seek ago but wasn't reported. Camera it's wicked fast :-o

I found out too late that there was no Sonos app for my Windows phone. I contacted Sonos who quite clearly stated that they have NO plans to launch a Windows Controler App. So you have a neat system with no cables but a big Laptop to control it.
Windows Central Newsletter
Thank you for signing up to Windows Central. You will receive a verification email shortly.
There was a problem. Please refresh the page and try again.