Sony expects Activision games to remain multiplatform following Microsoft deal
The PlayStation owner has stated it expects more multiplatform Activision games following a Microsoft acquisition, citing existing "contractual agreements."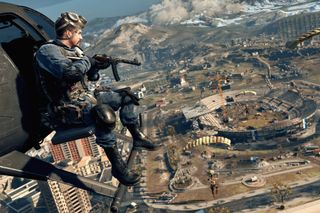 (Image credit: Activision Publishing, Inc.)
What you need to know
Sony has stated it expects upcoming Activision-published titles to hit other platforms, according to a statement provided to The Wall Street Journal.
Microsoft outlined plans to acquire video game publisher Activision Blizzard for $68.7 billion on Tuesday, bringing franchises like Call of Duty, Diablo, and World of Warcraft, under Xbox leadership.
"We expect that Microsoft will abide by contractual agreements and continue to ensure Activision games are multiplatform," a Sony representative stated in its first public response to the deal.
Sony expects Activision to deliver future multiplatform titles following an acquisition from Microsoft, citing existing "contractual agreements" with the publisher. The statement follows the announcement of a planned $68.7 billion acquisition of Activision Blizzard, bringing one of the world's biggest names in entertainment under the Xbox platform holder.
The planned purchase brings Activision, Blizzard, and King under Redmond's growing gaming division, coupled with franchises like Call of Duty, Diablo, and Overwatch. Delivering the industry's largest acquisition in history, the deal has raised questions around its extensive list of properties previously available on PlayStation platforms. That includes Call of Duty, its best-selling shooter, shifting millions of units with its annualized entries.
Sony has now issued its first statement following the Activision Blizzard deal, stating it expects more multiplatform titles to come, once under Microsoft ownership. "We expect that Microsoft will abide by contractual agreements and continue to ensure Activision games are multiplatform," a Sony representative told The Wall Street Journal.
Activision has previously stated that it plans to honor existing agreements following the acquisition, currently expected to close midway through 2023. That likely includes exclusivity agreements for franchises like Call of Duty, which previously saw PlayStation owners score exclusive modes and other perks over alternate platforms. Activision and Sony first announced their multi-year agreement in 2015, mirroring a past deal that saw five years of timed exclusivity on Xbox 360 and Xbox One consoles.
While the Activision Blizzard deal suggests many previously multiplatform franchises will pivot to Xbox console and PC exclusivity, Microsoft appears to be gearing up to tackle each on a case-by-case basis. Much like the Bethesda deal, which saw titles like Starfield and The Elder Scrolls VI pivot to Xbox exclusivity, previously-announced PlayStation console exclusive, Deathloop, launched under Bethesda in 2021. With Call of Duty continuing to draw huge revenues each year, we don't expect the series to drop PlayStation anytime soon.
Matt Brown is Windows Central's Senior Editor, Xbox & PC, at Future. Following over seven years of professional consumer technology and gaming coverage, he's focused on the world of Microsoft's gaming efforts. You can follow him on Twitter @mattjbrown.
It'll be the same as Bethesda, games already announced as being multiplatform will be, everything else is up in the air.

I'm sure Sony are very worried as COD is extremely popular. No COD would very much harm PS sales. I hope Microsoft takes it off their platform in a way, but expect the Minecraft route

I'm sure Sony is worried, while some PS fan boys down play it. At the end of the day, this is just another opportunity for Microsoft to set a standard of playing nice with other companies and put the gamers first.

This is what I'm hoping because we know how it would be if it were the other way around. It takes one side to offer the olive branch. I don't care who does it, I just wish it would happen.

Sony likes to abuse this position with the most popular titles from Japan in the JRPG and fighter vain. I can't say that I care either way, this just consolidates games on PC to a couple platforms I loathed all the different app launchers previously before anyway. Gamepass has been the best deal in the business only made better now as a casual PC gamer it's been great for me!

This lip service. They are scared. They are trying to sell PS5/4 systems. This isn't going to work out well for Sony. You do not spend almost 70b to give games to Sony. Now, if Sony wants to allow Gamepass on PS? Well, that's a different story.

That was just a damage-control statement that they released, because they just lost 20 billion dollars in stock after the acquisition announcement.. But Sony knows that the writing is on the wall.

I expect MS to get creative with the contracts. Like have the initial release with bare minimum capabilities and any DLCs or extras as needed, then release even more capabilities on Xbox when exclusivity period ends along with a game being immediately available on Xbox Game Pass with perks.

Honoring the letter of any binding contract doesn't require they make the PS version the best it can be.
My first thought is any PS4 era contract won't necessarily address optimization for PS5. Or development techniques.
Plenty of tricks.
For that matter, most contracts come with penalty clauses.
MS might willingly pay the penalty.
Sony had better tread lightly.

I literally cringed when I read this. I sincerely, from the bottom of my heart hope that IF Sony gets anything, it'll be from the bottom of the barrel. Like a CoD Lite with 640x480 resolution with dithering. If they were willing to make offhanded exclusivity deals with third parties (see most of Final Fantasy, Bloodborne, even Deathloop or previous CoD DLC), they should taste their own medicine.

No need to be that crude.
A PS4-optimized COD would suffice. Cheaper to develop without worrying about variable clock rates. After all, COD2023 development will be too advanced by the time MS gets control. But optimization is the last part so there's costs savings to be found there. The least they can do might be the most they can do.

The company that paid for COD yearly exclusives... If Sony bought Activision/Blizzard, they would 100% for sure be exclusive to the Playstation and possibly a timed release on PC.

Whatever MS intends they will not say yay/nay on single player game exclusivity because legally they can't commit Activision to anything until they take control. Also because keeping live the possibility that they would take all (non-online) games exclusive will be a sword of damocles hanging over wavering console shoppers. Not only does XBOX offer the cheapest next gen console and the most powerful console (which future Activision games will be expected to fully exploit) but it is as of now the only one *guaranteed* to run all Activision games moving forward. Sony stock lost 13% of its value in one day because of the uncertainty over this exclusivity so why do them any favors by dispelling it before you have to? Let them stew in tbeir juices for a year to see what they do.
Sony has for too long been playing the game of "what's mine is mine, what's yours is negotiable." It's past time they got a taste of their own medicine. Also, this coming out right now adds to their woes. Aside from their supply issues, not many have taken notice that coming into 2021 Sony had $56M cash on hand and leaving it they were down to $16B. That limits their options not only on buying studios but also on what they can do with "spartacus". With PS5 sales restricted into 2023 they'll have to maximize their software revenues. $70 PS4 games may be the rule. 2022 will be a tightrope walk and if it doesn't go well 2023 may become too little, too late.
Luckily for them, MS has been known to help out competitors...for a price. 😏

I expect Sydney Sweeney to wake me up with a kiss every morning. We'll see which one happens first!

What a clown Sony is. They are the ones who keep paying Activision for bullsh*t exclusive contents deal to makes it only released on PS, they always play timed exclusive games to gatekeeping the game from Xbox, they also paid 3rd party studios to not released their games on Xbox just like what happened with FF7 Remake. All of suddent Sony want Microsoft to keep Call of Duty being multiplatform? What a clown, enjoy your Karma Sony and Jim Ryan !!!

This could fall under the heading of "be careful what you wish for, you might get it.
If MS goes to town with Activision and their own IP they could easily drop a new game each month.
If they are "forced" by regulators to do them as multiplat, they could go for $70 on PS, $50 on PC and XBOX, and "free" on Gamepass. Every single month. On a $200 SS, circa 2024?
Sony *wants* that? "Oh, Br'er Fox, I don't care what you do with me, so long as you just don't throw me in that briar patch over there."
Windows Central Newsletter
Thank you for signing up to Windows Central. You will receive a verification email shortly.
There was a problem. Please refresh the page and try again.