Soundcloud third-party app Audiocloud gets updated to Windows 10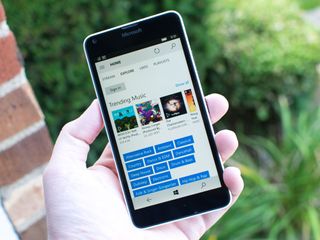 Audiocloud, a popular Soundcloud third-party client for Windows Phone, got a big update this week. It is now a Windows 10 UWP app for PC and Mobile.
At the moment, the app's listing only shows support for Windows 10 Mobile, but the developer of Audiocloud says the app will also work on the desktop and even on Microsoft HoloLens. Here's a look at the features included in the new Windows 10 version:
Employs Modern Design Language 2 with adaptive UI
Dark/Light background option
General UX improvements (smoother list scrolling, better context menu support, tap header to scroll to top, better support for returning to last scroll position, swipe to skip to next/previous track)
Gapless playback (whenever possible)
Playback speed option (0.5x to 2x)
Play single track option
Auto-fetching of next set of tracks in background
Sleep timer with audio fade-out
Edit basic profile info
Improved playlist-related functions including drag-and-drop to reorder tracks
Search by SoundCloud URL
Search using Cortana (English)
Open-in-browser fallback option (useful for performing functions not available to third-party SoundCloud apps e.g. downloading of tracks, playback of restricted tracks)
Improved toast notification message
Enable notification only on non-metered connection option
Donate buttons (buy coffee for developer)
If you have the old Windows Phone version of Audiocloud installed on your smartphone, be aware that the new Windows 10 Mobile version won't be able to migrate any settings from the old app. The developer stated:
Thanks to Chris and Artem for the tips!
Download Audiocloud from the Windows Store (opens in new tab)
Windows phone are dead. Lol

Windows phone IS dead cause it got replaced by Windows 10 Mobile. When you read that a company stopped it's service for windows phone it means that it's shifting to windows 10 mobile

NIce. Now get started on a Mixcloud app. The only third party app we have is not so good.

yeah haha kind of unfortunate timing seeing as how soundcloud are going off the deep end

I updated yesterday and was surprised to see that it looks SO different! I like it though. Haven't listened to anything with it yet though.

This was the only app I said "I don't care if it never gets w10 update i'll keep it" and we get it. Made my day

Downloading now, I cant believe I missed this app at the store, I really want a good soundcloud client

Bring your umbrellas guys 'cause it's....

raining universal apps :) Posted via the Windows Central App for Android

Cool cool cool. Always great to see your favourite app updated for Windows 10.

That's awesome, I've been waiting for this for years. Audiocloud has been AWESOME for years on Windows Phone, and the options for PC have been very lackluster.

Clouder is pretty good if not the best looking Posted via the Windows Central App for Android

Can't pin tracks anymore?

Third party is the future !

And it doesn't mention that the posted playlists can now be seen

Amazing update. Wow. I stopped using sound cloud cause of no good app but now! Wow man! Recommended to everyone!
Windows phone is getting bigger ☺

Audiocloud has been great from the beginning. Now on the PC, that's another story....

I have Nokia Lynia 930 and battery life needs more attention ! Grazie ☺

After lasr update of course,...

You know there's a thing called forum here on Windows Central. How is your comment relevent to the article?

Raining Apps, hallelujah it's raining apps!

Good news,using AudioCloud since I switched from Android to Windows phone,app Is beautiful and great but worried that developer gived up sines there were no update long time. Thumbs up
Windows Central Newsletter
Get the best of Windows Central in in your inbox, every day!
Thank you for signing up to Windows Central. You will receive a verification email shortly.
There was a problem. Please refresh the page and try again.