Check out SoundClouda and WOD Warrior after their DVLUP redesigns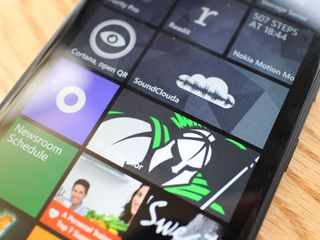 Nokia and the DVLUP program have done plenty of good things for the Windows Phone platform. One of the more tangible things they've done is offered to help developers redesign their apps. Two apps, SoundClouda and WOD Warrior, went through a redesign and we're going to check them out today.
SoundClouda
Still looking for that perfect SoundCloud client on Windows Phone? We don't have an official app yet, so we rely on third-party developers to put apps into the Windows Phone Store. Audiocloud is a crowd favorite, but you might want to check out SoundClouda to try something new. SoundClouda isn't brand new to the Windows Phone scene, but it did recently go through a redesign thanks to Nokia and the DVLUP program.
Why SoundClouda? Though ad-supported, it is free to download and use. It also has all the features you'd want in a SoundCloud client on Windows Phone. With SoundClouda you can look forward to things like download support for track, playlist creation and playback support, search, like, comment, and repost favorite songs. Here's what the redesign added in version 8.0.3:
Redesigned UI with a beautiful dark theme
Performance improvements. Now it's extremely fast
A list of trending sounds added to the start page
New tile designed for new start screen of Windows Phone 8.1
Bug fixes
Download SoundClouda from the Windows Phone Store.
WOD Warrior
If you're into CrossFit you need to check out WOD Warrior for Windows Phone. We covered the app last summer and walked away pretty impressed. It's a very functional and useful app for anyone into CrossFit, it just wasn't the prettiest. Thanks to the DVLUP program it looks good and now has a redesign that makes it even more functional.
WOD Warrior is now at version 2.1.0.1 in the Windows Phone Store. Though it's big UI update occurred at version 2.0. It's gained a few features since that UI and branding redesign. Below is all that's new with WOD Warrior:
Huge UI update from the Nokia DVLUP UX contest
Fixed Settings Error.
Display of list of benchmarks when creating new benchmark workout.
Added Portuguese as a supported language
Re added stopwatch.
Added ability to edit workouts and PRs / Achievements
Fixed loading workouts and achievements correctly
Added History Search.
Fixed display issue with Completed
WOD Warrior is a must for any CrossFitters out there.
Download WOD Warrior from the Windows Phone Store for free (ad-supported, in-app purchase to remove). Or pick up the pro version from the Windows Phone Store which is ad-free from the start.
Windows Central Newsletter
Get the best of Windows Central in in your inbox, every day!
Does Soundclouda support URLs? That's the only thing I use soundcloud for and sadly Audiocloud doesn't support URLs...

If you mean opening SoundCloud urls with the app, yes it does :) @everyone Feel free to contact me for feature requests. I'm on twitter @algihuni

Thank you! But I just entered a soundcloud URL into the search box and nothing is happening. Am I doing something wrong?

You can open links directly from IE, but first you may need to configure it. please check "tip" page in settings. pasting a link in search box is a good idea. I'll add it in future updates.

Would love some more Windows Phone design guidelines. Seems like every developer is doing something unique, but it kinda breaks the flow of the operating system, you know, the kinda flow you get with the built-in Microsoft applications. Some Windows 8 Xbox Music-style influence in the Modern design language of WP wouldn't hurt, at all.

Exactly :) but I just can't imagine Xbox Music app for WP that look like the W8.1 app the screen is just too small.

Them using "Warrior" to describe working out earns them the title of idiot and an app I won't use.

crossfit is not just "working out". although they do have quite a few hero workouts in honor of our warriors.

That is one awesome thing about CrossFit. And you usually learn a little about the "hero" who gave their life while in the line of duty.

I tried SoundClouda on a recent trip, really liked it - but the new redesign really makes it that much better. Excellent job!

Really like the redesign of SoundClouda a lot (but I wish it had some other name). I would also love to pay a small fee for removing the ads!

Thanks. It will be possible to remove ads and change app's color in the next update (maybe tomorrow). Do you have any suggestions for its name?

Ugh, SO much easier to find third party apps when they at least start with the same thing as the original.

SoundClouda is a very nice app I recommended it

Can anyone with experience with all the soundcloud apps tell me if this is the best one?

I'm still working on a new app that's the result of the wpcentral/dvlup design session one of my apps got. Any devs who are on dvlup should just use their points for that, really worth it

Why soundclouda needs dialer permission? Weird.

It's useless. Will remove it in the next update, however, there is no problem with it. allows to launch Phone application. http://msdn.microsoft.com/en-us/library/windowsphone/develop/jj206936%28...

Soundclouda looks nice, but doesn't have track length in the stream so I'll be sticking to Audiocloud. Makes it so much easier to find a stream long enough for my workout.

Twitter...but SoundCloud...

What about the official Soundcloud app for wp?

Sam please share your start screen wallpaper too

How do you bypass those stupid IE security settings? Am unable to log into my own soundcloud account???

Connect to another network before log in, WiFi or cellular.

Wod Warrior looks better than before, but is still diffucult to use. I should not spend more time entering the WOD than doing the WOD.
Windows Central Newsletter
Thank you for signing up to Windows Central. You will receive a verification email shortly.
There was a problem. Please refresh the page and try again.