Official South African Airways app lands in the Windows Phone Store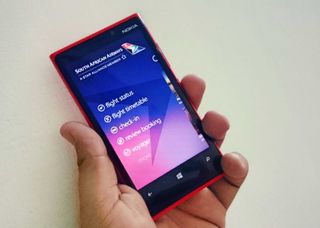 South African Airways (SAA) is the national airline of South Africa. Founded in 1934, the Star Alliance member is also the largest airline of South Africa.
The official app of South African Airways, FlySAA, landed on Windows Phone Store a couple of weeks back. While the app packs in most features expected from an airlines app, oddly, you can't make flight bookings through the app.
You can, however, check out the timetable for all upcoming SAA flights and search by the departure and destination cities. The app allows you to review your booking information and check-in to your flight online. You can also track a specific flight by checking the updated flight status by route or by flight number. The app also provides the ability to track the status of your checked-in baggage or SAA Cargo shipment.
The app features useful information like getting there, shopping, and nightlife for several South African Airways destinations. These featured guides serve as quick travel guides if you are headed to one of these cities, even if you're not flying SAA.
The app also allows Voyager members to access their account information and miles summary. Voyager is the frequent flyer program of the South African Airways.
Download the free FlySAA app for Windows Phone 8 devices from the Windows Phone Store. If you are flying from or to South Africa, you might want to check it out. The app has a neat, modern user interface, and offers a great experience apart from the missing ability to make flight bookings.
Nice...keep them coming...

This app looks cool!!.. Finally some original color choices.. Very modern looking, and is the perfect example of a beautiful WP app using MS's design reference... I ❤ that!

Do you visit our beautiful country often?

Looks like developers and companies are really beginning to believe in Windows Phone :D

Very much so... I live in SA and this is some great stuff I'm seeing.

https://itunes.apple.com/us/app/south-african-airways/id619821296?mt=8 https://play.google.com/store/apps/details?id=com.flysaa.mobile.android Don't have booking either, it seems. And terrible reviews. :) Maybe I should start to compare what else is out there for most new apps we get...might make me feel better!

"First they ignore you, then they laugh at you, then they fight you, then you win": - Mahatma Gandhi

Exactly how the WP following here in SA feels!

Founded since 1934?! They should have done this a long time ago.

We still need apps for 2 of the 4 major banks here in South Africa, and only one of the 3 major carriers have apps, thats crazy! WTF! And SAA is the only airline app now and there's alot of them. The regional specific app situation in countries like mine is improving alot, yet there is still tons of work to be done to come near the other platforms...

keep the momentum, msft.
seeing these new apps coming in to WP makes me happy!

Just a pity it does not save your Voyager login credentials, you have t re-enter them every time.
Windows Central Newsletter
Get the best of Windows Central in in your inbox, every day!
Thank you for signing up to Windows Central. You will receive a verification email shortly.
There was a problem. Please refresh the page and try again.