Spellspire, a Windows 10 Mobile mashup of word games and role-playing adventures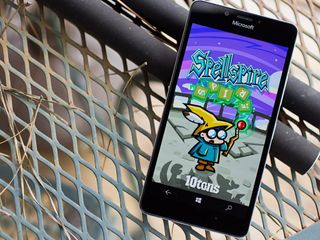 Spellspire is a Windows 10 Mobile game that combines the challenge of a word game with the intricacies of a role-playing game. The game is from the creative group over at 10Tons, Ltd. who are responsible for gaming titles such as Sparkle, Crimsonland and Baseball Riot.
Spellspire has you playing the role of a young wizard trying to work his way to the top of a castle tower. In his way is a legion of monsters who can only be defeated by creating words from a collection of random letters. Gold is earned as you defeat the enemy that can be used to buy or upgrade wands, robes and hats with magical abilities.
The free gaming title is an entertaining twist on the traditional word game. The RPG elements in Spellspire are not overwhelming and allows the game to maintain a casual feel, perfect for those times you need a little help passing the time. Available for Windows 10 Mobile, Spellspire is also available for Windows Phone 8.1 phones, which includes low-memory devices.
The primary menu for Spellspire includes options to visit the game's shop or jump into gameplay. The store includes gear you can buy or upgrade with the gold earned during gameplay. There are wands, robes, hats and accessories available that enhance the wizard's magical skills. Settings are accessible through the pause menu and include options for sound/music levels along with turning on/off game notifications.
When you first launch Spellspire, the game jumps right into gaming action with a tutorial that covers the basics of gameplay. As new features become available, additional instructions become available.
The concept of the game has a young wizard trying to work his way up a castle tower that is infested with a variety of monsters. To defeat these monsters, the wizard has to pick letters from a collection of letters to spell words. As the wizard creates words, he can shoot energy from his wand to defeat the monsters.
Spellspire has 100 levels of gameplay that is regulated by tokens. The game affords you five tokens and if you fail a level (or lose a life), you lose a token. Tokens are regenerated at a rate of one every thirty minutes.
Level play with Spellspire is done in stages where your wizard first faces a few lesser minions that lead to a more powerful monster. The number of waves you deal with increase as the wizard progresses up the tower. The gaming screen has the letter grid running across the bottom of the screen and the wizard's progress is animated along the top portion of the display. Any available inventory items (shields, potions, etc.) are displayed across the very bottom of the screen, just below the letter grid.
As monsters appear before the wizard, you tap on the letters to spell a word. Once the word creation is complete, tap the green sword to strike out at the monsters. If you misspell a word or create a duplicate word, the red X button sends the letters back to the grid. Health meters appear below both your wizard and monsters and a game timer appears mid-screen to pace the monsters attack. The wizard can only take a few hits before falling to the monster's attack, creating an urgency to spell as many words as possible before the timer runs down.
Slain monsters and completing levels net you gold that can be used to buy new gear or upgrade old. If you need a boost in funding, there are in-app purchase opportunities available to increase your gold count or you can simply replay a lesser gaming level to get some extra coins.
As with any RPG games, one of the keys to success with Spellspire is to build up your wizards gear as quickly as possible. This increases his abilities to battle monsters and defend against their attacks and you will need the extra help after the sixth level of play.
The pace of gameplay has a little zip, not only in that you are racing a clock to spell the words that defeat the monsters, but also to keep track that you don't repeat any spellings. This eats up precious clock time and may expose your wizard to a fatal attack.
Spellspire is an entertaining combination of an action and word games. 10Tons has done a good job of combining a game that challenges your word building skills and tests your skills at strategy and character building. The free gaming title is available for Windows 10 Mobile and Windows Phone 8.1. If you are in the mood for a word game (or RPG game) that is slightly off the beaten path, Spellspire is a fun option to kill a little time with.
Download Spellspire for Windows 10 Mobile (opens in new tab)
Windows Central Newsletter
Get the best of Windows Central in your inbox, every day!
George is the Reviews Editor at Windows Central, concentrating on Windows 10 PC and Mobile apps. He's been a supporter of the platform since the days of Windows CE and uses his current Windows 10 Mobile phone daily to keep up with life and enjoy a game during down time.
Interesting, I'll give it a look, but it does just seem like a Letter Quest knock off.

This game has intriguing concept, and is educational as well as fun. I'll give it a try. Bravo 10tons Ltd!

Who cares if these titles support 512MB devices anymore. With W10M all devices need at least 1GB RAM.

It's available for windows 8.1 devices, so they probably do.

oh I didn't see that. Most news today are of Windows 10 Mobile.

Cant go beypnd 20th level if u dont purchase some big packs

I've been playing this game a lot lately. I think I can probably beat the whole thing without spending any real money. I'm at Floor 60 so far. You just have to replay some of the floors for stars and more cash to level up your player. Good game, although maybe not if spelling isn't your thing.

A very unique concept in spell gaming with a butter smooth gameplay... Loved it a lot

Looks like fun. I enjoy Letter Quest, but it's not available for WM10 so this seems like something to take its place on mobile.

Annoyingly crashes to the start screen 90% of the time when trying to launch. Works great when it does launch