Spider-Man Unlimited update draws it into Marvel's Spider-Verse comics event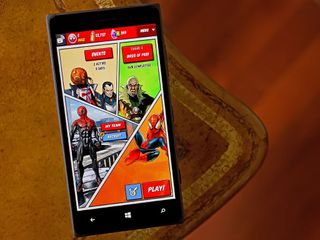 The latest update to the free-to-play game Spider-Man Unlimited has reached Windows Phone, and this one has a direct tie-in for Spider-Verse, the big storyline that's currently running in Marvel's Spider-Man family of comic books.
Simply put, Spider-Verse isn't just about Spider-Man but a ton of different incarnations of the web slinger. Here's the change log with what players can expect in the new update:
Enter MORLUN and KARN. Rival brothers, vampiric immortals, unimaginably powerful. Survive their "Great Hunt" before they devour every Spider-Man ever!
8 new Spiders, including ULTIMATE SPIDER-MAN, SILK, and for the first time ever: SPIDER-UK!
Experience the Spider-Verse comics, including story tie-ins, characters, and villains, through new NARRATIVE EVENTS! Featuring new events daily, with progressing storylines!
Party like it's 2099! Run through dimensions, and experience the futuristic 2099 NEW YORK environment!
Snowy NYC environment, for a limited time only!
Face off against HYDRO-MAN in special Winter Holiday Events and collect Spidey presents!
New Rewards! Win automatic Rank Up cards, Slots, Consumables and Legendary Spider-Men in events!
Coming soon: Vote for the next-released Spider-Man from Spider-Verse! (But we're not telling you who… yet!)
Thanks to Izulman, Jackie F., and the many folks that tipped us!
Windows Central Newsletter
Get the best of Windows Central in in your inbox, every day!
I really hope they'd make a Thor game ):

And one in which we could play as Loki!!

They did for ios and android.

I prefer "THE GUARDIANS OF THE GALAXY" xD

There is already a Guardians of the Galaxy game.

I already know brother I meant to say that I like that game.

Today is the good day ... I guess

Today is the good day for... I guess

Today is the good guess for...the day.

Awesome. Just started getting into this app and I've been enjoying the Spider-Verse story arc!

Has Gameloft removed their alarm clock hijacking tactics from their games yet, or are they still acting like rats? I dont know because I couldn't take it anymore and deleted all the games that did that.

Does it now work offline??

You could play it online before but it needs to connect to a server for the leaderboard stuff.

With this update the game's load time is almost gone comparred to the 2+ minutes it used to take. Everything seems to run smoothly now on my 920.

:D awesome to read that. It's a really fun game but the load times were too long and the performance was killer (literally the frame rate would drop like a tank and kill me).

I have a slight correction. Right after installing the update that morning everything ran smoothly. Last night I had the frame rate issue again. I think it's because of the new locations. I don't seem to have the issue on older locations like the flying ship. The overall load time is still faster, but not nearly as fast after I downloaded the additional data the game requires. Thank fully the game restored my previous achievements after I had to do a clean OS install to remove the developer preview. I wish all games did that.

Appears to be some UI functional performance enhancements but not gameplay as I still experience the odd inopportune hard pause. Currently ranked #2 on Ultimate Incoming event. Friend request me!

The truth is these games are totally time waste.Nowadays these games are so addictive but not challenging.When u start playing these games you cant resist to play again and again when the life fills back or whatever.What happened to the good old fashioned Arcade games.???

and the most important question: WHETHER THE GAME STILL LAGS AFTER THE UPDATE?????????
Windows Central Newsletter
Thank you for signing up to Windows Central. You will receive a verification email shortly.
There was a problem. Please refresh the page and try again.