Spider-Man Unlimited update weaves in new levels, gains 512 MB support on Windows Phone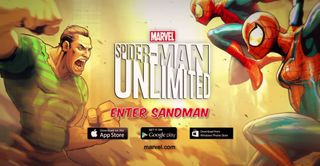 Spider-Man Unlimited arrived on mobile back in September. The game instantly webbed me with its great graphics, huge array of collectible characters, and overall excellent use of the Spider-Man license. But I also caught many bugs in my review that I hoped would be fixed before long.
Just in time for Halloween, Gameloft has delivered a major update to Spider-Man Unlimited. The update adds a fourth "issue" to the game's story mode starring the Sandman, a limited time holiday event featuring Jack O'Lantern, and a host of changes and bug fixes. Most importantly for Windows Phone users, it now runs on devices with 512 MB of RAM! Read on for our detailed impressions of the new content and changes!
Halloween events
From now through November 1st, players can take on two limited time events: "Halloween Horror" and "Fright Night." The first offers the Scarlett Spider as a grand prize, the second Spider-Man 2099 – both six-star Spideys. Actually coming in first to get those top prizes is really hard – I've only done it two or three times – but always fun to try.
The events differ from normal ones in several ways. They take place at dusk, creating a suitably spooky atmosphere. One of the events tasks Spider-man with collectible jack-o-lanterns that have been spread throughout the city (a fun task).
Most excitingly, both Halloween missions star an all-new boss named Jack O'Lantern. You might not recognize him, but Jack O'Lantern is a genuine Spider-man villain created in 1981. He looks like you'd expect, being a pumpkin-headed guy. He floats on a UFO-like glider and tosses pumpkin bombs, not unlike Green Goblin.
I'll miss fighting him when the events end!
Easier rank ups
The new story levels require characters of level 60 and higher to play – five star or higher characters, in other words. Actually raising a hero up to that many stars was quite difficult prior to the update since you needed to sacrifice not only a double of that exact character but also two more cards of similar level.
Thankfully, the update has made ranking up Spideys much easier than before. Now players only need one double of the character whose rank they wish to raise, without the requirement of two extra characters. If you have two of the same hero, you can rank him up right then and there with no strings attached.
While rank ups are less difficult, actually leveling up characters has gotten harder. Before the update, you could get rid of unwanted Spideys by using them to level up another character. The cost for leveling up was a flat 500 vials (practically nothing).
The update boosts the cost of leveling up a hero significantly. Each character you sacrifice adds about 4,000 vials to the cost, making for a very expensive proposition. You'd have to grind a bunch just to earn the soft currency needed to get rid of unwanted characters.
Fret not, because Gameloft has added a new way to get rid of unwanted Spider-Dudes. You can now sell them from the "My Team" screen by tapping a button at the top-left corner. Spideys don't sell for a lot, but at least you gain vials by cashing them out instead of going broke as you would from leveling them up.
Enter the Sandman
This update also boosts Spider-man Unlimited's story content significantly thanks to the addition of "Issue 4: Against the Grain." Yes, they named it after one of the best Bad Religion songs ever… I like to think so, anyway.
Issues are maps containing unique, non-endless story missions. Issue 4 holds 25 such missions, which will take a few hours for skilled web slingers to work through. A new NPC (non-player character) shows up in some of these missions: Carlie Cooper. In the comics, Carlie is a police officer who befriends Peter Parker and eventually dates him. Nice to see a newer, somewhat lesser-known character join the story.
"Against the Grain" also brings in a new environment for Peter Parker and friends to run and swing through. The new area contains a train station with lots of elevated tracks and signs to dodge. Portions of it require Spider-Man to run along a moving train, which proves quite challenging. Be sure to slide under the floating mine when you first land on the train.
The most exciting part of Issue 4 has to be the new villain: Sandman. One of Spider-man Unlimited's gimmicks is that Spider-man must face not only familiar villains, but also alternate versions of those villains. And so Sandman brings along four of his variations, making for a total of five Sandmen to battle.
The new bosses are Sandman, Pure Sand Sandman, Classic Sandman, Noir Sandman, and Dark Sandman. Regular Sandman and Classic Sandman are mostly identical except for Classic Sandman's lighter shirt stripes though, making the 'Classic' variant essentially a waste of a variant.
Then again, nearly every genuine comic version of Sandman looks just like the original version. Noir#Marvel_Noir) Sandman and 1602 Sandman#1602) are the only notably different versions of the character. Perhaps Gameloft couldn't use the 1602 version in the game. If they simply chose not to include him, what a missed opportunity.
When you actually fight Sandman, he spends the entire battle with his legs turned into a stream of sand. This allows him to effectively "fly" across the level just like the genuine flying bosses. He attacks with gigantic sand fists and spiked sand balls.
When I fought Sandman for the final time in the train station, the camera inexplicably changed its angle, making obstacles difficult to see. Normally he's fun to fight though.
Squash the spiders, I mean bugs
This update also brings with it the promise of bug fixes! One bug that seems to have been squashed used to occur on the Social menu. Prior to the update, the option to gift energy to my friends nearly always failed to appear. Today I managed to send the energy without issues. Well, the social menu scrolling is still horribly slow and erratic. Baby steps!
The big question is whether the update fixes the "Energy refill" bug. At launch, some users experienced an issue in which their energy would not refills for several days. Quite a bummer, and more than a few of the affected left the game for greener pastures.
We understand that Gameloft is aware of the bug, but the publisher couldn't confirm whether it had been fixed in this update or not. My gut says it has. Have any of you guys run into since installing the Issue 4 update?
More to come
Another big addition promised by his update involves a fairly new comic character named Spider-Gwen. First introduced in the Spider-Verse book earlier this year, Spider-Gwen is an alternate reality version of Gwen Stacy who was bitten by a radioactive spider, gaining Spider-Man's traditional powers. The character is so popular that she will receive her own series next year.
Gameloft promises more female characters to come, including Spider-Girl, a favorite of mine. Like Spider-Gwen she is an alternate reality character, this time the daughter of a retired Peter Parker. Another female character that was not mentioned but could be introduced is Silk(pictured on right), a girl bitten by the very same spider that gave Peter his powers.
Gwen and Spider-Girl will be introduced to the game within the next few weeks, likely as prizes for completing limited time events. Again, these grand prizes are tough to get, so don't expect to earn them right away. But they also get added into the mix when you buy characters with ISO-8, so you're bound to get them if you stick with the game long enough.
Spider-Man Unlimited was already a great endless runner prior to the latest update. Now that it boasts even more content and one or two fewer bugs, it's just that much better. Give it a chance, read our strategy guide for tips, and you just might get hooked on the game's nearly unlimited fun factor.
Windows Central Newsletter
Get the best of Windows Central in your inbox, every day!
Paul Acevedo is the Games Editor at Windows Central. A lifelong gamer, he has written about videogames for over 15 years and reviewed over 350 games for our site. Follow him on Twitter @PaulRAcevedo. Don't hate. Appreciate!
Impossible to play on Lumia 520

Running smooth on my lumia 520

512 Support! Wohoo. Another Gold Star to this developer. Downloading now...

Microsoft needs to show that windows logo bigger. Ppl won't come to know if its available on windows phone or not. This foes for all the ads where it's shown download from the windows store.

Microsoft doesn't make the banner though

I think he means the font needs to be larger. Microsoft probably did design the icon that Gameloft used in the image.

It's too slow on the Lumia 520...it's crashes a lot of times, but at leats I can play one run...I hope they fix that quickly

Friends keep being amazed how a game that lags on Android with 2 GB of RAM can run smoothly on Windows Phone with 512 MB. (looking at some of the comments it might not be the case with this game though) I am really glad to see more and more games being optimized to support less RAM while keeping the gamplay quality! I only need to see Injustice arrive on Windows Phone and I can completely ditch the company issues iPhone... this is the only game I still use it for.

Gameloft certainly doing this. They optimized lots of their game.

Bur now lollipop doesn't hang. Infact now windows phone needs to be made more compatible with apps with the coming windows 10 for phone.

yeah, gameloft is pretty awesome on wp with tons of great games for low-end device

It still has issues with the responsiveness of the swipes. I'd rather they fix that before they go and add new characters.

I agree, it was tolerable before, taking about 85% of swipes, now its down to about 50% after this latest update. Made me almost feel like I am doing something wrong it is so bad. I uninstalled even though i liked the game a lot. Lumia icon w8.1 u1

Game was updated 11 hours ago

Article was posted minutes ago.

LOL! But that was one well detailed review from you, as usual.

Finally 512mb support! Thank you!

Love seeing windows phone Store logo beside google play and app store :)

this update has adding some severe slowdown on my 920... but still playable :)

a bit laggy on lumia 520, but great work, gameloft

....still glitchy as all hell...

Not sure if many know the workaround to the Energy Refill issue so figured I'd mention it here. If your energy refill shows a refill time over 10 mins, maxing your energy will reset the refill time. This will obviously cost money if you have no ISO-8, but if you always keep at least 3 ISO-8, or 5 gifted ISO-8 from friends in your inbox, this will quickly fix the ungodly refill timer as a workaround. Haven't run into the issue yet since this update.

I had this energy refill issue... What I do is
Stop the game.
Reboot the device.
Start the game.
Energy refill issue clears off.

I most often found the issue start after a phone reboot, subsequent reboots don't clear it in my case.

512 support.
Means another crap.

Your comment doesn't make sense. :-\

You take a crap every time a 512 device gets support?

How does a game supporting 512mb devices becomes crap?
By your logic, 99% of all games are crap.

Please do me a favor and find another platform which doesn't have 512 Mb phones!

Ohhh the mighty WP hater D M C arrived again. How about: Don't comment at all? -_-||

I honestly didn't think they could make this for 512 MB devices. Hopefully the game is less laggy now on 1 GB devices at least. My L820 dropped a lot of frames once the pace accelerated.

Still doesn't work well :'(

I can't get into games without achievements :(

I'm an achievement junkie as well, this is one of the few non Xbox games to hook me.

I have to agree... before I gave up on this game due to energy-timer issue, I really was addicted to it for about 3 days straight. Then it told me I had to wait 7 days to play it again. Then 3 days later, it still said I had 7 days to wait. So I uninstalled it. Too bad. If anyone can confirm that's no longer the case, let the rest of us know!

Look at my other post. Although the issue may or may not be fixed, it is easy to work around.

After the update it's not working well >_

Wow the game works so good in l520 .... Hell yeah .. All hail gameloft

Works fine on my Lumia 630

Great! I'll download it on my wife's 630 too :P

Are u sure I wonder if its because the newer processer?

I thought the new level up method was a bug, at first. Good (or not) to see it's not.

Same here. Especially since I first noticed it with a bug where I had about 10 Event Portals all costing 500iso-8 show up in Recruit section. Wish they introduced this before I sacrificed some valuable ranked up spidermen for the sake of ranking up others of higher value. ..and just realized you were referring to the unwelcomed level up change, where I was referring to the good change to the rank up system. Taking a lap.

Laggy but still great!The call of duty app is what 512 devices need next.

It's like the game has been optimised! Best game out there right now Imo.

There was a glitch last night also, in the recruit section. I got so many 5&6 stars, and iso, for a while, but its fixed now I reckon

Now it gives a hope for me to enjoy this gae :)

Its sh*t on 512mb devices. Waste of download. Optimized? Lol. Gameloft gets worse with each game they make.

This is the future of the platform, the shit everybody want: laggy apps without restrictions, allowed to run even on incapable hardware. Thinking about it that's how you get 80% market share, genius

Runs smoothly on my Lumia 520 :D

What update are you running denim?

does this game require internet connection to play?

Technically, no. You can do runs in Unlimited Mode offline. If you're looking to play primarily offline, I wouldn't recommend it. All the fun is in the online features.

yeah and you can gain XP.

Plays extremely buggy on 512ram devices, it hurted but I had to uninstall and go for greener pastures

NIce one finally!!!!!!!!!!!

How big is the installation file

This is the biggest plus point of having a windows phone.....games which cannot be played or games which are laggy in other android phones with 512 Mb ram are much more enjoyable on WP with 512 Mb ram..... Thanks devs

Finally i can play this game on my Lumia, i've played this before on Nokia X

Swipe iss horrible!! I thik it only understands 10% of the swipes

Used to work smoothly on my 820, after the update I can barely swipe. It's horrendous at the moment :/

Lags a lot on my 520 so sad!

Crashes everytime I play in my L625 !! Need a fix immediately..

Game sucks on 512 ram crashes and lagness :/

Lags a lot when there are background tasks.. Play it in battery saver mode.. Doesn't lag.
But eats up the battery like a hungry beast... :(
I was getting battery backup for more than 24hrs. But now I get less than even 15hrs.. Gets hot too..