Spotify Windows Phone app gets quick update to fix sign-up issue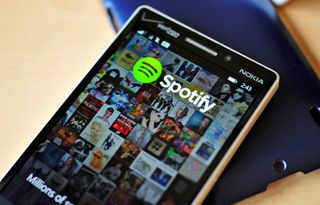 The Spotify app for Windows Phone, which finally enabled its free music streaming features on Tuesday along with some other new features, got a quick update today that fixes a sign-up issue that some users were experiencing.
Basically, a bug was found that was keeping some Spotify subscribers from signing into the app, but hopefully this quick fix will enable them to listen to their playlists again. Were you dealing with this bug and if so has this new update fixed the problem? Thanks to our many tipsters who alerted us to this patch!
How about fixing all the other bugs Spotify?
Like for example when I resume Spotify it always brings me back to the starting page instead of where I actually left off. Or when I click on "playlists" and it just brings me to the starting page again. -_-

And After the update it just turned back to pay system.. Its not free after todays update, i cant even login with my account.. Congratulations Spotify...

it's like fucking joke! I wish I didn't update.

This is killing me too! Spotify, please fix

This! The app looks and feels like a simple port from the web, even though it isn't...

This issue also happend when clicking a Pinned playlist on the home screen. After the app resumes, and I exit back to the home screen and try again, then it works. There must have some stupid code in the resume/init event that throws it back to the "Start and Browse" screen no matter what you click on. In addition to this bug, resuming the app is also painfully slow.

So happy to have this. Now all I need is Bandcamp.

This one time at Bandcamp..... ;)

f••k it doesn't supports in Viet nam ==

It ain't a karaoke app anyway ;)

I installed the app following the Tuesday announcement and haven't had any issues. I was actually surprised about how fast it is compared to Xbox Music and Beats. I had been wavering back and forth between those two for my subscription service, but now Spotify is making a strong case.

So far I'm really liking the Spotify app now that I can use it. It does seem faster than other apps I've used for streaming and the music plays louder. One problem mentioned above though is how after you stop using it and want to resume, it goes back to (in my case the playlist page, this may differ for some but not sure). It is easy enough to re-start but a bit annoying.

MixRadio>>>>>>>>>abyss>>>>>>>spotify

When will Spotify actually work in countries like mine? I thought it was for EVERYONE.

I know there are far few legit services out there for non us residents Napster was one if those rare ones until real networks rhapsody stopped service in non us counties

Napster? I couldn't find it on WP Store.

How do I stop the shuffle play? I want the songs to play one after another but since the update it just random.

You need a subscription for that.

In the non-intuitive UX, you have to click on the Song title to the left of the play button at the bottom of the page. The Shuffle/Repeat options only appear on this tab. You then have to click the hardware back button to return to the previous tab. This is the same process to get to the next/previous song controls. Alternatively though, you can lock your device; and, then use the play controls on the top of the lock screen that appear for about 3 seconds after pressing the lock/resume button again. One might think that they would appear near the other play/pause controls... but no. They don't.

why is not available for Lumia 625 in india

Not available in India.. :(

Likely never. Licensing deals and all that crap. Use vpn.

I have been waiting for Saavn app forever.. :( Mailed those guys so many times. All they say "We are working on it". Dhingana was one decent app. But, sadly its not available anymore. Rdio has bought Dhingana though. I hope we would see Dhingana app coming back to life very soon.

Not available in India for 720

Obviously it isn't. Not everything is available everywhere. Licensing deals and such.

Spotify over MixRadio and Xbox music

You say Spotify over Xbox music, no way Xbox music is far better. Spotify is missing the my music section found in Spotifys other apps, it never remembers what you last played, you can't play a single track in repeat mode & if you stop playing music for more than a few seconds without the app open, you lose the on screen music controls & have to reopen the app to restart the music. Xbox music has none of these problems.

Tried Spotify and it's not that bad. However, one of my most used features of MixRadio is offline playlists. To do that with Spotify, you need a subscription - especially since a portion of my commute is through a tunnel without any wifi access. MixRadio doesn't make offline playlists a subscription only offer -- that's why I'll stay with MixRadio for now.

But mix radio doesn't let you shuffle an artist. Or an album. It's just like the radio feature of Spotify. It just plays random musics in the same genre.

True, and that has led me to discover some artists I would have never even heard of without it. I'll also agree that there have been a number of times I've pulled out my phone just to figure out what in the world made MixRadio decide to include a track. If I want to play an album in order, I'll just buy the album (or the tracks). Call me old school, but I still don't see a need for a subscription music service.

Bandcamp and Songkick and I'll be happier than a Metallica fan after Death Magnetic

"Happier than a Metallica fan before the Black Album" - There... I fixed it for you. ;-)

How bout that thrash metal? :D

What bugs? It's not possible to use this "FREE" without paying a subscription account! Is this a bug too?

My guess is they sign you up for a trial

Nope, it's actually free. No catch. I already created a Legenday Rappers Playlist and it's awesome. You just add songs (minimum 15) to a playlist and it just plays in order or shuffled. Plus I can play specific songs without owning it or it being in a playlists via my desktop.
You should try it.

You can actually play a playlist with less than 15 songs. Spotify will just throw some musics in the playlist.

True, but you might want to avoid doing that.

Sign Up/Login Error still comes up. Get your act together Spotify!

Best service ever.. :-)))

not available in india.....

I would really consider to subscribe, but it is so damn ugly. I hate the UI

Indeed, a revamp is mandatory.

And I wondered that was because the service wasn't available in my country. Which isn't actually but it still works on androids somehow. Maybe, they use proxies. Anyway, good to know.

I'll not update. With tomorrow's update I have the free service without any ads, so I recommend not to update if you have already login ok.

Still doesn't support fade in either

I just hate this app.Till the day i have problem,can't sign up :(

Yeah they advertise that they made it free and they did, but only if you 'shuffle play', but on my iPad I can select any song and play it. Why do you gimp our app Spotify???

You're confused. I'll explain it to you. It's totally free to stream on tablets and computers. On phones you can only shuffle. Even if it is android or IOS. So it's normal you can do that on your iPad, because it's a tablet. Try to do it in an iPhone and you'll get the same result you get right now on your phone ;)

Ah ok thanks for the clarification

Isn't it available in India? I am getting error message that its not available for your device.

Please for the love of god look up their wiki

Is this available for "Insert Country"?

I hope they will bring Your Music and local tracks soon.

I'm having an issue where the app is using my data when T-mobile has the new "Free the Music" thing where streaming from Spotify isn't supposed to count towards your data consumption. I was just on the phone with T-mo tech support for 30 mins while she wrote up a "ticket" to have them look into it. Hopefully it'll get figured out. Anyone else on T-mo with a Simple Plan trying to use their Free The Music? Watch your data to make sure it's working!

I had a sign in issue yesterday. I went to the website and changed my password. That did the trick.

In which region it is available???

Search it. Or better look it up here:http://www.swedishwire.com/business/18120-spotify-is-available-in-the-fo...

But I could not find "DARK" theme!

It doesn't work for me. I'm in the UK. It says this app is only for premium customers then force closes.

Sadly not available in my country :(

This updated just made it worse, now I can't even log in wtf and I try removing and install back and nothing

Fix didn't work for me either.

Still cant log in. Canceled subscription and uninstalled. Bye dumb Spotifiy.

I tried changing my password from the website and that also didn't fix the problem signing in.

Nice.! Thanks for supporting Philippines, Spotify! I hope Rdio follows through with updating their app... That's what prevents me from subscribing to Rdio services. I love their collections though, too bad. :(

Why hasn't WP 8.1 bring an update, so that when you pause a video in explorer you can watch it from where you pause it instead of having to starting the entire video over??????

And why are you asking that on this article exactly ? The forum is more suitable to that kind of post

What the hell they have fixed ? Same login problem.

One thing Spotify has over Xbox Music and others (unfortunately in my case) is their extensive catalog. If you follow music from other countries, say the Philippines for example, you are more likely to find it in Spotify and not the others. I hope they keep up with fixes and updates. Or better yet, I hope Xbox Music keep up with their catalog :)

Lmao... I can't listening my playlist without shuffling cuz I'm not premium, that's a basic functionality, shouldn't be a "premium" option.

Now that Spotify is available to Canada, when will the app be available to Canada? I know I can set my phone to US region and download it but it's easier if it was just available for Canada.

I try to signup and all efforts prove abortive.

I still have that sign up problem.

Same here. Spotify is a troll.

Yeah like everyone else here, still have the signup issue. Where are you Spotify developers?

I was able to sign up and sign on with the first version of this app.

I could listen to music with free streaming after the previous update. But this last requires premium account again!

Can someone help? I cant download the app. It keeps on saying attention required. This happens only with Spotify. I use a L920 with wp 8.1

Have the latest update and still cannot login, gives me an error about logging in for the first time with my Facebook account, which I am not....
Windows Central Newsletter
Thank you for signing up to Windows Central. You will receive a verification email shortly.
There was a problem. Please refresh the page and try again.